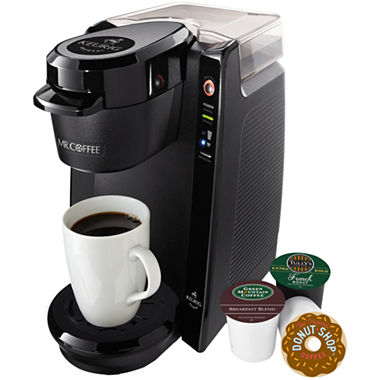 Mr. Coffee® Single-Serve Coffee Maker
pp5003130356
PRODUCT DESCRIPTION
Whether you're brewing a quick morning cup or entertaining a houseful of party guests, this smart, single-serve coffee maker has everyone happy—and caffeinated, if desired.
4-cup removable water reservoir
2 brew sizes—6-ounce or 10-ounce pour
self-serve feature
guests can select and make their own drinks
fits most travel mugs
uses Keurig® K-Cups®—5 K-Cups included
120V. Plastic. Measures 7x12x12.2"H. Wipe clean with a damp cloth. Imported.
Rated

5

out of

5
 by
Thegifter716
A great gift item
Bought this as a gift for my sister in law. She loves it!
June 1, 2016
Rated

2

out of

5
 by
iLoveCoffee143
Regret my purchase
Don't get me wrong, this Mr. Coffee Keurig does the job. But you get what you pay for. The real Keurig is WAY better! I had a Keurig Elite and I was in love with that thing. Well, one day I got the bright idea to put 1% milk in the water tank to brew hot chocolate because I don't like water in my hot chocolate and our microwave was down.....yeah, worst idea I've ever had! In my defense, 1% milk is 90% water so i thought, "what's the difference" lmao! So my wonderful Keurig now smelled and tasted like rotten sour milk. Tried everything and couldn't get it cleared out so I went out and bought this Mr. Coffee because it was cheaper and we were in a pinch. I was disappointed. #1 it hardly holds any water and I'm constantly refilling it. #2 it takes foooreeeeeeveerrr to brew!! It's suppose to be a quicker option, but I could brew a whole pot of coffee by the time this thing decides to finally brew one cup. Also, the thing where you close the k-cup into is pretty rough as well. Sort of hard to close. In my opinion I would spend the extra money and get a real Keurig that is much more luxury, quality, and operates much better and has 3 different brewing options rather than just the 2 on this one. You can get a real Keurig for anywhere between $115 and $175.....just gotta look around and see where you can find it cheaper. Really recommend a real Keurig!!!
March 9, 2016
Rated

5

out of

5
 by
Tracy
Favorite guilty pleasure
I went in to get a keurig, they were sold out so I bought this Mr coffee. I couldn't be happier, best non-essential purchase I ever made. Love this machine! !!
January 29, 2016
Rated

3

out of

5
 by
katrina
Not as good as a Keurig
Takes a long time to heat up the water and seems cheaply made. It is not a bad product, but I would recommend a Keurig over this.
January 7, 2016
Rated

5

out of

5
 by
Froggypalm
Works great. Like all the features. It has met all my expectations.
Works great! The features are good, you can use any type of k-cups.
May 13, 2015
Rated

5

out of

5
 by
Mnny781
Good machine for the price.
I am very pleased with this product, works as good as your high priced ones, just wish the coffee was hotter. Have talked with other that have the higher priced one and they say the same thing. Would buy this product again if mine ever breaks
June 8, 2014
Rated

5

out of

5
 by
Kandjsmommy
I love this product!!!
I only drink one to two cups a day so when my hubby bought the mr coffee one cup coffee maker for me for Christmas I was excited!! I use it daily and I will never go back to the whole pot coffee maker again!
January 15, 2014
Rated

4

out of

5
 by
LBSypher
A great K-cup coffeemaker
I've been very pleased with this coffeemaker from Mr. Coffee that uses the K-cups. The only thing I wish is that it could do 12 oz. cups as it is limited to just 6 and 10 oz. cups.
January 23, 2014