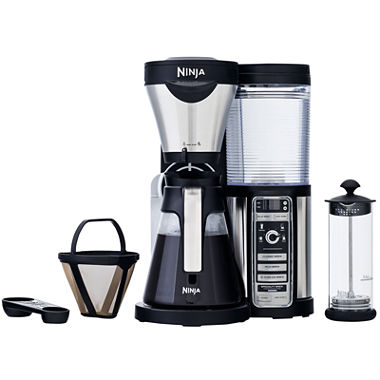 Ninja Coffee Bar ™ Brewer
pp5006332255
PRODUCT DESCRIPTION
This fully loaded coffee bar brewer will make anything from a cup of java to specialty drinks. It remembers your brew settings and you can choose your desired size and strength. It's perfect for entertaining.
beautiful design
choose-a-size option
choose-a-brew option
Ninja® Easy Frother
Thermal Flavor Extraction™ Technology
Auto-iQ™ remembers your brew settings
2-hour auto shutoff
removable water reservoir
permanent filter
40-recipe book included
instruction book included
43-oz. glass carafe
keeps coffee hot for up to 2 hours
1450 watts
stainless steel/plastic/rubber
13.5x11.4x16.26"H
hand wash
imported
Rated

5

out of

5
 by
Chryssie
The coffee bar makes great coffee.
The Ninja coffee bar is a really nice coffee maker. It brews excellent coffee very quickly and the extra features are a definite plus. I am still learning how to take advantage of the fun things it can do!
August 22, 2016
Rated

5

out of

5
 by
Hard2Please
Good features
I haven't had a chance to use all of the features but the coffee brewed is excellent. I don't have to use as much coffee as with my old machine. I find the time delay to be the best feature because I set everything up before retiring for the night and wake up to freshly brewed coffee!! The only drawback is the price.
August 1, 2016
Rated

5

out of

5
 by
Coffee
If you're debating, read this review
Personally, I think if you're someone you who likes a simple coffee you don't need this. Don't get me wrong, it makes fantastic coffee, especially on the rich brew. I will say it's much smoother than my old 20 dollar coffee maker. I just think if you're going to spend the money on a coffee maker that does so many things, make sure you're taking advantage of it. Okay. Now the details. Size- I was surprised how compact it was. It fits in the same space that my old coffee pot fit. Quality- It seems well built and looks visually pleasing. Taste- Amazing. Even my old Yuban bulk coffee is smooth and not the slightest bit bitter. You can make a HUGE variety of drinks if you have the syrups and milk to flavor them. So far, I've made regular coffee, iced coffee, iced white chocolate mocha and a cappuccino without being disappointed. Features- This little machine has a TON of features. It comes with a book of 40 recipes, and you can look up tutorials on youtube. You can customize your coffee about any way you want, with or without foam, any size, anytime with the timer. It even has a no-drip feature, and it beeps at you when your coffee has completed brewing. Cleaning- The reusable filter is surprisingly easy to clean. I did notice the metal is tinted a little brown at purchased. Probably to prevent people from getting upset about it staining over time. The one thing I've found is it seems a little hard to get the carafe completely dried out after cleaning and if you don't put the no-drip on sometimes a little coffee will drip onto the warming plate or into the carafe. It's not a huge problem unless you made a smaller cup and put the carafe back. I've just been placing a paper towel there so far to soak up anything that may drip, usually 2-3 drops after it beeps. Response to reviews I've read- I saw someone complain about it steaming- it does steam, it's making hot water. Think about the steam you see at a coffee shop. You may not want it directly under a counter, but it's not a deal breaker. I also saw on a different page someone complaining that the coffee wasn't hot enough. The coffee doesn't burn your taste buds off, but it's a very nice, warm temperature. If you're worried about the coffee getting cool on your way to work just put it in an rtic or yeti cup. I love it so far. If you're trying to break someone's Starbucks habit, this is a good way to do so.
July 19, 2016
Rated

4

out of

5
 by
brandds
1ST TIME NINJA USER
Our Mr Coffee pot died and we went out in search of a new one. As luck would have it, I stumbled on the Ninja. I had seen advertised in commercials -- so was excited for my first use! We brewed as soon as we got it home, and it didn't disappoint! We selected the RICH brew, and it turned out rich and flavorful. I recently tried the "over ice" function, which I think i might need to work on more to fine tune--- love the half or full carafe, individual or travel mug options! We are exciting to try new flavors, roasts and enjoy this maker for a long time. Thank you!
June 7, 2016
Rated

5

out of

5
 by
Wopwasbunn
Excellent Coffee
While visiting my son in Florida, he made a cup of coffee for me with his Ninja coffeemaker. The coffee was great. I'd always wondered if this coffeemaker was as good as the commercial I see on television, and it definitely lived up to its reputation. I didn't notice any unusual amount of steam arising from the coffeemaker, just a great aroma. My son loves it, and that's why I'm purchasing one now. I can't wait to receive my very own coffeemaker!
May 29, 2016
Rated

4

out of

5
 by
HWill
i wished I'd have known
It does it's job to make a good cup of coffee. Two things I wished I'd have known: if you're used to a coffee making a "big ol' pot of coffee", this one does not. Also the warmer only stays on a max of 2 hours. if you're used to the ones that stay on for four, you'll find that annoying. Other than that, brews great!
May 26, 2016
Rated

5

out of

5
 by
sabra
so far love it!
very versatile, able to make 2 different size cups and either half or full carafe . Has many different settings for specialty coffees that are easy to use. Only complaint is neck of carafe very small and have to use brush to clean well. Do not miss the pod coffee maker one bit!
May 18, 2016
Rated

5

out of

5
 by
Nicks
My wife loves this coffee maker
Bought this for the wife she loves her coffee. And she saw this one line.
May 5, 2016
$6.95

An oversized item surcharge may apply to some heavy or bulky items due to size, weight or special handling required. This item surcharge is in addition to standard shipping rates.

?
oversized item surcharge
true