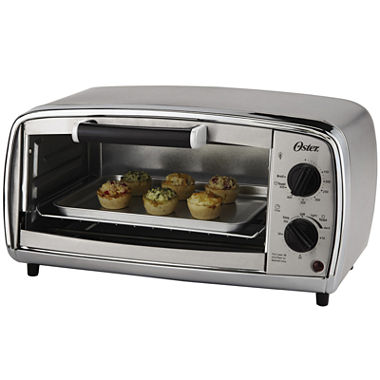 Oster® 4-Slice Stainless Steel Toaster Oven
pp5005740453
PRODUCT DESCRIPTION
The sleek stainless steel design and slightly curved silhouette make this toaster oven an attractive, as well as functional addition to your kitchen.
easy-to-use dial controls
30-minute timer
4-slice capacity
temperature range 150º-450ºF
brushed stainless steel finish
includes baking pan
Metal/plastic. Measures 17.4x11.1x9.5"H. Wipe clean. Imported.
Rated

3

out of

5
 by
Djeung
Great for a dorm room!
If I were a college student living in a dorm room with little space, this would be a good product for the price. The appearance is nice with a stainless steel exterior, however when I opened the glass oven door and looked at the backside, the "folded" metal edges were not smooth and flat on the glass, but bumpy like it was sloppily assembled. This didn't affect the performance, but it did sway my final rating a bit. The inside tray is a nice feature, but it was undersized for the oven. It could have been larger, and still fit inside. The unit heated quickly, but the height of the oven makes it unsuitable for heating any taller than an inch or two or has an uneven surface. I tried heating up a muffin and walked away for a few minutes, and when I returned, the top was burned while the inside was still a bit cool. As I noted initially, this is better suited for a small kitchen or dorm room, but undersized for a family and daily use. Disclaimer: I received this product to review. [This review was collected as part of a promotion.]
April 17, 2016
Rated

5

out of

5
 by
LuvmesomeJCP
Great toaster oven and features
I have been wanting to purchase a toaster oven that would fit on kitchen counter and not be so bulky. I love Oster small appliances and was happy to purchase it at a great sale price!!!!
August 24, 2016
Rated

3

out of

5
 by
mcfeda
It's alright.
It's a decent little toaster oven. It's very small - about the size to make a single-serving side of vegetables on the little tray. It doesn't work as well for actually toasting - even on the lowest time setting, it burns my bagels. I don't want to babysit a toaster The tray itself feels cheap; it's made of thin, flimsy metal. It heats up relatively fast and looks nice on the outside. I don't like that the timer constantly clicks and I find it strange that the heat is turned to the timer rather than the heat setting. Additionally it lacks any notification of having reached the desired temperature. The manual is pretty lacking but it's not too hard to figure out. All in all its a decent little machine and works pretty well but it has a pretty small internal size for the amount of counter space it takes up. I received this sample free for review. I'm not sure I would recommend buying it, but it's good enough to hang onto for a little while at least. [This review was collected as part of a promotion.]
April 13, 2016
Rated

4

out of

5
 by
mrsbburton
Great Basic Toaster Oven
This is an excellent, basic toaster oven, perfect for every day use. It is replacing another toaster oven that I used for over 8 years, and I find this one to heat/cook/toast more quickly and more evenly than my previous toaster oven. The baking tray is a little bit on the small side, barely fitting one slice of pizza, but I can use a different baking tray if needed. I like that the door opens outwards rather than sliding up as my previous oven's door did. All the settings were straightforward and easy to use, however I had a tiny bit of trouble figuring out where I needed to place the dial for the "toast" setting. I kept getting either "broil" or the hottest oven setting. Toast is right in between. I'm looking forward to using this toaster oven for years to come! I was sent this toaster oven to test and review, and this is my honest evaluation of the product I received. [This review was collected as part of a promotion.]
April 17, 2016
Rated

5

out of

5
 by
Luker
Compact but works great!
I love this toaster! The first time I used it the toast came out perfectly cooked on both sides. No flipping or rearranging needed. I have done four and two slices and each time they all come out evenly toasted. It heats up quickly and the timer works very simply. It fits great in small areas and has a nice look. My father who is 72 is able to operate this very easily (he is not very useful in the kitchen) his only complaint was the numbers are not easy to see. It's a black background with grey lettering, perhaps bigger/bolder numbers in white would help them stand out better. 'Disclaimer' I did receive this free as a sample to review. In the future I definitely would purchase it should the need arise and I definitely would recommend to anyone in the market for a toaster. My original rating is the same as my final. Definite five star. [This review was collected as part of a promotion.]
April 14, 2016
Rated

4

out of

5
 by
RogerDorn
Great starter - Toaster Oven - Clean Look
This toaster was relatively easy to use, performed well and has a nice appearance for a modern kitchen. We found that the features are basic and simple yet easy to use out of the box. The tray appeared to be very low quality, we immediately wrapped it in foil to protect it for future uses. I would recommend this product as a great little toaster oven however it would be a stretch to toast 4 slices of bread. If your looking for something basic and easy to use out of the box, I would recommend this product. Great for a starter home or college apartment. If looking for a higher quality oven with more options, this would not be my first choice. I received a sample of this product in order to conduct this review.
April 13, 2016
Rated

5

out of

5
 by
Mino
Great looking and great working!
My toaster oven was shipped in the mail, packaged well, and arrived safe and sound. I had some concern about receiving an appliance this way, but when I opened it I realized I didn't have to worry. My first impression was how much I liked the look of it. It has a nice stainless steel exterior. The shape of it is actually sort of cute. It looks modern, yet classic. I appreciate the more compact size compared to other toaster ovens I've seen recently. It has had ample space for everything I've used it for, yet it is compact. I appreciate that it is not bulky and I had a few options for placing it in my kitchen. I really like how it has two different dials, one for temperature and one for timing. I really like how the timer dial also lets you control how dark or light you want your toast! No guessing what number to set it to for the perfect slice of toast. The timer also has an option to stay on so you won't return to foods already cooling off. So far I have used this to make toast, bagels, warming up pita and naan breads, reheating leftovers and to cook frozen pizza and other frozen foods. It seems to heat fast and evenly. No burnt surprises! I'm not a fan of microwaved food and I don't like to heat up the oven just for one or two servings of food. This suits our family perfect. It looks great and works great. I would definitely recommend this toaster oven! I received this product in exchange for my honest review. [This review was collected as part of a promotion.]
April 18, 2016
Rated

4

out of

5
 by
Bill33
Good Toaster, gets the job done well.
First and foremost I like that it toasts evenly wherever I place it. My last toaster only toasted evenly when I placed the bread in the middle. This one toasts more evenly no matter where I place it and in less time. This is probably because of the four heating element bars spaced evenly apart (two on the top and two on the bottom). I like the size, its big enough to get the job done but small enough to not be a counter hog. Overall I am pleased with it so far.Its designed with simple and straight to the point controls. I usually use it for toasting and reheating but the couple of times I used it for a meal it got the job done well. I like the all stainless steel look with it's rounded corners for a slightly oval look.It looks good on my counter. All in all I am pleased with the product and would recommend it to anyone looking for a toaster as long as you don't have a super large family and need twenty slices of toast at once. So far its been a very good product and if it lasts a long time I will change my opinion to a great product. It does a much better job than my last toaster. The only thing I would say is it is slightly less easy to clean the removable tray at the bottom but still easy enough and the only thing it didn't beat my last toaster at. I did receive this toaster as a sample to review and was happy I did all in all because its a keeper for me.
April 18, 2016
Product Q&A
Ask your questions. Share your answers.
1 month, 4 weeks ago
by
0
out of
0
found this question helpful.
Was this helpful?
helpful
0
unhelpful
0
http://answers.jcpenney.com/answers/submit/1573/product/pp5005740453/question/2910968/undohelpfulness.djs?authsourcetype=__AUTHTYPE__&format=embeddedhtml&innerreturn=http%3A%2F%2Fanswers.jcpenney.com%2Fanswers%2F1573%2Fproduct%2Fpp5005740453%2Fquestions.djs%3Fexpandquestion%3D2910968%26format%3Dembeddedhtml%26scrolltotop%3Dtrue&return=__RETURN__&sessionparams=__BVSESSIONPARAMS__&submissionparams=__BVSUBMISSIONPARAMETERS__&submissionurl=__BVSUBMISSIONURL__&user=__USERID__
Answers
Answer: 
We at Oster work with an outside research agency that determines which consumers are to test products and leave reviews. Therefore, we do not actually determine which consumers are selected. This further increases unbiased feedback from the user group. Be sure to watch the Oster Facebook page and sign up to receive e-mails from Oster in order to learn about any upcoming promotions or contests. Thank you!
4 weeks, 1 day ago
0
out of
0
found this answer helpful.
Was this helpful?
helpful
0
unhelpful
0
http://answers.jcpenney.com/answers/submit/1573/product/pp5005740453/answer/2958683/undohelpfulness.djs?authsourcetype=__AUTHTYPE__&format=embeddedhtml&innerreturn=http%3A%2F%2Fanswers.jcpenney.com%2Fanswers%2F1573%2Fproduct%2Fpp5005740453%2Fquestions.djs%3Fexpandanswer%3D2958683%26expandquestion%3D2910968%26format%3Dembeddedhtml%26scrolltotop%3Dtrue&return=__RETURN__&sessionparams=__BVSESSIONPARAMS__&submissionparams=__BVSUBMISSIONPARAMETERS__&submissionurl=__BVSUBMISSIONURL__&user=__USERID__