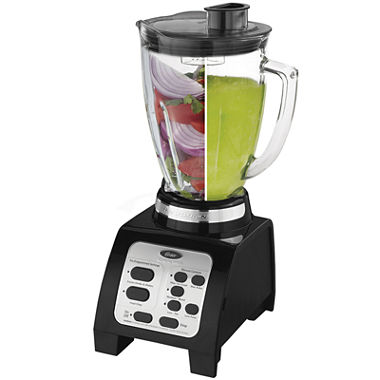 Oster® 7-Speed Fusion Blender
pp5005690746
PRODUCT DESCRIPTION
Make smoothies, frozen drinks or even salsa with this 7-speed fusion blender. The reversing blade technology changes direction automatically drawing ingredients into the jar for quick and even blending.
7 speeds including electronic pre-programmed settings and pulse
6-point stainless steel "ice crusher" blade
6-cup glass jar is thermal shock tested to withstand extreme temperature changes
Oster all-metal drive provides lasting durability
includes Oster Helpful Tips manual
600 watts. Measures 8.5x10.3x13.9"H. Glass jar is dishwasher safe; hand wash other parts. Imported.
Rated

3

out of

5
 by
Coki
Good appliance that needs to be improved
About two weeks ago I purchased the Oster® Perform Blend™ 200 with Reversing Blade Technology - Black - Glass Jar BRLY07-B00-NP0. I only use it to make my morning smoothie consisting of water, coconut flakes, 1/2 apple, and/or several pieces of papaya, ground flax seed and sesame seeds. This is one of few blenders with a glass jar, which I was looking for as I do not like any plastic or BPA free plastics (I don't trust these as they all leach BPA), and affordable for anyone on a modest SS budget. Also the base is sturdy and does not dance around when it is running. It does not take much space on my counter and is easy to clean. Good features, when they work. On this particular model, however, I do cover the glass top with parchment paper before I place the lid so that the ingredients do not come in contact with the all plastic lid. I was pleasantly surprised at how creamy my first morning smoothie came out with using just the pre-programed setting for frozen fruits (do not use frozen fruits or ice). Unfortunately, the next day my smoothie was not so smooth on this same setting. I did notice that the speed was not the same. So I ran it again, but no smoothie. Then I ran the manual setting for maximum ice crush followed by the maximum pulse, and still no smoothie. Then I thought that if I filled the glass jar with the ingredients and water and let it stand in the fridge the night before it would be soft enough to blend better, but no such luck. It may be that my blender is flawed, but after two weeks of drinking a gritty and not-so-smooth smoothie, I have given up trying and am returning it to the store for a replacement. I hope that the new one will not let me down. Looked at your other heavy-duty blenders, but unfortunately they do not come with a glass jar. At this time I cannot recommend this product.
June 14, 2016
Rated

4

out of

5
 by
cheshkat
Time for a Smoothie Party!
What? You don't have a national Smoothie Party Day where you live? Then make your own holiday! I've been researching Oster blenders for months. No interest in other brands. I got my new Oster bread machine in January, although I already have an older Oster. Then I wanted that extra large toaster oven, but a certain retailer claims 1-3 months to ship, until I finally gave up on that and moved on to buying the other kitchen toys I want. The food processor is a lot of fun for weekly pizza and crushing cookies for a cookie crumb pie crust for my cheesecakes! I admit to being a foodie. I love food as long as I'm not cooking or baking the same old tired stuff day after day. I thrive on YouTube cooking videos. I buy kitchen toys so I can have fun with my meals, make new dishes for friends that are visiting, and take a new dish to bible study. The main job my kitchen toys have is to let me have an adventure; find a new recipe, make the recipe, and then improve it to share with friends. So, the last thing I want is to be disappointed in a tool that breaks down or won't perform because I'm already planning another meal or event before the current one is finished. I decided a month ago to buy the Oster Pro. But my friends got tired of me talking about it, so a friend bought me a Oster blender a couple weeks ago from a local store. I love kitchen gifts, but that blender was wrong for me in so many ways. Another friend sent me a gift card for a specific online retailer. But they didn't have the Oster Pro 1200 in stock. So, I bought this one. As soon as the blender shipped, I sent out invitations to a smoothie party. But I practiced making a few smoothies two or three times a day in preparation for the party. The inaugural smoothie was magical - coffee, chocolate and bananas. I also blended the creamiest and tastiest potato, cheese, and broccoli soup I've ever tasted. I cooked it quickly in my 12" cast iron skillet so we could get to the blending quickly. Butternut squash soup is next. When my guests arrived, we had frozen strawberries, frozen and pitted cherries, pears, honeydew melon, frozen bananas, whole pineapple, peeled apples, yogurt, pecans, coconut milk, spinach, chilled green tea, and a big tub of ice. Once the smoothie making started, I'm surprised the neighbors didn't file a noise disturbance complaint as I'm sure ALL my neighbors heard the blender going and going. The blender survived. Cons: 1) The rubber attached to the lid looked like it had been chewed on by mice in a few places. I noticed it as soon as I had unpacked the box and inspected the blender parts. 2) I had to thoroughly scrub each piece of the blender because there was some fine dirt that made me think this blender had been dug up from a grave. I've never seen so much dirt in anything I've purchased - the box was sealed, so must have been from manufacturing. 3) Not really sure I like the rubber thing in the lid that can be removed to drop in extra ingredients while blending. Makes me think of a ground up trashcan type of rubber, but I'm supposed to measure my food with it? Is this part BPA free? Because I can assure you, it does come in contact with food. 4) The lid appears to sit on the lid in only one way, but it would not stay in place - it had to be held down. When it was let go, smoothie contents were spewed out within just a couple seconds. I did not take the chance of letting go when I had hot (not boiling) soup in it, as I did not relish cleaning melted cheese off anything. I'm wondering if the rubber of the lid softens over time so it seats in the jar better. 5) The smoothie program is off by at least 10 seconds. Not once did that setting blend smooth by itself, with or without ice. I had to pulse several times or run it up to high before or after the program. Not a huge deal, but it is advertised as making smoothies with one touch of the pre-programmed button. 6) It's nearly impossible to see the measurement markings on the glass, no matter the color of the contents being blended 7) I didn't get to test how solidly it sits on the counter because the lid wouldn't stay on. It felt like the base was stable, but I was pressing down to keep the lid in place. 8) After using it for everything I could think of for several days, I'm not sure I want to try using it for making nut butters and nut milks as I had planned to do. While it blends smooth, it is a bit of a gritty smooth. I doubt it will pulverize small seeds well. This makes me sad as I had really been looking forward to making my own almond and coconut milk with the Pro 1200, had it been in stock. Pros: 1) You don't have to keep up with the Jones' or the Smiths' and buy a $500 blender for most things people want to use a blender for. For under $100, this blender packs a lot of power and I am not ashamed of saving a few hundred bucks that I don't have. 2) Glass blending jar! Enough said. 3) Making smoothies can be done quickly, even if you have to give additional pulses with the program button. 4) The manual has recipes! 5) It's an Oster. While it could improve in a few ways, I'm confident about purchasing Oster kitchen appliances. I rarely eat out and make most of my food from scratch more and more. 6) The jar is the perfect size for making smoothies for a party of friends/guests. 7) Optional food processor. While I doubt the food processor accessory will replace my 10 cup food processor, it is a very nice accessory to have while you are making a bunch of smoothies at once because you won't have to do as much chopping. 8) I've really given this blender a workout in a short amount of time and not once did it feel like it was overheating or straining to blend. I did use plenty of liquid, so it could be different for those that want very thick smoothies. 9) I was very concerned about the noise level because of other reviews. However, I don't think it is excessively loud. We were blending on the counter next to the open kitchen door without any complaints from neighbors. I suffer from nearly continual headaches and am very sensitive to sounds and didn't feel like the noise was too much to handle for such brief amounts of time. 10) Oster accessories at reasonable prices. I already bought the Blend n Go cup. It's nice to have a few accessories to buy without going on a major treasure hunt to find a dealer of Oster parts. 11) While the other blender my friend bought me did not meet my needs, I did not experience any problems with Oster's customer support when I called. 12) I can hold my head up proudly when my friends ask which brand of blender I got. No hang-dog look could replace the big smile I have when I recommend this blender if they don't require that extra 300 watts of power the Pro 1200 has. So go ahead and buy this blender, then declare a Smoothie Day holiday and eat, drink and be merry with your friends. [This review was collected as part of a promotion.]
April 10, 2016
Rated

5

out of

5
 by
Newbie Foodie
Worthy of the counter space.
I have been using this blender on a regular basis for over 5 years, but not daily. I find it to be reliable, well made and does what I want it to do. It comes apart for ease of cleaning and is interchangeable with the mix and go accessories.I avoid cooking with plastic so I am currently on my third glass jar due to my rock hard floors. I like that parts are not hard to find and they are well made. I will buy this blender again if it breaks down. [This review was collected as part of a promotion.]
January 6, 2016
Rated

4

out of

5
 by
Lydia
Good product
I like the blender works really good you can make chapped salsas [This review was collected as part of a promotion.]
January 23, 2016
Rated

5

out of

5
 by
catuga
Best Blender I've Ever had!
I am on my second Oster Pre-Programmed Blender! My son stole my first one! Hahaha! He loves this model too! This blender will crush up frozen fruit and ice beautifully. I make smoothies and protein shakes almost daily and this blender can keep up. (leaves no big chunks of ice) LOVE the reverse feature! For the best results, we used the appropriate setting per drink. Kudos to Oster as well! I broke my original glass pitcher. I called them directly and someone helped me get a new part ordered. All is well again! The only con I can think of is that it can be loud, but it's crushing up ice, so no surprise there. I would highly recommend this blender.
August 9, 2014
Rated

1

out of

5
 by
suz23
plastic bottom
I have bought 2 Oster blenders in the last 2 months. Both of them have the plastic bottom that holds the blade and both of the plastic bottoms have broken. Actually they just crumple into pieces. I have tried to glue it back together but then another section breaks. I guess I should just buy the more expensive brand that doesn't have this section. Trying to find the part to purchase at this time.
November 20, 2014
Rated

5

out of

5
 by
OldieButGoodie
I like it BETTER than my Vita-Mix.
I really like that - This blender pulls food down, so I don't need to use a tamper. - It's compatible with most other Oster containers. I have several Blend-n-Go containers that I use for salad dressings, sauces, then store them in my refrigerator. - I can put the containers in the dishwasher. Couldn't do that with my VitaMix!
May 6, 2014
Rated

3

out of

5
 by
Mani
Oster blender
I have 2 blenders. Good but, needs blade replacement after few months. Unfortunately no model number /parts number is available to order part.
August 1, 2014