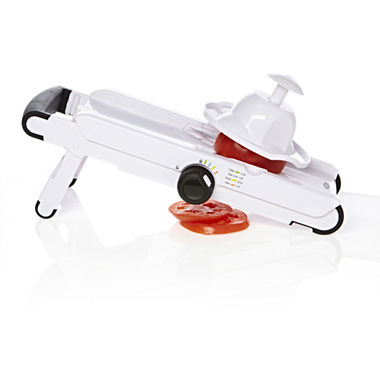 OXO® Mandoline Slicer
1d3e6ff
PRODUCT DESCRIPTION
The OXO® mandoline slicer makes it easy to adjust the thickness of each slice. Includes handle and four blades.
four thickness settings: 1.5mm, 3mm, 4.5mm and 6mm
straight, wavy and julienne blades conveniently store on board and remove for cleaning
soft handle and turning knob for comfort, and non-slip feet for safety
mandoline locks closed and feet fold in for safe and compact storage
Hand wash blades. Body and food holder are dishwasher-safe. Imported.
Rated

5

out of

5
 by
akaEve
The OXO Mandoline Slicer is one of the most used gadgets in my kitchen.
The OXO Mandoline Slicer is one of the small things that makes cooking a pleasure. I lost a part and contacted the company. They sent a replacement free!
May 18, 2016
Rated

5

out of

5
 by
Godblessme
Mandoline is an excellent slicer
I purchased the OXO Good Grips V-Blade Mandoline Slicer item #R770-10861-011. I found it to be sturdy and of excellent quality. It slices very quickly in different thicknesses and in a variety of styles, French fries, julienne, wavy and straight. Comes with food holder for safety, soft handle, non-slip feet, and stainless steel blades. It is easy to use and clean, packs away for storage and moderately priced. I am very pleased with this product. Don't buy cheap.......they won't work.
May 10, 2014
Rated

5

out of

5
 by
newoldhome
Great product
I've wanted a mandoline for quite awhile but kept being put off by the high price tags and then I found the OXO mandoline. Here was my chance to test drive the slicer and I figured if I really liked the concept . . . well then it might be worth paying the big bucks for a high end slicer. I LOVE this thing, it is easy to use, makes amazing slices with little effort, is a breeze to clean and folds flat for storage. I can't figure out why it took me so long to buy this. Between this slicer and my immersion blender I don't need to have any of those large bulky countertop appliances in my very small kitchen. And did I mention it folds flat for storage?? Fits right in the top drawer. As for durability . . . I don't know yet, I've had it for 1 month, used it 1/2 dozen times, it still looks like new but then obviously it still is new.
January 10, 2013
Rated

1

out of

5
 by
missitaly0119
Not what I expected
This mandoline was not what I expected it to be. I thought it would be helpful to cut veggies, especially potatoes. It takes a lot of time to disassemble for cleaning and its kind of tedious to put back together. The cutting portions are very sharp, you have be careful when you put it in and when you wash them. They don't seem to wash easy as my sponge gets torn up/ when I wash by hand, as instructed. I've used it to cut regular potatoes and sweet potatoes into french fries, and they come out super thin-not to my liking. Then the use of the whole potato isn't used all the way up, it gets to a point where you can't push the potato down any further for it to cut properly. It's just a big waste of time. Very disappointed in spending all that money on it and not being able to return it since I've used it and the sweet potato has stained it.
January 30, 2014
Rated

3

out of

5
 by
TNTmom76
Too Complicated.
The Mandoline slicer was made of good quality but once you take the attachments off it was like putting a puzzle back together. I had to refer to the manual. I returned because I did not want to refer back to manual every time I used it.
February 10, 2016
Rated

5

out of

5
 by
cahJCPshopper
An excellent mandoline for the price!
My husband loves this slicer! Easy to use, works great and easy to clean!
February 25, 2016
Rated

5

out of

5
 by
shell
It does what it says it will.
I have wanted one of these for some time, before I retired two years ago I was a Cook supervisor we had one in the kitchen at work, loved working with it made my life easyer. This one I just got is so easy to use, cleans and stores easy. Great buy.
January 27, 2016
Rated

5

out of

5
 by
LJSEKA
OXO Mandoline
Easy to use. Fair quality. I am going to buy it as a gift for my mother and my sister.
February 7, 2016