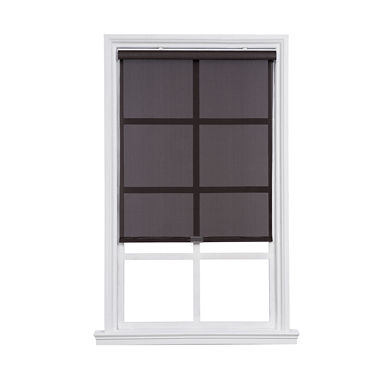 Custom Cordless Sunscreen Roller Shade
Is a valance included with the Custom Cordless Sunscreen Roller Shade to hide the roller?
Valance is not included.
Date published: 2017-02-17
Measuring for width if Window is 69" frame to frame, do you need to account for the hardware when measuring, inside mount?
Width- Measure where the head rail will be installed. Measure in three places; top, middle, bottom and record all three. You will want to order using the narrowest dimension. Length- Measure from the top of the inside sacint to window sill. The window covering will be mounted on the inside of the frame and will not extend beyond that. Go by the narrowest width otherwise your window treatment may not fit inside the window casting.
Date published: 2016-08-16
Does this Roller shade save energy like the other solar shades jcpenny advertises
I don't see 'energy savings' in the description. Are these that different from the other two solar shades being sold?
These have 80% light blockage; not complete blockage
Date published: 2017-03-15