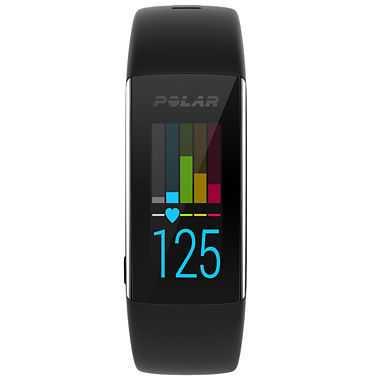 Polar® A360 Fitness Tracker - Large
pp5007730010
PRODUCT DESCRIPTION
This waterproof fitness tracker is the first to have both a wrist-based heart rate monitor and Polar personalized training guidance, as well as 24/7 activity tracking.
smart notifications and color touchscreen
keeps in right heart rate zone
support to achieve daily training goals
measures activity, training, steps, calories and sleep
receive notifications on incoming calls, messages, social media and more
color: black
size: large
durable, soft plastic construction
imported
Rated

2

out of

5
 by
Lindsay
Did not meet expectations
I had been debating buying this watch for months and finally took the plunge to get it, but after a week of using it I'm mostly disappointed. PROS: - I like the design of this watch, which was ultimately why I chose it over other brands. - the live phone updates from your phone to your watch is a cool feature - the heart rate tracker seems accurate CONS: - the wrist band runs EXTREMELY small. I have to use the last holes on the band, and the watch is still so tight that it is unpleasant to wear. My 8 year old cousin tried the watch on and it was the perfect size for a child. - the screen rarely lights up when turned as if it was being viewed as it is supposed to - this watch is difficult the pair with the polar app, and have it stay connected and sending results - the polar app is sub-par compared to fitbit's. It offers very little data, and isn't very user-friendly - I wish this watch offered the option to see a 24/7 tracking of your heart rate
July 17, 2016
Rated

5

out of

5
 by
RVJunke
Awesome Lifestyle watch!
I have been wearing this now for 2 weeks, and loved it so much bought one for my wife. I am a mild to active person, and this watch makes me feel lazy and forces me to get off my rear to move...I love it! It syncs with my M450 and it is awesome to see my progress both in daily activity as well as exercise on my bike when I am not wearing the A360. I've just ordered the Balance scale as well, as I believe that will round off the Polar Suite! One caution is the band as many have commented on. I can see this as an issue if you order a watch too big for your wrist. IMHO, I think if you are cautious it will not be an issue, but it is not a hasp that is rock solid...small nit that I am 100% ok with! All and all, LOVE this product ALMOST more than my Polar M450...but that product is off the charts so the A360 is one VERY small notch behind the M450. POLAR ROCKS.....
August 15, 2016
Rated

5

out of

5
 by
Mel402
Great watch but could use some improvements
I bought this watch about a month and a half ago and have loved the watch. I do wish it had more then one alarm on it, and I am a farmer / EMT and fireman and the watch band is constantly coming loose. The app also is something to be desired. I do also weare a competitors watch also and I have to say it believe the A360 to be the better more accurate watch but as I said the app leaves me wanting more. But overall usage of the watch is easy and I love it the watch it's self I have really had no problems with it and I work in some harsh environments and this watch hasn't failed me the water resistance is a huge deal for me. I REALLY overall find only one big flaw and it's the band if it was more like a normal watch band with a clasp this watch would be over the top cause for me the to little clips always are catching on things and poping loose but luckily I haven't lost it I usually feel when it pops loose.
June 23, 2016
Rated

5

out of

5
 by
Sallyb
love this product
I was updating and the face is stuck on the date in a circle with the time and in another circle it has 145% I have no idea how to get rid of this and get the time back does anybody have any idea what I should do??? thanks
September 10, 2016
Rated

5

out of

5
 by
Spun Jesus
Had the a360 about a month now and absolutely love it. Zero issues thus far.
August 31, 2016
Rated

5

out of

5
 by
walker
Great watch
Nicely chosed overall dimensions make very comfortable to wear. Rather wide and thin than narrow and thick which is good. + to designers. Wear it for 3 weeks already. Absolutely no issues with the unit falling off the band. No issues with loosing the USB-port cover. I do not remove the unit out of the band to charge the device. I just press the edge of the USB-port cover and it open to plug the cable in. One of the best looking bands on the market. No proprietary cable needed thanks to USB-port. Waterproof for swimming. Yes, Flow app needs improvements. As well as the band firmware interface. But in general it is a well-balanced solution on the market.
August 21, 2016
Rated

1

out of

5
 by
Jenny Elizabeth
Love the Product, Not the App
I love the look and feel of the A360 and the heart rate monitor is really accurate. However, my device will not consistently sync with the Flow App. I've tried resetting the Bluetooth connections, uninstalling and reinstalling the app, etc. This app is a deal breaker.
September 19, 2016
Rated

2

out of

5
 by
Ketchupman
Needs frequent charging, results vary from chest
I like the fact I can wear this in the shower and you can easily tell what time it is. But I find you have to charge it every 4-5 days versus the advertised 14 days. And when I have it on while working out along with my Polar bluetooth chest strap, the results are not always consistent, sometimes as much as 10-20 beats off. I also worry that the sensor will fall out of the bracelet, as I've had a couple close calls. I do like the bracelet over their competitors. I also wish they would provide you with your average heart rate during a workout, versus only showing it to you after you end a workout. The other Polar apps do the same thing. I try to make sure I average over 100 beats per minute, but never know until I end the workout on what I achieved. And finally, if you set it for an alarm, the vibration is very slight and not likely to wake you up. I also had a competing product and it had a much stronger vibration. It also tracks your steps, but doesn't share those with companies that provide rewards and incentives.
December 8, 2015