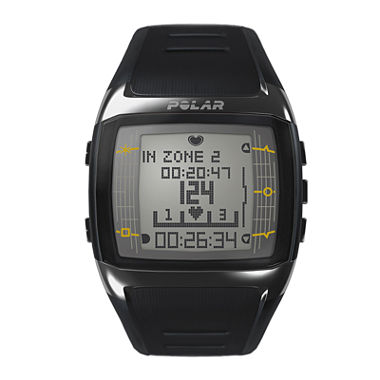 Polar® FT60M Mens Heart-Rate Monitor Chronograph Black Strap Watch
pp5004130100
PRODUCT DESCRIPTION
For the committed exerciser, this watch offers a training program that gives you weekly targets, including intensity and duration. Great for cross-training fitness enthusiasts, including swimmers. Comes with a heart-rate sensor that attaches to a fabric chest strap.
Brand: Polar
Dial Color: Gray
Strap: Black silicone
Clasp: Buckle
Movement: Quartz
Water Resistance: 30m
Case Width: 36mm
Case Thickness: 8mm
Bracelet Dimensions: 200mm long, 23mm wide
Model No.: 90051012
Special Features: Stop watch; alarm and snooze; dual time zone; button lock; coded transmission prevents interference from other training computers; manually set target zone; built-in fitness test monitors fitness improvement; adaptive and personalized Polar STAR Training Program; weekly history; training files for 100 events with summaries; compatible data transfer to PCs, Mac and Polar software
Jewelry photos are enlarged to show detail.
Rated

2

out of

5
 by
bhba4me
Great watch...if it would read my heartrate
This is my third Polar watch and when it's working I love all that it can do. The training modes are super helpful and it's really enabled me to train smarter. I've had mine for 2 months and now it is constantly losing my heart rate at the 12min or 24 min of my workout. I can stop and restart, only to have it zero out again. I've changed the battery in my sensor and still that doesn't help. I've contact CS and hope they can help. I really like the concept of this watch but frustrated with the quality, especially considering the cost!! Another thing I was disappointed in was it took over 6 weeks for it to display any stars for my accomplised training weeks. I've hit my goals on earlier weeks and all I've gotten so far is one star. I had read it could take 6 weeks to record results, so I'm trying to be patient but one lonely start after 7 weeks of working hard and meeting goals is a little deflating. I truly hope Polar will help resolve these issues. I'll review it again if they do.
October 25, 2014
Rated

2

out of

5
 by
daniellekristine
Loved it for the first 6 months...
For the first 6-9 months it worked amazingly well! I used it while running and during classes at the gym, I even splurged to get the foot pod to keep going with it. After the 6 month mark it started acting funny. It would work at the beginning of my work out and then cut out during the middle. After a month of this sporadic behavior and trying everybody's tips, I decided to really figure out what the problem was. I replaced the batteries, that helped for about a month and then it started acting up again. I cleaned my band - worked sometimes, I got a new band - better but not the fix, I even got some cream that was supposed to make it work - nope. Eventually I had to just give up on it because it wasn't reliable. Now, it works for about 11 seconds and then the watch won't detect it anymore. Crazily enough, for one of the races I did over the summer I wore just the watch and the foot pod and it was detecting other people's HRM's. I loved it at first so I can't decide if I should just chalk this one up to a defective one or if I should switch to something new.
January 20, 2015
Rated

4

out of

5
 by
Sarah
Great Experience
I see a lot of negative reviews here, so I'd like to add my two cents. Like many other customers, I too had problems with the watch/strap picking up my heart rate when I first got it. I'd have to pause and restart my workouts about a dozen times over the course of an hour - it was awful. But for some reason, just by sticking with it, the watch eventually worked itself out and started performing great. I love all of the features and almost never run/lift/horseback ride/go to yoga/etc. etc. without it. I'm not sure if the issue is with the strap needing to mold to your body or the watch needing to "break in" or what, but I've had over a year of amazing performance with it so far, with no signs of it slowing down. Also, I get tons of comments on how stylish it is (white watches are in!!).
August 4, 2015
Rated

2

out of

5
 by
Kristinasv
Great watch till it worked
I really loved my watch, till it stopped working. Most of the people complained about the heart rate not being picked up, and I was hoping it would not be me. So.... It was great till it worked! I used it for a couple of months here and there, and then used every single day for 3 months. I noticed it would stop working in the middle of the session and then eventually just stopped working. Period. I thought maybe the battery was low, so I took it to battery replacement place where it was checked and there were no issues. The battery was perfectly fine on the strap and the watch. I am beyond disappointed. I've contacted customer service, so depending how the whole process will, we'll see what's the further opinion about this brand.
November 9, 2015
Rated

4

out of

5
 by
Beny
Great watch, horrible strap
I have the FT60 for over two years and the watch works great. I only had to change the battery once for the watch and once for the transmitter at my usual watch repair place. The minus one star is for the strap. After a while, I had to replace the old strap with the new "soft" strap, and since then, I have changed it so often that I lost count. The strap is just HORRIBLE. It stretches easily which make the readings completely unreliable. I carry a replacement with me at all times. I was completely addicted to the FT60, using it at all my workouts, including swimming and deep water running, but the new strap make it impossible to use the monitor in the water. Even tough I love the device, I am thinking about changing for a Garmin.
December 16, 2014
Rated

1

out of

5
 by
tbbkl456
when this watch works, it works great. tells me my heart rate and my burned calories, which is the sole reason that I bought this watch. however, it hardly EVER works. half way through my workouts almost every single time it stops reading my heart rate completely. I reapply moisture and retry it only for the same exact thing to happen yet again. it is probably one of the most irritating things since I rely on this watch to tell me my workout progress. I'm incredibly disappointed that I spent so much money on a product that fails at doing its job. everyone that asks about my watch I tell them to never EVER buy one until this company can produce a correctly working product. I'm only giving it a star because I have to give it one.
October 30, 2014
Rated

5

out of

5
 by
BobJessup
Love it!
I got this two months ago after using the Polar M52 for the past 10-12 years. This unit sets weekly training goals for you based on your measured OwnFitness level and your goal (lose fat, increase fitness, or extreme fitness). It measures your 3 zones for you (fat burn, fitness, extreme fitness) and then monitors your workout, displaying the session time in each zone and accumulated percentage of your weekly goal achieved. Monday morning when you wake up there will be a trophy on your watch face if you achieved your goals, and there will be a new weekly goal set up for you. How sweet is that? This is a great tool that helps me stay motivated to keep improving my fitness without over-working or under-working my heart.
February 14, 2014
Rated

1

out of

5
 by
JPhrathep
I bought this watch 3 weeks ago as an early Christmas present for myself and I am so disappointed with it. The heart rate monitor will not pick up my heart rate unless the watch is placed with in a couple of inches of the heart rate strap/sensor. I have tried all the tips on the support forums; making sure the straps are wet enough, tight enough, made sure there are no other electronics close by causing electrical interference. I have had no luck at all! There is no point to even using it if I have to keep my arm beside my chest to get a heart rate. I was so excited about this watch and it quickly turned in to frustration and disappointed......
December 18, 2014