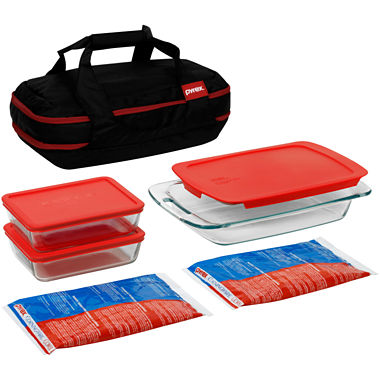 Pyrex® Portables® 9-pc. Double-Decker Set
pp5002821179
PRODUCT DESCRIPTION
Cook, carry and serve hot or cold dishes easily with the Pyrex Portables double-decker set. The carrier and unipack help keep foods warm or cold. Simply freeze or heat the hot/cold unipack and place it in the carrier to help keep your food at your desired temperature.
nonporous glass won't absorb stains or odors
easy-snap lids are BPA-free plastic
insulated, nylon mesh carrier
9-piece set includes:
3-qt. oblong pan and lid
two 6-cup rectangle storage dishes and two lids
17½x12½x6½" carrier
2 large hot and cold packs
Glass/nylon/plastic. Oven, microwave, refrigerator, freezer and dishwasher safe. Made in America.

Rated

5

out of

5
 by
Marigene
Love being able to take multiple dishes in one carry bag
Love the double- decker carrying case ..didn't really need the large baking dish but it will make a nice gift. love the two smaller dishes. Will be nice to take to Pot Luck dinners.
June 17, 2016
Rated

1

out of

5
 by
CookingFrenzy
Poor Design
I purchased this to replace a Pyrex baker that chipped after many years of use. I wasn't thrilled about the new design but that was the only option in the store. I was frustrated to find the handles made the dish difficult to fit into my dishwasher and impossible to lay flat in my sink. When I put it in the carrier to transport a hot food, I arrived to find it had sloshed out of the pan because one end of the lid had a 1/4" gap. Later, my cornbread grew mold after just a couple days, I believe because of the lack of a tight seal. I stopped by an outlet store to ask about a defective product and was told this was not designed to provide an airtight seal. They had the "old" style of dish in stock and I happily bought one. But I am disappointed in the new design and the inconvenience of only finding it at the outlet store.
August 13, 2014
Rated

1

out of

5
 by
DiscouragedBuyer
Absolute junk!
I was so excited to get this, and when I tried it out the first time there was no zipper. It had been sewn into the lining!!!! Extremely poor design And very frustrating that I spent a small fortune on shipping for junk, plus it wasn't cheap to begin with
February 11, 2016
Rated

5

out of

5
 by
Krimlar
EXCELLENT product !!!!!!!!
I bought two of these as gifts for Christmas along with 2 extra of the large casserole w/ lids to offer a variety of transport options, and they were the hit of the gift opening !!!!! Everyone wanted to know where I got them.....and I wish I had gotten more of them so I can have them on hand !....I will get my own very soon ! The person who received them LOVED them !!!! Very well made, top quality fabric with sturdy stitching. A very nice feature is the handles on the sides of the baking dishes...very nice touch ! I would recommend to anyone to buy two, as well s two extra big casseroles to allow for more carrying options....you will certainly use them in any case !
January 25, 2014
Rated

4

out of

5
 by
User
Works for me
I have had the one piece in all shapes for years. Love them. Have not used this one too much since just bought. Is a bit heavy when fully loaded, and some may find that awkward. OK for me as am used to being a pack mule.
November 20, 2015
Rated

4

out of

5
 by
davcharlie
Excellent for Carry-In Events
Excellent complete package to take a meal to the elderly, sick, or bereaved. Excellent for pot-luck carry-in. Keeps food hot, and likewise keeps food cold with the provided gel packs. The only negative is that the 9x13 lid is used to cover rather than securely seal food in container. I would buy this item again, and would also give it as a gift.
September 5, 2015
Rated

4

out of

5
 by
c_enz
It is big enough to provide for the entire team
It is bigger than what I expected for holding one big dish and two smaller ones. The quality of it is not up to par like my one large dish to-go holder, but I am very impressed with the option to take along three different options within on carry package.
August 6, 2015
Rated

5

out of

5
 by
Chef Krimlar
I would, AND HAVE , bought this item again....!!!!!!!!
I use ALL of the sizes of dishes on a daily basis, and am sincerely glad I ordered the extra casseroles.
July 9, 2015
$2.95

An oversized item surcharge may apply to some heavy or bulky items due to size, weight or special handling required. This item surcharge is in addition to standard shipping rates.

?
oversized item surcharge
true