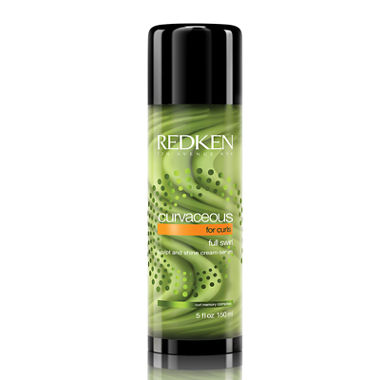 Redken Curvaceous Full Swirl Cream Serum - 5.0 oz
pp5006740300
PRODUCT DESCRIPTION
Keep your full-bodied curls free from frizz with this strengthening and moisturizing Redken Curvaceous Full Swirl cream serum.
● locks out humidity to reduce frizz
● seals in moisture, definition and shine
● best for loose to tight curls
● made in America
How to use: Apply evenly through damp or dry hair. Leave in, style as usual. Best results achieved when used with Redken Curvaceous shampoo and conditioner.
JCPenney limits the sale of all salon products and salon special purchases to 8 of any one item, up to a maximum of 12 items, per customer, per month.
Rated

1

out of

5
 by
RSky
Not Good
I purchased this product, because my favorite (life changing) products stopped being made by Redken; (Real Control and Fresh Curls). Real Control and Fresh Curls were life-changing for me, because for the first time I Loved my hair. I could go on and on about how effective and fantastic RC combined with FC was with my hair. So when they stopped being made, I tired Curvaceous. It is awful, first there is way less in the bottle then either of the other products I mentioned. It made my hair feel crunchy and terrible. The product feels like a cheap and useless version of the previous, effective and adored products once made by Redken. PLEASE Bring Back Real Control and Fresh Curls.
April 19, 2016
Rated

1

out of

5
 by
Carole2
heavy not bouncy
I've been a Redken customer for over 10 years. My mom owns a beauty salon so I know products. I used to LOVE this product line and bought every type of Curls product they have. Boosted to my friends about it. Well ever since they changed it, I can't believe how horrible it makes my hair feel. I don't know why they changed it this time; it was an excellent product. The only thing I still like is the conditioner. Hate the mouse which now makes my hair stinky and dry, the leave in conditioner makes my hair heavy, the low lather shampoo just doesn't measure to what the old version used to be. I am so very disappointed in this company as I've been a very loyal customer all these years but now I am searching for another Curl product. If I could put zero stars I would have. Should have asked for my money back.
June 7, 2014
Rated

4

out of

5
 by
kaysquared
Great for fine, wavy hair
It seems like I'm certainly in the minority here, but I liked this product. My stylist convinced me to let her use it on my fine, wavy, and often flat and frizzy hair after a cut. I previously used Crystal Curls by Redken and liked that line quite a bit, but didn't use it regularly. Full Swirl gave my frizzy hair some texture and "manners" without making it overly heavy or crunchy. I could see how this product's effectiveness could be less than desirable for people with thicker, coarser. or curly hair. It worked great for me and my finer, wavy hair.
December 10, 2015
Rated

1

out of

5
 by
Jennifer123
Did not work for my fine, wavy hair
I used Ringlet, and a stylist thought this would be "better" for my fine, wavy-to-curly long hair. She thought it would give more defined curls, stronger curls, and longer lasting curl. Tried it once today and will be exchanging it for Ringlet... this just made my hair frizzy, non curly and slightly wavy, kind of flat. Mainly frizzy and dry, which is what usually kills the curls. It even felt drying in my hands and when I put it in hair. May be ok for some hair types but really do not like this.
November 11, 2015
Rated

5

out of

5
 by
Jacki A
Great for my curls!
Well, it looks like I may be in the minority here. I never used the previous curly hair line by Redken so I can't compare, but I can tell you I've used more products for curly hair than I care to count and have actually argued with my husband over the number of products I've purchased to find something that actually worked. I used to straighten my hair every day because I hated my curls but not now! I use the shampoo, conditioner, mousse and this, in that order and I have not straightened my hair in over a month because I'm happy with how it looks on these products. I admit, it took some adjustment to figure out the right amounts of everything, but I've got it down and love it!!
December 26, 2014
Rated

1

out of

5
 by
pinkpretzel
its ok
Wow, by the reviews, I guess I'm not the only one disappointed in this product. I normally use TIGI Curls Rock and LOVE that product for my natural curls, but I went to a new salon and they suggested I try this product. I was not impressed with this product from the start (and I normally don't use Redken) and I told them about it. But I don't like to return products so I have been using it, just to use it up. Its 'OK', but certainly not what I like for my curls. I won't be buying this again and I can see from other reviews that I am not the only one who thinks this way....
August 27, 2015
Rated

2

out of

5
 by
JagMom
Change sometimes is not so good
I now use Curvaceous Full Swirl & Wind UP to replace Fresh Curls Curl Boost. The two products aren't as good as the original one product. The curls look good most times when first done but within a half hour - before even going out in the weather, the curls droop and the frizz takes over. So far the best products were Curl Boost & Water Gel. I've been using Redken products for over 40 years. This is the first real disappointment. Please reconsider bringing back your original quality products. Take back the control and manufacture products the consumer prefers and will continue to use. Thank you for listening.
July 31, 2014
Rated

1

out of

5
 by
bmjohnso3
Disappointment - plz bring fresh curl refiner back
My daughter is mixed and products for her hair type are far and few. She has my fine hair, but her father's dry, tight curly hair. I used thed Redken Fresh Curl Refiner for yrs and absolutely loved it! I've used the new line for curly hair (this line) and am so disappointed. Her curls don't have bounce like before, they friz within hours, and look so dull. I honestly have been using Paul Mitchell's line for curly hair and find that this product does way better than the new Redken line. I wish you'd bring back the old line for curly hair. I use Redken for myself still,but am changing over for my daughter. Bummer.
October 6, 2014