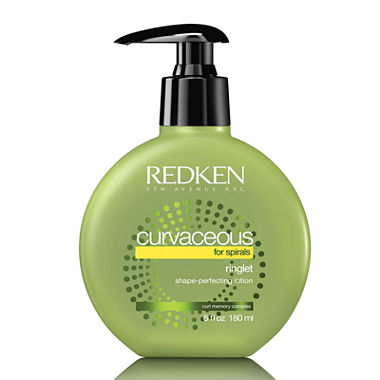 Redken Curvaceous Ringlet - 6.0 oz.
pp5006740307
PRODUCT DESCRIPTION
A curl-defining and perfecting ringlet lotion that is best for a mix of loose and tighter curls features sugar crystals to reactivate shape, Moringa Oil to restore moisture and UV filter to protect from UV damage.
reigns in unruly curls with 3-day curl definition
delivers frizz control and soft hold for a shiny, touchable finish
provides a great base for product layering that prepares curls to take any desired shape
How to use: Apply to towel-dried hair. Diffuse on air dry for perfect curls. Can also be used on dry hair to tame frizz. Results achieved with the use of Curvaceous Cream Shampoo, Conditioner and Ringlet vs. a non-conditioning shampoo.
JCPenney limits the sale of all salon products and salon special purchases to 8 of any one item, up to a maximum of 12 items, per customer, per month.
Rated

5

out of

5
 by
Curlsrock
Lightweight & defines curls
Been using this product for couple years now. It is lightweight so can use it by itself or mixes well with other products. Definitely recommend.
September 13, 2016
Rated

5

out of

5
 by
Loveredkenringlet
This product is awesome.
I absolutely love the Redken Ringlet. It makes my hair not frizz and defines the curls that I have. It also makes my hair very soft. I've been using it for about 2 years now. I haven't found anything better so I'll continue to only buy this product for my hair.
August 31, 2016
Rated

4

out of

5
 by
Curls
Keeps my curls
Love this product for keeping my curls and taming my frizz! I have thick, coarse, colored, curly hair and the curls keep nice for the next day. A bit pricey, so I wait for the sales but worth it.
August 20, 2016
Rated

1

out of

5
 by
somebody new
Another alternative for people with curly hair
I have curly hair and I about tried every product out there to manage and treat curls, but either it dries out and/or doesn't define the curls lessening frizz. So, I love the Redken Curl Perfector 7. It worked and I like the smell and texture. I been going place to place trying to find this product and online. I recently just found out that the product has been discontinued. : ( So, since I can't find that product anymore in stores. I suggest using this product by TEC ITALY scultore fine. It is similar to the grey bottle Redken I used. It doesn't smell and it leaves your curls nice. Not crunchy, not flakey, no scent. Soft and manageable curls. My hair stylist used it on my hair after I got my perm and it doesn't give me headaches and feels nice. The trouble is I don't know how to order it online. So you would have to search for that. Its in a grey bottle too. I get mine at a private hair dresser, so thought I would just share that with you all. Thanks. It worked for me, might work for you. Best of Luck
September 16, 2014
Rated

2

out of

5
 by
stasia
Pass
I normally use Dove Mousse on my hair. My hair is light, defined, and I can get by without washing it for a day or two. I already use the Redken Curvaceous shampoo and conditioner, which smell nice but I'm not sure if they're better than other shampoos and conditioners I've used. I tried the ringlet product this morning. My hair had been towel dried the way I normally do it, and then I used two pumps of this product on my hair. It's silky, distributed evenly, and then I lightly diffused it so my hair was partway dry. Then I went to work. The second and third picture are how my hair look. It's fine. I prefer how my hair normally looks, but if you want a very loose, slightly 80s look, this is the product for you.
February 3, 2016
Rated

1

out of

5
 by
jess
Offended and disappointed
I used to use Ringlet 07 and it was the absolute best product for curly hair I have ever used. HOWEVER, I bought this product and it's just awful. I my hair looks better with nothing it in than it does after I put this in. All my curls fall flat and it looks like I just rolled out of bed. It literally does the opposite of the description: it removes all definition from my curls and makes my hair frizzy. I'm so disappointed because I can't afford to be spending money on products that I expect to be excellent just to have them be worthless and sit on my shelf. I only even spent the money because I trusted Redken to be excellent! I'm sad that I spent money on this and I'm sad that I will never have the hair I did when I used the original formula.
April 17, 2014
Rated

2

out of

5
 by
Cari
New scent
I have used Ringlet for years and years and love the product. What I would like to know more than anything is why the fresh & light scent has now been replaced with what smells like a heavy men's cologne?! Ugh.........it is NOT a pleasant smell and really does smell masculine. I like the new formula but please go back to the old scent or change this one that smells so manly! I think women are more likely your target consumer anyway.
February 3, 2016
Rated

1

out of

5
 by
curlygirl1313
A Hit and a Miss!
I used to use the fresh curls line before it was discontinued. It kept my curly, frizzy hair defined and controlled. Since I had good experiences with Redken products in the past, I decided to two of the curvaceous products at the recommendation of my hairstylist. I bought curvaceous ringlet and full swirl both from a Redken salon, so I was assured I was getting real Redken products. I have been using them both for about two weeks and am very disappointed. The scent is strong and overpowering unlike the fresh curls line, and neither of the products I both provided enough definition and little to no help with frizz. While the price was worth it with the old line, it is too much money for products that don't give good results! Bring back the old line! Please!
August 7, 2014