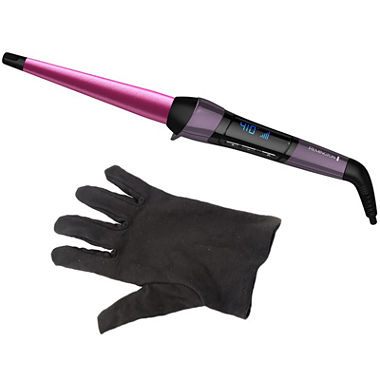 Remington Tstudio Curling Wand
pp5006420002
PRODUCT DESCRIPTION
Achieve effortless curls with no fuss using this curling wand. With its fast heat up and powerful high heat, this wand lets you easily get great results that last.
great for fast and easy wrap-and-go curls
includes heat resistant glove for safe and easy styling
½-1" conical wand with silk ceramic technology
2x tourmaline for less frizz and more shine than competitors
410 F digital salon high heat
30-second heat up and 60-minute shut off
digital displays/controls for precise temperature control
plastic/metal
wipe clean
4.81x2x14.12"H
imported
Rated

5

out of

5
 by
Donna106
This wand makes beautiful curls!
I recently had to replace an old curling iron of mine and decided to try the T|Studio Silk Slim Conical Wand. At first I wasn't sure about this as I had only ever used the type of iron with the clamp piece to hold your hair but I was amazed at how easy this iron is to use! My hair isn't very long and the cone style of the wand made it easy to work with my hair. It took a few minutes of working with it to get used to just wrapping my hair around it and using the glove to hold the end in place. It also took less time of holding it there to get the curl than it did with my old one. I wanted to see how it did on longer hair and tried it out on a friend. Beautiful!!! She also loved the fact that you don't have to "cook" your hair to get the curl set. I would recommend this wand to anybody looking for one. It's simple to use, heats up very quickly, and you are able, with the cone type wand, to make your curls big or small. [This review was collected as part of a promotion.]
November 12, 2014
Rated

5

out of

5
 by
windybyrd25
Sensitive, but quality curl
The wand is wonderful. It does a great job producing the curl I want. I only have two complaints and they are fairly minor. The first one would be the glove. It serves a very necessary purpose, but is a bit cumbersome. I have very small hands and feel like a little girl trying on mom's glove when I use it. It makes it a little more difficult to keep hold of the hair. The other problem I've noticed is the temperature control buttons are very sensitive . There were times while using it that I would barely touch the + button and not even realize it until it was much warmer than necessary for my hair style. I know there's a lock feature, but just as I would bump the temp button, I would unlock the lock as well. I'm guessing this is more of an attention issue on my part, but it is definitely something to be cautious about. Overall, I love this wand and look forward to using it for years to come! [This review was collected as part of a promotion.]
October 31, 2014
Rated

4

out of

5
 by
lcmac22
Makes curling easy and long lasting.
I have never been one of those people that can "do hair". My attempts at curling my hair in the past with any other curling iron have been frustrating at best, time consuming, the curls never turned out right and the curl always fell out immediately. The TStudio Curling Wand has changed everything about curling my hair. The design makes it easy to use and easy to customize the curls you want, small spirals, big curls or waves are easy to achieve. My curl stays in all night without having to use a bunch of hairspray and I love how bouncy and full the curls are. The wand heats up quickly and doesn't feel like it is damaging my hair like other curling irons. I really love my new Remington curling wand, it has made it so much easier and more fun to curl my hair and love the results. I would. recommend this product to anyone. [This review was collected as part of a promotion.]
November 17, 2014
Rated

5

out of

5
 by
alawsond
My Remington TStudio slim curling wand is amazing!
I love my new Remington TStudio Slim Curling Wand!! I had never used a curling wand before, just the old curling irons that pull and break hair. I am so happy! My hair gets the most gorgeous silky curls, I've gotten so many compliments! I have 3 daughters who want me to style their every with it every day now lol. I love the fact you included the heat protective glove. It keeps me from burning myself, which is amazing! The wand itself is so sleek & pretty. Love the digital temperature setting and the pretty pink color of the wand! Definitely way advanced technology from what I've used before! I'm very very very happy with my results & I've told every one I know about this amazing curling wand!! Highly recommend trying if you haven't, you will love it! [This review was collected as part of a promotion.]
November 4, 2014
Rated

5

out of

5
 by
Beccaboo
T|Studio Silk Slim Conical Wand
I was quite shocked at how much I liked the curling wand. At first I struggled at how to use it but one IO got the hang of wrapping the hair around it was quite easy. It heated up very fast and my curls lasted along time. I also used it on my daughter's hair and it worked perfect. She has very fine hair and anytime we curled it we had to use sponge rollers, because the curls from other products just fell out. I am so happy to be able to curl her hair for her without having to do it the night before and fussing over it the next day. The T|Studio Silk Slim Curling wand has made it very easy to get myself and daughter ready, it has cut out a significant amount of time when we want to curl our hair. I love this wand and would definitely recommend it. [This review was collected as part of a promotion.]
November 7, 2014
Rated

5

out of

5
 by
sashaks86
Fantastic Styling Wand
This is a totally new product to me and i am still on a learning curve with it but I really like it. I have always used a flat iron to straighten my hair but have always loved seeing others with loose curls... THIS item will do that.. I love the "lock" that it has so that it stays hot and you can adjust the heat to your hair. The digital display is bright and easy to read. It heats up so nice and fast. I love not having to wait forever to get my hair done. I also really appreciate the glove that is included, I have to say when I first tried it I didn't think I'd need the glove after a few minutes I had the glove on and it does make a difference.. use it... my first time using it I love the way one side of hair came out but not the other side.. now remember I said I'm on a learning curve? After thinking it through I realized I was holding the curler upside down on the other side so the size of curl was reduced... which makes a big difference. I think this is a great tool and I really look forward to experimenting more with it. It also has a 60 minute shut off which is great, how many of us have wondered if we've left the curlers etc. on?? Thanks so much for this product I am totally enjoying learning it.. and would love to try more from Remington! [This review was collected as part of a promotion.]
November 7, 2014
Rated

4

out of

5
 by
rachelbee
A magic wand for your hair!
This curling wand is very versatile. With its tapered, conical shape, you can create looser or tighter curls depending on where you wrap your hair around the barrel. It heats very quickly and you can adjust the temperature up to 410 degrees. The glove is useful for protecting your hands from the intense heat. The silk coating on the barrel protects your hair and seems like a great idea. However, I'm used to a traditional curling iron, so the slippery silk coating and the added slickness from the glove made this wand complicated for me to use. My hair is cut in a thick, very curly chin-length bob and this really is not the styling tool for me. I'd definitely recommend it for those with longer hair. [This review was collected as part of a promotion.]
November 11, 2014
Rated

4

out of

5
 by
Ashi123
Good value for money, easy to use
I always wanted to curl my hair but was always scared to do so because it was so complicated..but this wand makes it so easy..its comfortable to use, fast and makes curling hair so simple. [This review was collected as part of a promotion.]
December 18, 2015