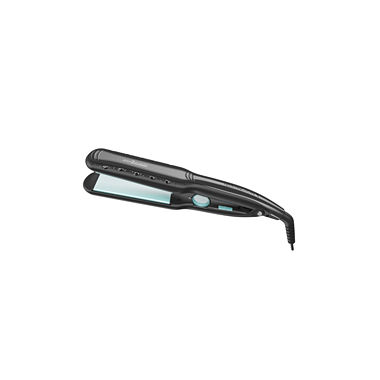 Remington Wet-2-Straight Slim Hair Straightener
pp5006420017
PRODUCT DESCRIPTION
Lose the damaging dryer and use this Wet-2-Straight straightener to easily dry and straighten hair in just one step. With its fast heat up and powerful ceramic iron, it gives great results in half the time.
condition, dry and straighten hair in one step
1" tourmaline and ceramic provides high, even ionic heat to reduce frizz and damage
420 degree F high heat
30-second heat up time
unique steam vents dry hair faster with less damage
turbo boost to highest temperature
plastic/metal
wipe clean
2.37x2.37x13.5"H
imported
Rated

5

out of

5
 by
jpenta64
Excellent Product
Upon opening the Wet2Straight 1" Flat Iron I noticed how easy it was to hold in my hand, very sleek and durable. I read the instructions and then began to use the straightener on my dry hair. The heat up time is extremely fast and I found it to work very easily with minimal effort, you just let it glide through. It made a world of difference with my frizzy out of control hair. I loved how it made my hair feel so smooth and soft. Later in the day, I tried it on my wet hair after my shower, I towel dried and then began to use the straightener. I found it to take a little longer to work, which is obvious because my hair was wet, but also found it to make my hair frizzy after it was drying from using the straightener, which was no problem all I had to do was run the straightener through my hair again to smooth out the frizz. But it seemed to be time consuming, My personal preference would be to use it with dry hair for straightening. I would definitely recommend this product to my family and friends. [This review was collected as part of a promotion.]
April 2, 2016
Rated

5

out of

5
 by
Dylansmommy15
Very impressed with this straightener
I am used to straighteners that say they will not damage your hair if you straighten while your hair is damp. They end up frying your hair. I expected the same results with this wet to straight flat iron from Remington. To my surprise, Remington has made a true wet to straight hair iron without damage! I slightly towel dried my hair so it was only damp but not dripping wet. I ran the iron though my hair once and it still made the crackling sound I was used to as well as let off a good amount of steam. Be careful. It is hot. And your hair is very hot. After a few seconds, I touched my hair and my hair was very soft and did not smell of burnt hair. My hair is on the thick side and normally, it has a wavy/curly texture. It needed two passes of the hair iron going slightly slow to be completely dry. The steam also made my hair very shiny. I did not have to use a serum or anything. Overall, I am very impressed. I did receive this to try free of charge for my honest review. [This review was collected as part of a promotion.]
March 30, 2016
Rated

4

out of

5
 by
NoelyCast1321
Good...Not Great
The few times I have used this with wet or damp hair it has only completely dried it once. I was disappointed with that. I have just been using it as a regular flat iron and it works great that way. [This review was collected as part of a promotion.]
September 2, 2016
Rated

4

out of

5
 by
happywifehappylife
Works great my frizzy hair was straight all day!
This product is great on both wet and dry hair like it stated but one thing I would warn you about is the amount of steam that comes off of it when you are using it to straighten wet hair (but for good results its a must to use the steam option. Just use caution so that you do not burn yourself. And please do not try to use it as soon as you get out of the shower without using a towel to dry your hair first. I had no problem using it on my dry hair and loved that my frizzy hair stayed straight all day (please make sure not to use it on a higher setting than 12 when it is dry and that setting is only if you have thick hair so please make sure to go by your hair type). I love that you can adjust the heat because when your hair is not wet you do not need to have it on a high setting like you would when its dry. The ceramic plates make it so it can get to 420 degrees in only 30 seconds, which is another time saving feature. [This review was collected as part of a promotion.]
April 11, 2016
Rated

5

out of

5
 by
1badaddict
Best for the Price
I purchased this for my son,(he spikes his hair) he needed something to use straight from the shower, and I needed something with an automatic shut off. For some reason it's not in the description,and it should be. Excellent product!
April 2, 2016
Rated

5

out of

5
 by
LanaB
Heats up quickly & works great
This Wet2Straight flat iron exceeded my expectations. I've had other flat irons that seem to take forever to heat up. This one heated up extremely quickly! Once it was heated up, it was ready to go. The first time I tried it, I used it on my dry hair. I was impressed with the job it did. My hair is short, but thick, so the idea of being able to use this on my wet hair and skip the hair drying step was very appealing to me. Using it on my wet hair took a few passes on each section. I am sure it is because my hair is so thick and coarse, though. I did really love the fact that it dried my hair at the same time it styled it. The size was also perfect for my shorter styled hair. Overall, I am very impressed with this straightener and it's something that will be hanging out on my bathroom counter because I anticipate using it on a daily basis. [This review was collected as part of a promotion.]
April 7, 2016
Rated

5

out of

5
 by
Sarra1982
Wet 2 Straight hair straightener
I am so impressed with this Wet 2 Straight hair straightener I have very thick hair and straightening my hair usually takes 45 min to do. With this wet 2 Straight hair straightener I can have my hair straightened in 10 minutes . I love that I don't have to blow dry my hair first before straightening anymore if I don't want to . the heat setting dial is on the inside of the straightener which is a huge plus for me.I also love that with this straightener it takes seconds to heat up to my desired temperature The handle is very easy to hold onto and prevents me from burning myself I absolutely love this straightener so much I don't want to share it so I will be buying two one for each of my teen girls I have owned a few straighteners and this wet 2 straight is by far the best and is my new first choice when it comes to straightening my hair I couldn't be more happy with the results and the quality of this straightener it does everything it says and it's so easy to use not to mention it's not big and bulky so it's easy to pack up for trips I recommend this straightener to everyone and have already told my friends and family to go buy one I'm so happy to be able to review this product [This review was collected as part of a promotion.]
April 4, 2016
Rated

5

out of

5
 by
testrite
Straightens & Dries hair in one step
My hair is incredible. It is really smooth and tame now that I have a awesome flat iron. It gently smoothed strands of my hair from the inside out. I started with slightly damp hair and I used one inch sections. I started at the roots and worked my way down. It is a one inch ceramic plus titanium and heats to 420 degrees high heat. I no longer have static or fly a ways and that is really important to me. It has 30 heat settings and it has ceramic for even heat distribution. I really like going from wet to straight and dry. If I blow dry my hair is all frizzy and damaged and with this flat iron I no longer need my blow dryer. This iron has steam vent too! Love it! I have a indicator green light best for wet hair and a amber light that's best for dry hair. Awesome! It heats really fast like 30 seconds. That is the best part because I hate to wait. It also has a 60 minute auto shut off. I like the long cord too. I have thick long hair and I can do my hair in 20 minutes from wet to dry. I make sure my hair is clean every time I use it. Disclosure: I received for free in a special promotion. My review, my opinion and experience is honest and 100% genuine and are unbiased in exchange for this product. [This review was collected as part of a promotion.]
April 2, 2016