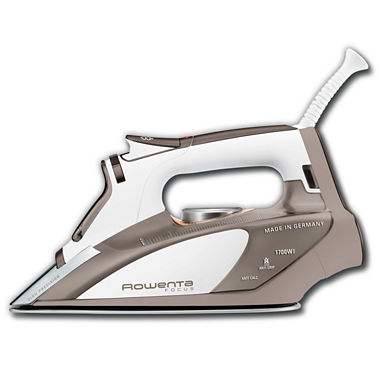 Rowenta® Focus Iron
1c061b8
PRODUCT DESCRIPTION
Loosen wrinkles with the power of 400 micro-bursts of steam. Smooth, scratch-resistant plate glides over your garments with ease.
Microsteam400 soleplate offers perfect steam diffusion
self-cleaning system with anti-calc flushes mineral deposits
3-way auto shut-off
vertical steam feature for hanging garments, drapes

1700W. Imported.
Rated

5

out of

5
 by
Nicole M
Rowenta Iron - would buy again in a heartbeat!
The iron looks fantastic. It is heavy and not cheaply made. The iron plate is thick and has many holes for steam. The steam feature is on of the best options on it! Steams quicker and better than any iron I have ever owned. Presses creases in pants/shorts precise and perfectly! Has all kinds of settingstuff for just about any material as well as steam settings. Holds quite a bitime of water so you are not constantly filling and it does not leak water! I am amazed at how wonderful this iron is. The only thing I wished the iron had was a cord keeper or a way to wrap the cord. But, I can get past that with how great this works to iron and steam our clothes! It's super easy to use, directions are easy to follow.
September 21, 2016
Rated

5

out of

5
 by
Busy Executive/Wife/Mother
Highly recommend this iron
I love the sleek design of this product and the heavier weight actually gives it more stability than other irons I have used that have been prone tip over and leak water everywhere. I didn't think I would like the bottom as it is not teflon coated, however, if used at the proper heat setting, it is actually quite smooth and glides easily over the fabric. The iron heats quickly and is ready with steam to use in less than one minute. I think it's a great value as well compared to other similar products.
September 19, 2016
Rated

3

out of

5
 by
ESP Writer
Like but not in love
To begin with, I was sent this particular model to evaluate. Immediately, right out of the box I had already noticed some issues. For one, if you have large hands, like myself, you will find in quite difficult to wrap your hand around the handle. The back of my hand scraps the heat adjustment knob on the main housing. And speaking of the knob, although it has many wonderful adjustment settings, it's almost impossible to know what you're turning the setting to. The knob is a beautiful copper-gold but the text they used white, which makes it nearly impossible to see combined with it being practically covered beneath the handle. What I did find rather wonderful was the narrow tip at the front of the iron. It made it incredibly easy to iron between blouse/dress shirt buttons. It heats up incredibly fast (not so slow to cool, though) and does a terrific job on cotton and cotton blends. With one of my husband's shirts in particular I used to curse him, the shirt and the manufactures for making so difficult to iron, but this iron did do a terrific job. If you're a steam-a-holic, like me, this iron will make you very happy. I accidently set it on full-steam and in my small ironing area it became a mini sauna. Downside, full steam only last about three shirts or two facials, whichever comes first. However, the hole for the water is a bit cumbersome to pour water into. Lastly, the top two buttons for extra stream and spray attached at the main handle are both a pro and a con for me. If you don't have much strength in your hands, these buttons will prove difficult to use. They take a bit of pressure to use, but they feel incredibly solid.
September 16, 2016
Rated

5

out of

5
 by
AshPin
Great product would definitely purchase
Works wonderfully. Better then the iron I was using previously. Would definitely purchase this product. I have already recommended it!
September 20, 2016
Rated

4

out of

5
 by
Katie
Easy to use
This iron was very simple to set up and use. Im not a big ironer- it's always seemed like too much work. This iron is basically the entry level of high end irons, but it had everything I could possibly need and more. Although there weren't really any directions, per say, it was simple enough to figure out. I'm glad it didn't have a million different settings and buttons, it made it easy to get down to business and iron. Set up consisted of me removing a sucker from the iron plate (packaging), flipping open the water tank cover, adding water, setting dial, and plugging it in. It heated up fast, it does have a handy indicator light to let you know when it's reached the temperature. The biggest drawback with this iron was the cord design, it was awkward trying to put away. It did wrap around the bottom of the iron but the way it bent the cord made me worry about it having isssues over time. With my limited experience with ironing, it would have been nice to a better explanation of what the settings and buttons did or how they may be used. Specifically, the spray feature, it was one of the few extras and I didn't have a clue what to use it for. For some it may be general knowledge, but for me and others in my household it's not- I'd like to encourage them to use it and knowing how is a big part. Considering that this was a baseline model, with few settings compared to the other irons Rowenta makes, I would have liked to see a bit of info about basic iron settings come with the iron. At first I considered the limited settings a bad thing, but after using it and thinking about how my family and I would use it, less is more. The fast heating and automatic shut off make this a great iron, quite pricey but it seems like the sort of thing you want to invest in. I would recommend this, it would be a great wedding gift or even a house warming gift. I was given a free sample in exchange for my review.
September 20, 2016
Rated

5

out of

5
 by
Effie
Intuitive!
The irons I have used got a workouts! Usually about every 2 years I have to buy a new one. This is because of hard water and ironing on a daily basis to keep up. Between me, my husband and two sons it seems there is always a pile of dress shirts and slacks to iron because their jobs dictate a shirt and tie type of dress code one just like having his clothes pressed. It's a chore that I dread doing and when they try and do it themselves... the clothes wind up being scorched or plenty white/brown flecks all over from the hard water mineral deposits. Time for a new iron! Right away I can feel the Rowenta DW5080 is so much lighter then my old one. I always thought an iron needed weight/heft in order to get crisp clean lines but this iron shows me differently. It has a comfortable grip with no fear of dropping it. Easy to fill and empty just be sure you use tap water as per the instructions. It has a contoured sole plate to fit and easily reach little tight spots. This Rowenta iron has 400 microsteam that covers the whole soleplate for an even steam. My old iron had 300 microsteam that weren't all that micro and did NOT cover the whole soleplate making any ironing take a bit longer then it should take. It glides effortlessly and takes out wrinkles with one or two pass compared to the three and sometimes four passes I normally do to get the wrinkles out. Ironed cotton, polyester, rayon, and vertically steamed a light wool jacket and it performed excellent! Swivel cord makes it easy to set down. It does NOT have an OFF button. It does have AUTO SHUT OFF. If the iron is left on for 8 minutes with no use it shuts off. If left on it's side for vertical steam or left face down with no use it shuts off within 30 seconds. I've had this iron for about a week and so far I'm satisfied with the performance and results that I'm getting from it. I'd buy and recommend it for those looking to purchase and iron. Should anything amiss develops I will definitely give an update.
September 14, 2016
Rated

4

out of

5
 by
Jaclyn1989
A good value for the amount I paid
Rowenta is well known for their high-quality irons. My only complaint about this iron is that I cannot see the water level when filling it. The manufacturer should have designed a marker to make it easier to view the water level when filled. The next iron I purchase will be with a self-winding cord. This model does not offer this feature and I cannot wrap the cord around the iron before storing it.
August 12, 2016
Rated

3

out of

5
 by
jackson
Good product
it was a very nice product, we are using it on daily basis but we didn't face any issues, so far so good
July 25, 2016