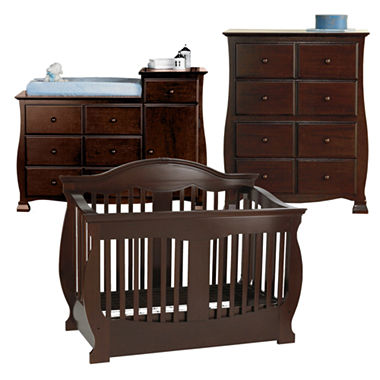 Savanna Grayson 3-pc. Baby Furniture Set - Espresso
194ce21
shop matching items
PRODUCT DESCRIPTION
Buy the 3-pc. set and save!
Dramatic curves and detailing create a picture-perfect nursery with this baby furniture set from Savanna. The 3-piece set includes a crib, a changing tower and a 4-drawer chest.
hardwood crib converts to toddler daybed or full-size headboard & footboard
crib features 3-position mattress height to adjust as baby grows; front side is stationary for added stability
crib measures 60½x31x49-1/8"H; includes guardrail for use with toddler daybed
chest & dresser are solid wood & veneers
chest measures 33x18x41"H
changing tower measures 54x18x40"H; features 3 wide drawers, 1 narrow drawer & 1 cabinet with adjustable shelf
drawers feature metal glides & safety stops
crib requires assembly; changing tower & chest are fully assembled
Crib conversion rails and 4-sided changing pad sold separately.
Certified by the Juvenile Products Manufacturers Association (JPMA).
Rated

5

out of

5
 by
AvaM1
Beautiful set!!
This set is beautiful and looks great in my babies room. The color is very pretty and shiney. The set is extremely heavey and a good qualty. The only down side was shipping was handled poorly. The back leg was completely broken off the changing table and the dresser front corner was damaged. Was easy to fix the leg and the dresser is not too noticeable. Overall very happy with this set. Shipping only took about 7 days.
January 22, 2012
Rated

3

out of

5
 by
mybabiesnursery
This set is beautiful...but....
We are expecting twins and they will be sharing a nursery to start. So I wanted furniture that would look great for both babies and carry them through childhood. I ordered 2 sets on 12/13/2012. On 12/26/2012, after not hearing from JCP or a delivery company on the expected delivery date of 7-14 days; I contact JCP to see what was going on with the order. They cancelled the order without contacting me, stating that they were not longer offering the 3 pieces for the group price. Even though they are still promoting that offer on this website. The customer service rep was Excellent, she searched and made sure they had all 6 pieces in stock, repriced all items to ensure that I got the same deal and reordered the items for me. She also stated after I received the items to contact the furniture department and they would compensate me for the issues in ordering I had. I received the furniture on 1/15/2013. It is absolutely beautiful furniture for the price. I will say I am a little disappointed in the quality of the furniture. CRIBS: The stain on the cribs are not even, it appears that the cribs were assembled and then sprayed with stain. We did not order the full size bed rails for conversion due to the poor reviews. When we use this as a full size bed, we will most likely just attach the headboard to a free standing bed frame and not use the foot board. CHEST: Beautiful, but poorly and cheaply built. There are not board supports between the drawers, so I am concerned with the weight of items placed in these drawers as our kids grow, I feel like they will break through. The feet are fragile and appear as if they will break off easily. The wood is soft and will dent and scratch easily. CHANGING TOWER: Returned 1 of the 2 we ordered. Two of the feet were broken off completely when we opened the box, the top drawer corner was damaged on the other. Otherwise, beautiful piece, just concerned with the durability. We are going to have glass cut to fit the tops of the Chests and Dresser to hopefully ensure the furniture will last 5 years or so.. I would recommend this if you are looking for large furniture that looks great and need multiple pieces. If you are only buying for one baby and want quality, I would probably look around a little more.
January 22, 2013
Rated

5

out of

5
 by
cmdsunny
5 years and going strong
We purchased this set 5 years ago when our daughter was born. She has been sleeping in the bed since she was 6 months old and the set still looks brand new. We just had a baby boy and the crib walls are going back up as she passes the set to him and gets a big girl room. Looking forward to getting another 5 years out of the set. DEFINITELY worth the price, high quality furniture.
July 8, 2016
Rated

5

out of

5
 by
easydoesit
beautiful bedroom set
I bought this beautiful set April, 2015 for my granddaughter. Looked at a lot of cribs, etc. Very hard to find any nice ones in stores & I was apprehensive about purchasing such a large item online without seeing it in person. Well, was I surprised! The set arrived earlier than expected (which was great - seeing that my granddaughter was soon to be born). The dressers came already assembled encased in large boxes, as did the crib & crib conversion rails (purchased separately). We had to assemble the crib - did not take long as everything was included for the assembly. But wow! what a gorgeous set. My daughter was bowed over it as was I. Everything works fine - all the drawers slide open & shut easily. The color is amazing & all three pieces match in color as well. Beautiful, just beautiful. A good set for the price. I purchased the crib conversion rails for the future. I would highly reccommend this set. JCP was very helpful with answering any of my questions.
July 7, 2015
Rated

2

out of

5
 by
AC19
Missing parts
We purchased this nursery set for our soon-to-arrive baby. Unfortunately, it was back-ordered several times...by the time it arrived, we had to put it into storage because we were moving. After moving, we were excited to put everything together for our six week old so that she could finally have a room of her own. The set looks beautiful...it's just too bad it is missing parts! We are missing the washers to put the crib together and because of safety reasons, we are instructed to not use substitutes. When speaking to the distributor, we were told that it will be at least another two to three weeks before the washers come in. After our experience of waiting more than a month for the nursery set to arrive, we're not optimistic. You can't even speak to anyone at the manufacturing company!
November 15, 2011
Rated

5

out of

5
 by
SweetShepherd
Completely satisfied
Purchased the three piece set on 1/22/13...all pieces delivered to our door on 1/26/13. All items were well packaged and no damage of any kind. The Dresser and Chest came fully assembled. The Crib required assembly, but was quite easy to put together. Color is beautiful. We ordered the Espresso, and after reading the reviews was expecting it to have a cherry tint to it, however, we found all three pieces had less of that cherry tint and were more true to the espresso color. The crib is absolutely beautiful, and appears sturdy. The chest and dresser drawers do not appear as strong, but they will do fine. The drawers also glide quite nicely. Overall we are very pleased with our purchase. Customer service was excellent and with super fast delivery, it was more than we had hoped for.
January 27, 2013
Rated

5

out of

5
 by
SoonToBeMore
Great set!
We purchased this set (crib, chest of drawers, dresser/changing table and hutch) for our daughter who is now 18 months old. This is absolutely gorgeous furniture. The cherry is more red in color than I was expecting, but that does not take away from it's looks. All pieces to this set are very sturdy and have held up extremely well. We have had absolutely no problems with the drawers or with the pieces being easily scratched- they all still look and work as great as they did the day they arrived. The crib was easy to assemble and we had no problems with any of the pieces. I would highly recommend this set to anyone- so much so that we are now shopping for another line from the same brand for our newest addition to the family due in December!
September 2, 2012
Rated

4

out of

5
 by
ALimbaugh
Love the furniture, but Not truly espresso
Our furniture came this week , June 2012, great condition, handled great by delivery company, no defects, marks or scratches. Directions were easy to follow on the crib and we had it assembled in about 30 minutes. Loved that the dressers came already assembled. Only complaint is that the furniture set does have a more cherry tint than true brown espresso color which is what I ordered. I was mildly prepared for this b/c of reading other reviews so believe what they all say. Its going to have a red tint if you order. Overall, I am pleased with the purchase and that shipping was included in price. It made this a great value for what you get!! Can't wait for my daughter to get here in August and put her in her new room!!
June 4, 2012
Product Q&A
Ask your questions. Share your answers.
5 years, 6 months ago
by
How often do you shop at JCPenney? 
Occasionally
0
out of
0
found this question helpful.
Was this helpful?
helpful
0
unhelpful
0
http://answers.jcpenney.com/answers/submit/1573/product/161943/question/405140/undohelpfulness.djs?authsourcetype=__AUTHTYPE__&format=embeddedhtml&innerreturn=http%3A%2F%2Fanswers.jcpenney.com%2Fanswers%2F1573%2Fproduct%2F161943%2Fquestions.djs%3Fexpandquestion%3D405140%26format%3Dembeddedhtml%26scrolltotop%3Dtrue&return=__RETURN__&sessionparams=__BVSESSIONPARAMS__&submissionparams=__BVSUBMISSIONPARAMETERS__&submissionurl=__BVSUBMISSIONURL__&user=__USERID__
Answers
Answer: 
Yes they are. Since the Grayson is made by Savanna, you will want to order the Savanna conversion rails. The white, cherry, and espresso colors are available for it right now. Good luck!
Savanna Baby Conversion Rails
(
24
)
5 years, 6 months ago
by
Minnesota
How often do you shop at JCPenney? 
Occasionally
0
out of
1
found this answer helpful.
Was this helpful?
helpful
0
unhelpful
1
http://answers.jcpenney.com/answers/submit/1573/product/161943/answer/313170/undohelpfulness.djs?authsourcetype=__AUTHTYPE__&format=embeddedhtml&innerreturn=http%3A%2F%2Fanswers.jcpenney.com%2Fanswers%2F1573%2Fproduct%2F161943%2Fquestions.djs%3Fexpandanswer%3D313170%26expandquestion%3D405140%26format%3Dembeddedhtml%26scrolltotop%3Dtrue&return=__RETURN__&sessionparams=__BVSESSIONPARAMS__&submissionparams=__BVSUBMISSIONPARAMETERS__&submissionurl=__BVSUBMISSIONURL__&user=__USERID__