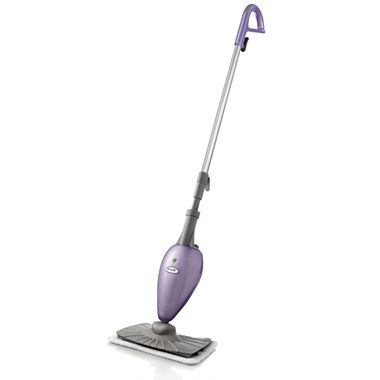 Shark® Steam Mop
1747b18
shop matching items
PRODUCT DESCRIPTION
The Shark steam mop makes it easy to clean and sanitze hard floors.
ready to use just 30 seconds after start-up
powerful steam leaves floors virtually dry
weights only 3 pounds
Rated

1

out of

5
 by
itram
Received my NEW Shark today and will return in tomorrow!
After vacuuming the kitchen tile, I filled steamer per instructions. This one has so little steam that to me it's worthless. I've had two others that were fine in the beginning and suddenly die after 3-4 years and I don't use it but approx 2 to 3 times a month. The last one had settings for light, medium and scrubbing. This one has nothing. But because it's a Shark I gave it another try! This one is a major disappointment.
September 7, 2016
Rated

4

out of

5
 by
Bluegrass1
It works well....but
We've used this steam mop for quite awhile so we have a lot of experience using it. We use on linoleum, tile entryway, hardwood, and carpeting. Its easy to fill ( with the funnel/filler cup included), and use. Pwr cord is long enough. It heats up quickly and steams furiously if you keep pumping the handle. We use only distilled water, so never had a problem with the heating unit. No clogging up either. Buy an extra set of pads. They get very dirty and must be machine washed after each use. They clean best if soaked for awhile in detergent, then into the washer/dryer. They clean up well and stand a lot of re-use. On smooth floors (incl. hardwood) it cleans well but will not erase black scuff marks. It can't get dirt out of the texture in such tile. It only cleans on the surface- doesn't lift dirt out of the fissures. Carpet glider attachment will fluff up the carpet nicely IF you vacuum thoroughly first. A decent tool for floor cleaning, would be thrilled if it would lift the dirt out the texture in our entryway tile. Overall, recommended
November 8, 2011
Rated

5

out of

5
 by
1928Fan
Love this item
I love how much easier it is to keep my floor clean. I
April 27, 2016
Rated

5

out of

5
 by
theblintz
What a great mop!
I have wanted a steam mop since the first time I saw one advertised. So, thanks to a great sale at JCPenney.com, I finally have one. We hooked it up as soon as it arrived, and it works beautifully! We used it on our floors that had already been mopped in the conventional way, and the nice white pad was black by the time we finished. My floors look a lot cleaner, and it was easy to use. We are using distilled water in the tank and, if there is a trouble spot on the floor, we spray it with a little white vinegar and, problem solved. I love that my floors are so clean with no chemicals and no soap residue! I highly recommend this product!
April 11, 2014
Rated

5

out of

5
 by
Dee1118
This shark mop totally works.
I've read lots of reviews about how the cleaning pads are good to use and easy because they are washable, that the more you use the mop, the cleaner/brighter your floor looks. Things that I didnt like and didnt know: #1 is that IT DOES NOT HAVE AN ON/OFF SWITCH. I was totally flabbergasted by that, so every time I was done or wanted to stop and do something, I needed to unplug the mop. Also, its not as easy to use as I thought. There is a technique to sliding the mop and making the steam action work. It actually works up a sweat with me every time. Initially its annoying but I've grown to appreciate the upper body work out.
January 15, 2014
Rated

5

out of

5
 by
dxer
Steamer is great for sanitation of bathroom floor.
I recently purchased a Shark steam to reolace my Shark steamer that died after about 8 years. This is virtually the same as my old one with one exception. It works really well but the new one takes much longer to build up to steam approx., 4 minutes. It is not a real issue with me, if I hadn't had a Shark already I wouldn't have known. Maybe this one will last longer, time will tell.
October 7, 2015
Rated

5

out of

5
 by
allisonsmommy
Love It!!!
I have had this for about 6 months and absolutely LOVE it. No more chemicals or pads to buy. You can see and feel how clean the floors are. It safe for my wood floors and I can clean all of my hard surfaces in less than 30 minutes which is wonderful. It used to take me about and hour and a half. Unlike some other steamers you can purchase replacement pads just about anywhere. And to top off all the other great things the floors dry in no time and that really helps with a 4 year old that seems to make it her mission to walk on my clean wet floors!
December 4, 2009
Rated

3

out of

5
 by
kjws
a little disappointed
I was really excited to get this product but when I first tried it I was a little disappointed. It will get the floor clean but it takes many swipes back and forth to do so. I expected it to be easier. My floors aren't that dirty to start with but I expected the steam to get into the little crevices of the tiles and immediately remove any dirt.It eventually did after going back and forth like a regular mop. My guess is it would work great on a linoleum floor which I don't have. But having the piece of mind that my floors are sanitary now is good.
December 29, 2010
Product Q&A
Ask your questions. Share your answers.
6 months ago
by
Long Island
How often do you shop at JCPenney? 
Occasionally
0
out of
0
found this question helpful.
Was this helpful?
helpful
0
unhelpful
0
http://answers.jcpenney.com/answers/submit/1573/product/129196/question/2641162/undohelpfulness.djs?authsourcetype=__AUTHTYPE__&format=embeddedhtml&innerreturn=http%3A%2F%2Fanswers.jcpenney.com%2Fanswers%2F1573%2Fproduct%2F129196%2Fquestions.djs%3Fexpandquestion%3D2641162%26format%3Dembeddedhtml%26scrolltotop%3Dtrue&return=__RETURN__&sessionparams=__BVSESSIONPARAMS__&submissionparams=__BVSUBMISSIONPARAMETERS__&submissionurl=__BVSUBMISSIONURL__&user=__USERID__
Answers
Answer: 
This mop can be used on laminated floors.
6 months ago
0
out of
0
found this answer helpful.
Was this helpful?
helpful
0
unhelpful
0
http://answers.jcpenney.com/answers/submit/1573/product/129196/answer/2631885/undohelpfulness.djs?authsourcetype=__AUTHTYPE__&format=embeddedhtml&innerreturn=http%3A%2F%2Fanswers.jcpenney.com%2Fanswers%2F1573%2Fproduct%2F129196%2Fquestions.djs%3Fexpandanswer%3D2631885%26expandquestion%3D2641162%26format%3Dembeddedhtml%26scrolltotop%3Dtrue&return=__RETURN__&sessionparams=__BVSESSIONPARAMS__&submissionparams=__BVSUBMISSIONPARAMETERS__&submissionurl=__BVSUBMISSIONURL__&user=__USERID__