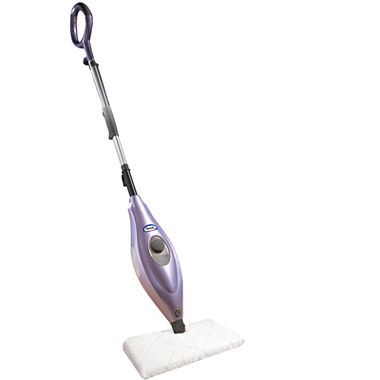 Shark® Steam Pocket Mop
web ID: 8692322
The easy-to-maneuver Shark Steam Pocket Mop makes detailed floor cleaning a cinch.
clean and sanitize with both sides of the microfiber pocket
swivel steering cleaning head gives you great maneuverability
delivers super-heated steam on-demand to provide 99.9% chemical-free sanitization
filling flask uses regular tap water
ready to use in just 30 seconds
Includes:
1 rectangular steam pocket mop head
2 super-absorbent microfiber pockets
1 filling flask
Plastic/metal. Imported.

Rated

4

out of

5
 by
vaginner
I'm happy with Shark Steam Pocket Mop
This is the second one because the first one broke and I couldn't find my receipt to return it. The second one is not exactly like the first one, it seems better made and is working great.
November 24, 2015
Rated

5

out of

5
 by
Angie
Amazing results with the steam. Worth the money!
We mop the floors regularly, I was amazed at how dirty they were when I used the Steam Mop.
November 26, 2015
Rated

4

out of

5
 by
Gabsnvegas
Product is okay
I have owned a shark steam cleaner before, and was very fond of it. This is a very different machine than the one-padded one. Received the box, and it was a little beat up. The manual was creased and folded, as if it were old. Also there was water in the tank, but if you read the manual it explains that they test them. First use, right out of the box, there didnt seem to be any steam, but the pad was very hot to the touch. The pad also was turned a nasty color brown, so i figured it was working. Don't watch the infomercials though, as that steam has to be cgi. Being able to use the front and back of the steamer is very nice. The two included covers arent enough, and I have to interrupt just to wash these pads. I will buy more. There are none of the other bells and whistles. No corner head, no extra large head.. no magic purple duster. You will have to clean your corners the old way. This is not a perfect product, but it'll do an okay job with little hassle.
October 25, 2014
Rated

5

out of

5
 by
azshopper80
Would Do An Infomercial!!!
I thought for a long time about getting one of these, but was resistant, having tried so many other "miracle" mops that didn't work. After reading reviews for this pocket steamer as well as the original, I chose this one because many reviews for the original said it stopped steaming after a few months. Whereas there were no such complaints about this pocket mop. I have to say, i LOVE MY SHARK!!!! We have a baby and pets, so we are constantly cleaning. The shark gets used at least three times a week in my entire house, and the floor is actually clean. Plus no disgusting filthy mop water or sore back AND I can shark the whole house while holding a baby on one hip if I need to! Can't do that with a mop!! You just wash and reuse the cleaning pads (make sure never to bleach them!!) then get new cleaning pads every few months as they wear out. I love it so much I really would do an infomercial for them, lol. At my recommendation, several friends and family members also have Pocket Mops of their own and they love them as well.
December 15, 2010
Rated

5

out of

5
 by
ccrocket
Right Tool for the Task
If you are looking for a steam mop that is easy to use and easy to maintain, LOOK NO FURTHER. GREAT product and very user friendly. Uses PLAIN OLE TAP WATER do not have to buy distilled water like MOST others.
July 30, 2015
Rated

5

out of

5
 by
beautiful
this product has great qualities
I like the fact that it kills bacteria in my bathroom and kithcen floors. The instructions to assemble the product was very easy and has great features.
May 13, 2015
Rated

1

out of

5
 by
Jenny
Shark® Steam Pocket Mop
not a good product, does not work very well on regular ceramic tile - not enough water is released to steam clean any floor.
May 13, 2015
Rated

5

out of

5
 by
Laura
Great product. Great price.
This pocket mop does an excellent job on my laminate floors. And it is saving my back. Easy to maneuver, easy to use.
May 7, 2015