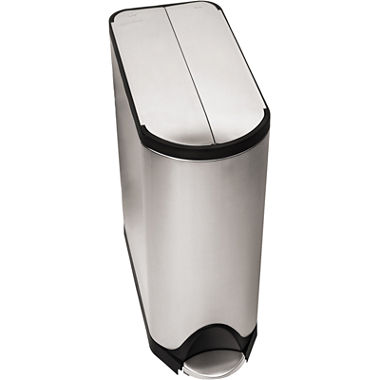 simplehuman® 45L Butterfly Step Trash Can
pp5002323281
PRODUCT DESCRIPTION
Durable and stylish, this 45L butterfly step trash can from Simplehuman® will look great with any kitchen's décor.
slim, space-saving shape
features a slow, silent-close lid
butterfly lid for maximum clearance under low countertops
steel platform pedal is engineered to last more than 150,000 steps
fingerprint-proof brushed, stainless steel finish
internal hinge allows placement against walls
bag tuck opening hides excess bag
stay-open feature holds the lid open for longer chores
removable plastic bucket
patented toe-kick provides easy access to the pedal and helps protect the can
nonskid base protects floors while keeping the can steady
45L (12 Gal) capacity
10-year manufacturer's warranty. 23.3x10.4x26"H. Steel. Imported.
Rated

5

out of

5
 by
SuzziFinds
Never Thought I'd Love a Trash Can
I'm thrilled with my new 45L Simplehuman Butterfly Step trash can, which replaced the two ugly, black, plastic, open garbage bins in my kitchen (they were so disgusting!). When I unpacked it, I was pleasantly surprised, as it was bigger than I expected. The large size is great, as I now can almost go an entire week before I need to change the liner. It even came with a sample pack of 10 super nice liners, though the less expensive, standard 13 gallon sized liners fit perfectly, as well. Changing the liner is a breeze....almost as much fun as stepping on the nifty foot pedal to throw away trash and watching the double butterfly lid quickly lift and then silently and gently close. It's tall and slim and fits perfectly beside the fridge in my very small kitchen. Most of all, I love how it looks! Its beautiful brushed stainless steel exterior adds a sophisticated, high tech touch to my kitchen, and it completely hides away the trash. Now I no longer get that disgusted feeling every morning as I enter my kitchen and see those ugly black bins. I love my new Simplehuman Butterfly trashcan! I now own three Simplehuman trash cans in three different sizes!!!
April 20, 2016
Rated

5

out of

5
 by
DanoVA
Worth every penny: Pet proof
I have two large breed dogs (no kids), and one in particular is a 'dumpster diver'. Needless to say I needed a new kitchen trash can, and this trashcan is PERFECT!!. It looks good, and because it is slim, it squeezes into small areas and doesnt take up a lot of space. It doesn't have a lid that pops off, but instead has top butterfly doors and shut quietly #and are doggy proof!#. I also like the feature that you can potentially bolt it to the wall if you have a pet that tips trashcans. My dog normally would do this but he's unable to due to the non-skid bottom feature. Also it fits regular size 13gallon trashbags from the store. This trash can saves the day. The ONLY con is that it's a tad pricey... but for me it was worth not picking trash up on a regular basis. Wait for a good coupon and then buy it like I did. Worth E-V-E-R-Y penny I paid.
November 26, 2014
Rated

5

out of

5
 by
DogMom
Finally a dog proof trash can!
This trash can is well worth the price! At first I was skeptical due to the high price but this has ended up being one of the best buys I've purchased! I was able to use a coupon which made the price a little better also. I'm the proud mom of four little Houdini dogs who can break into anything- however this trash can seems to be the exception! So far no one has been able to break into it and its heavy enough that it can't simply be knocked over. A must have for every dog parent!
January 19, 2016
Rated

5

out of

5
 by
Nano0b
GOOD INVESTMENT
I know this trash can is expensive but it is the only one you will ever have to buy again in your life. You don't have to touch it, all you do is step on it and the top automatically opens, it is smudge proof and alittle counter top or windex cleans it like a charm. I have had mine for 5 months and it still looks brand new, it has a lift out container that you take out to change the bag, it says it needs special bags but I just use my hefty brand and they are fine. It holds more than my old plastic one, which I hated. It is very sanitized especially when working with raw garbage, no touching is required. I love my trashcan and I thought I would never say this about a trashcan.
May 21, 2014
Rated

5

out of

5
 by
Jaime
Amazing!!
I have finally found the PERFECT trash can!! With two large inside dogs and an 18 month old, this was exactly what I needed! My dogs can no longer lift up the lid with their noses and my son has not realized there is a foot petal responsible for its opening and closing! And to top it all off, its good quality and looks great!! Best purchase I have ever made!
June 30, 2015
Rated

5

out of

5
 by
kaymore
Pricey, but great
I have had this for a week and so far it is the best! It doesn't slide back when you step on the foot pedal. It holds much more trash than my previous round style and sticks out less. The lids is very quiet and closes slowly. If I want it to close more quickly, I simply don't open it up all the way, and it still closes silently. The wide opening means less slopping on the floor. Also, standard trash bags are a bit tight, but work fine, so I don't pay extra for the SimpleHuman brand ones.
January 23, 2014
Rated

4

out of

5
 by
whitneyindc
pricey but it looks great
This was just what we needed in our space - fits perfect, looks much cleaner than our last stainless can, and can't say enough good things about the quiet close lid. No more banging! My kids, however, are super interested in it and the 2 year old now spends far too much time near the trash...trying to speed up the lid, testing over and over to see if it's going to do the same thing...
August 8, 2013
Rated

5

out of

5
 by
lovetobeorganized
Butterfly Trash Can - awesome
I love this trash can! It is taller than most peddle operated trash cans. It has a narrow structure so it sits perfectly near the side of the counter without sticking out. It holds a full 13 gallon trash bag perfectly. I'm so glad we got it. It is the best trash can we've ever purchased.
December 4, 2013