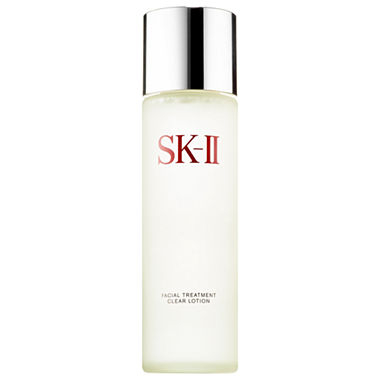 SK-II Facial Treatment Clear Lotion
pp5007850778
PRODUCT DESCRIPTION
Which skin type is it good for?
✔ Normal
✔ Oily
✔ Combination
✔ Dry
What it is:
A purifying toning lotion with Pitera™ and hydroxy acids to exfoliate dead skin cells and impurities while prepping the face for its skin care regimen.
Solutions for:
- Dullness and uneven texture
- Uneven skintone
- Dryness
If you want to know more…
Facial Treatment Clear Lotion acts as a skin-refining toner, without the use of alcohol, to condition and purify the skin. Infused with hydroxy-acids, soothing moisturizers, and Pitera, it is the final step in your purifying ritual, preparing the skin for Facial Treatment Essence.
What it is formulated WITHOUT:
- Sulfates
Suggested Usage:
-Soak a cotton pad with the Clear Lotion.
-Sweep across face and neck, paying special attention to the sides of nose and mouth.
-Use twice daily, after cleansing (Facial Treatment Cleanser) and before renewing (Facial Treatment Essence).

Size:
5.4 oz

Ingredients:
-Pitera™: A blend of vitamins, amino acids, minerals, and organic acids that work together to allow the skin's natural surface rejuvenation process to function at its prime, enhancing the renewal of the skin's outer layer.  

Water, Saccharomycopsis Ferment Filtrate*, Butylene Glycol, Polysorbate 20, Glycerin, Sodium Hyaluronate, PEG-150, Cellulose Gum, Disodium EDTA, Citric Acid, Salicylic Acid, Lactic Acid, Malic Acid, Sodium Citrate, Sodium Benzoate, Methylparaben. *Pitera.
Rated

3

out of

5
 by
CherryApple
Feels nice however . . .
The toner/lotion was softer and felt nice on my skin. I wasn't sure what to expect since I rarely use toner. I also didn't see any affects on my skin. My face felt soft after applying the lotion but it also felt the same way if I didn't use it. In other words, I can live with our without and don't really see the point of paying for something that didn't seem to make a difference on my skin. Also, there was no scent and I had no allergic reaction to the product so that's important since parts of my skin are sensitive. It's also non-greasy and absorbs into the skin quickly. I can't say for sure if I would recommend this over any other toner lotion since I haven't used other products to compare the SK-II to but I had a positive experience. Again, compared to my normal skin lotion that I use daily, this product didn't do much for me. I did receive this product for free in exchange for my review but this is my honest opinion and frankly I'm indifferent with this product. [This review was collected as part of a promotion.]
August 17, 2016
Rated

5

out of

5
 by
Faith1221
I LOVE THIS TREATMENT CLEAR LOTION
This product is amazing. I found it was wonderful to use after washing my face, to remove any dirt or makeup residue and to help clean my pores. I would swipe a cotton pad with this lotion around my face, and focus on the sides of my nose and around my mouth where I had the most blackheads and breakouts. I noticed the saturated cotton pad would show some dirt and grime after using it around my face, giving me a sense of satisfaction. After using this product, my face felt very clean and refreshed. It never felt dry or oily. Just perfectly balanced. The smell of the SK-II clear lotion was very mild. I found myself looking up what other products this brand had on the market, as this product did wonders for my skin. I would highly recommend, and most certainly will purchase this product again. I received this product, SK-II Treatment Clear Lotion complimentary from SK-II in exchange for my honest, and unbiased review. Two thumbs up!! [This review was collected as part of a promotion.]
September 14, 2016
Rated

5

out of

5
 by
KFriga
Healthy Skin!
Before you buy this you should know, the product is worth the price. I had been having issues with my complexion. My skin was covered in blemishes and would become very oily late in the afternoon, even if I had moosturizedbthat morning. With the Facial Treatment Clear Lotion, my face is hydrated all day, not oily, and the more I use it the better condition my skin is in! It's not oily whatsoever, and it doesn't get oily throughout the day. The best part too, a little goes a long way. I just put two drops on my cotton pad and it will spread all over my face and neck without problem. I can also see any extra dirt/oil that comes off even though I've already cleaned my face! In my picture you can see the product and two pictures of me. The bottom left is from my first day using the Clear Lotion and the bottom right was just the other day. In just 30 days, the difference is clear!!! My skin is healing and I think I'll go ahead and kiss future blemishes and breakouts GOODBYE! I received this product complimentary from SK-II! [This review was collected as part of a promotion.]
August 26, 2016
Rated

5

out of

5
 by
lovinits
Gentle but effective
This SK-II toning lotion is incredible. I have used a number of AHA or alpha hydroxy acid-based products in the past. AHA cleansers do not stay on the skin long enough in order to be effective. My skin is too acne prone and can not handle most AHA based moisturizers. This toning lotion is a perfect solution. Not only does it remove every bit of dirt and oil and cleanser residue that is left behind after my wash regimen, but it also acts as a toner leaving behind active ingredients to continue working on my skin. I see that my skin is much brighter already after just a few weeks of use. My wrinkles are slightly finer and my skin tone is smoother and less rough. I also have not experienced any breakouts with this product which is amazing since my skin is very sensitive and reactive to new products. Often, chemical additives make my skin react, but this one does not. I highly recommend this product and will continue to purchase it. [This review was collected as part of a promotion.]
September 8, 2016
Rated

4

out of

5
 by
TravelBuddy
What A Treat!
First off, I was really impressed when I opened the box and saw that the product is packaged in a glass bottle instead of a plastic one (I really try to avoid plastic)! I use this toner before going to bed after washing my face because it practically feels like water, it's so refreshing and soothing. I love that it doesn't dry out my skin and doesn't have a burning sensation that so many toners have. The scent is pleasant because it doesn't linger on my skin and isn't so strong that it burns my nose with an alcoholic blast! I apply the toner on a special textured, make-up removing cloth instead of a cotton ball or pad. My skin feels smoother than before but I honestly can't say if it's because of the toner or the exfoliation from the cloth. I give this product 4 stars because of the glass bottle, it doesn't dry out my skin and that the scent is mild to the nose. I received this complimentary product thanks to SK-II. [This review was collected as part of a promotion.]
August 29, 2016
Rated

5

out of

5
 by
igjoni
This works!
This is the first SK-II product I have used and I am impressed! I've only been using it for one week but there is a noticeable difference in my skin. It simply looks better. I tried toning lotions in the past but was disappointed because there was no effect, which is annoying when you spend money on products. I received the SK-II product complimentary so I thought, why not? After the first application, my face felt fresher. I noticed at the end of that hot, humid day that my face was still fresh looking, instead of the molten mess it usually is at the end of a humid day. Throughout the week, I noticed I was using less makeup and by the end of the week, I just threw on some lip gloss. The lotion gives you that fresh skin look that you see on a teenager.....not on my usual 39 year old face. After this experience, I will definitely be looking into more products from SK-II. Disclosure: I received the product complimentary from SK-II. Thanks! [This review was collected as part of a promotion.]
July 23, 2016
Rated

5

out of

5
 by
smcose
I will be buying more from this brand
SK-II Facial Treatment Clear Lotion is one of the first products to make a drastic difference in my skin, and in a quick turn around time. SK-ii sent me a complementary bottle to try out, and it may be my best skin product I now own. I have Roseca, so I have to be careful about what I put on my skin, because it often triggers more breakouts. After using this for several days, my skin started looking less and less red, and smoother. I think of "lotions" as thick, and this is more of a toner consistency. It settles into my skin quickly, so I do not have to wait long before adding a moisturizer on top. It does not leave my skin sticky like another brand I recently tried. The price point is a bit high, but I am noticing that this big bottle will last me quite a while, so when you look at price per ounce, it comes out to be more reasonable. I had added this lotion to my dailiy routine, and I will have to check out more from the brand. [This review was collected as part of a promotion.]
July 26, 2016
Rated

2

out of

5
 by
intrad
Didn't see any improvement in my skin
I have been using the SK-II clear lotion for just over a month now. I have 3 problem areas on my face, I have visible pores on my nose, fine lines around my eyes, and oily skin on my chin which causes occasional breakouts. I have been using the lotion twice a day as directed and have not seen any significant improvement to the overall look and feel of my skin. When I use it at night there is a slight grey color on the cotton pad, so it is getting some additional dirt off of my skin, but doesn't seem to be deep cleaning as the visibility of my pores haven't reduced. The breakouts haven't reduced, and I don't feel it's toning since there has been no change the fine lines around my eyes. As for scent and texture, it doesn't have much of a scent, and the texture is very thin, but not at all oily. The bottle has a lot in it, it is probably a 3 month supply if using it correctly with the cotton pad. Overall, I would not buy this product, I don't feel it does anything more that a moderately priced retail face cleaner would. I received the product complimentary from SK-II. [This review was collected as part of a promotion.]
August 23, 2016