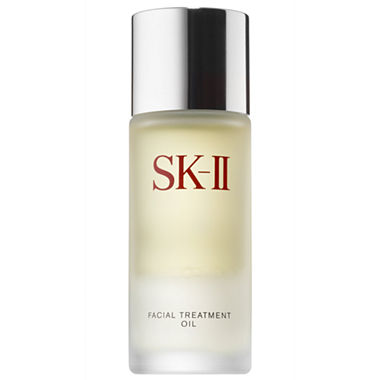 SK-II Facial Treatment Oil
pp5007060005
PRODUCT DESCRIPTION
What it is:
An intensely moisturizing face oil that combines SK-II heart, Pitera™, with nourishing oils to create a superior dry skin elixir.
What it is formulated to do:
SK-II has perfected the delicate but miraculous balance of oils and Pitera to deliver ultimate hydration to dry skin. By combining Pitera with a nourishing oils complex—including naturally-derived Mediterranean olive oil, Latin American jojoba oil, South African avocado oil, Japanese Riceterol Ester and rice bran oil, and squalene—it targets dry skin caused by extreme cold and dry conditions and harmful environmental stressors. It contains fragrant lavender and carrot heart notes to provide a calming scent that soothes the senses.
Research results:
In a use test on 58 women, after a single application:
- 98% of women felt their skin is moisturized immediately
- 95% of women felt their skin looks radiant immediately
- 91% of women felt it provides long-lasting moisturization
- 88% of women felt it provides intense moisturization
Suggested Usage:
-Shake well before each use to ensure oil is evenly mixed.
-Pour a few drops (about five to seven drops) onto palm and smooth evenly over face.
-Apply before beauty serum.

Size:
1.6 oz

Ingredients:
Galactomyces Ferment Filtrate*, Squalane, Simmondsia Chinensis Seed Oil/Simmondsia Chinensis (Jojoba) Seed Oil, Persea Gratissima (Avocado) Oil, Olea Europaea Fruit Oil/OleaEuropaea (Olive) Fruit Oil, Oryza Sativa Bran Oil/Oryza Sativa (Rice) Bran Oil, Water, Glycerin, Butylene Glycol, Tocopheryl Acetate, Phytosteryl Oleate, Sodium Benzoate, PVP, Methylparaben, Benzyl Alcohol, Phenoxyethanol, Disodium EDTA, Sodium Hyaluronate, Xanthan Gum, Tocopherol, Fragrance, Linalool. *Pitera.
Rated

3

out of

5
 by
triciaoneal1
Scales be gone!
I was very excited to try SK-II Facial Treatment Oil and was so happy when o received the complimentary bottle from SK-II to try out. I have been using the product every day for over four weeks. I love the smell and the bottle. I like the fact that it dispenses in drops and gives you more control over how much comes out. I know it is an oil, but I was disappointed in how greasy it left my face feeling, and it felt greasy for hours. I noticed that my face was softer, but have not noticed any other real changes or improvements. I did find one amazing unexpected benefit from using SK-II Facial Treatment Oil. I have really, really, really dry skin on my shins. It is itchy and scaly and pretty unattractive. Every day when I put on the treatment, I would wipe the excess off on my shins. After about a week I noticed that ,my legs were not dry and disgusting at all. They look GREAT! It's a miracle!! No more scales for me. Thank you for the complimentary sample SK-II! I will keep this product stocked at my house [This review was collected as part of a promotion.]
May 21, 2016
Rated

5

out of

5
 by
PAMomma1
Great SK-II product, I can't wait to try more!
I received the SK-II Facial Treatment Oil complimentary from SK-II for testing and review purposes. I have never used a facial oil before, so I was excited to try it. I am in my early 30s and have combination skin, oily in my t-zone and prone to blackheads, but normal-dry on the rest of my face. I also have somewhat large pores. My regular skin care regime is an anti-aging serum after washing my face, in combination with an under eye treatment and anti-aging cream at night. In the morning I use an under eye treatment along with an SPF moisturizer and sometimes a tinted moisturizer as well. The SK-II Facial Treatment Oil has made my skin feel amazing when using it after washing my face at night. I have used the SK-II Facial Treatment Oil in place of my normal anti-aging serum, before moisturizing, and my skin looks and feels great. The SK-II Facial Treatment Oil has a lovely, mild scent and has made me a believer in this brand. I cannot wait to try more SK-II products. [This review was collected as part of a promotion.]
May 12, 2016
Rated

5

out of

5
 by
MissBliss822
My New Holy Grail Moisturizer
I was recently offered an opportunity to try an SK-II product complimentary of SK-II. I love the brand and their product lineup so I was initially excited and curious to try the Facial Treatment Oil, but after realizing that it was oil based moisturizer I became nervous. Within a couple of weeks of using the product I noticed a significant difference in my normal to combination skin! It was more even-toned and hydrated. My friends and aesthetician have been complimenting my skin even more lately and I attribute it to using this product day and night (I apply a night cream on top before bed). As pricey and small as it may seem, I have barely made a dent after using the product day and night for over a month. I am so in love with this moisturizer that it is going to be a permanent addition in my daily skincare regimen. Please note that I received this product complimentary of SK-II but the review/opinion is my own. [This review was collected as part of a promotion.]
May 31, 2016
Rated

4

out of

5
 by
Sugarhiccup
Quite nice!
I was skeptical about putting and oil on my already oily skin but I was pleasantly surprised at the results. I initially expected my face to become even oiler and possibly experience some breakouts but none of that happened. After giving the product a few days I can honestly say that my face feels less oily and it absorbs in quickly so no gross film layer on my skin either. The oil has a pleasant light scent and doesn't feel like normal oils in my opinion. It feels more like a serum with a softness to it if that makes any sense at all and it makes my skin feel incredibly soft. And I can't forget to mention the glow my skin that I love. I have yet to see any results with the few discoloration spots I have but I haven't used it long enough either. I'll be sure to write another review after a full 30 days of use and report back if it do see a change. I received this product to try for free from SK-II via BzzAgent but my review here is my honest opinion. [This review was collected as part of a promotion.]
May 12, 2016
Rated

5

out of

5
 by
Kpownj
No more patchy dry skin!
First let me say ... This Huge 1.6oz bottle will last a long time ! Apply 5 drops (it has a dispensing top for drops on it!) in your palm and then smooth all over your face. I know your thinking " it's oil .. It's probably greasy" I was hesitant at first as well but since I was supplied a free sample bottle from the makers of SK-II and Bzz agent I figured I would give it a shot! Day one I was terrified I was going to break out from it ... I was fine! My skin felt smooth and evenly moisturized. It absorbed in well, I do not detect any scent at all to it . 5 drops on my hands covers my face and neck . I normally get patchy dry spots on my cheeks and since using this I have not. With moisturizer alone I always still had them. I find it nice to rub my hands together and "warm up" the oil when I apply. I would almost like it more with an almond or coconut natural scent. So far this seems like a product I would continue to use in my normal beauty routine ! [This review was collected as part of a promotion.]
May 12, 2016
Rated

5

out of

5
 by
Thatshortchicky
WOW! I can't believe I still love this!
I have always been skeptical of the SK-II products and their Pitera claims since they're the only ones researching it. However, after using this every day since I got this I can't believe that I'm saying it's worth the money! My skin is so happy and calm! I'm not sure if it's the Pitera or all of the other fabulous ingredients but, who cares? It works! While there are other products out there that have similar ingredients (other than the Pitera), this particular formulation is superior and it smells great without causing irritation because there is so little lavender used. The only thing that I could think to improve is change the instructions on the package! It's an oil and so should not be used before any water based products because they'll never touch your skin. The way I have been using this is: cleans, tone, essence and/or water based serum, SK-II Facial Treatment Oil, and if I put something on top it's sunscreen or moisturizer. Thank you so much to SK-II for sending this product free in order to review it honestly. Send me more anytime... Or just take my money. I'm a believer now! [This review was collected as part of a promotion.]
May 26, 2016
Rated

4

out of

5
 by
Thatshortchicky
I'm impressed but that price...
I waited a while to write this review so that I could REALLY get a good impression of the product. SK-II sent me their Facial Oil in exchange for an honest review so I needed to be as thorough as possible! The product feels luxe just from the package. It includes a gammet of some of the most moisturizing and skin repairing ingredients and (even though it doesn't smell like it) very little fragrance or other irritants. After using it for a few weeks I'm impressed by how clear and moisturized my dry, sensitive skin is! I found that it worked best as either a last step before moisturizer after any water based serums or instead of a moisturizer even though the instructions say otherwise. All in all it's a great product with an outrageous price tag and while the ingredients are fabulous and my skin is happy I can't help but give pause since there are other products with similar ingredients for less than half the cost. [This review was collected as part of a promotion.]
May 12, 2016
Rated

5

out of

5
 by
IzzyFrost
My 'Face Lift In A Bottle'!!
I received a bottle of SK-II's Facial Treatment Oil, complements of SK-II through BzzAgent, to try at home and I was more than impressed by the results. I've been using the facial treatment oil for a little more than two weeks and my skin is super soft, supple, and smooth with a beautiful glow! As if that weren't enough, my uneven skintone is fast becoming a thing of the past, as well. SK-II Facial Treatment Oil is literally transforming my skin to the skin I had in my twenties, which still amazes me. It's so easy to apply and I love the light lavender scent. You get gorgeous skin and aromatherapy all wrapped up in one bottle! SK-II Facial Treatment Oil now has a reserved spot on my vanity and is part of my daily skincare regimen! I can't stop raving about this fabulous skincare to family and friends! If gorgeous skin is something you long for, that's SK-II's specialty! [This review was collected as part of a promotion.]
May 12, 2016