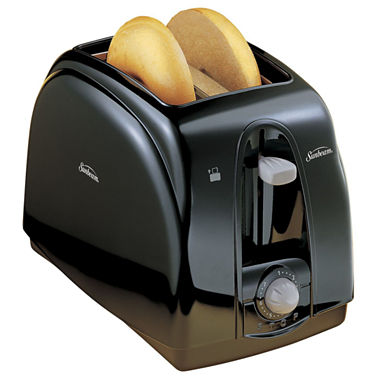 Sunbeam® 2-Slice Toaster
web ID: 7803113
Enjoy consistent toasting time and again with the Sunbeam 2-slice toaster.
2 extra-wide slots accommodate a variety of breads
Auto Adjust bread guide adjusts to bread thickness for even toasting
anti-jam feature automatically shuts off toaster
750 watts. Dishwasher-safe crumb tray. Imported.
Rated

4

out of

5
 by
Phil AThome
Even Toasting
Evenly toasts from thick bagels to thin rye and white bread slices.
October 14, 2015
Rated

5

out of

5
 by
SophieElle
Easy to use, safe to the touch!
I bought this when on sale but I would still highly recommend this toaster for the following reasons: simple to understand, easy to use, and does not get warm on the outside! The heat setting goes all the way up to 7 which I first found odd but then useful when I was toasting denser bread. I love how there are burners on both the inside and outside so it toasts both sides of the bread, meaning you won't have to turn them over and toast a second time around. The gray push down knob and turn-dial do look a little cheap but the saying "you get what you pay for" couldn't be less true here, this toaster is a wonderful buy! I tested the toaster at its hottest and would highly recommend it for families since the outside does not even get warm to the touch, so practical for children!
January 9, 2014
Rated

1

out of

5
 by
wizard
junk toaster
This is definitely a piece of JUNK!! Would not stay down to toast, and would not toast even on highest setting. The best I got was slightly hardened bread. Would NOT buy another of these, even if the sale price was $0.99. That would be more that it is worth.
September 25, 2015
Rated

3

out of

5
 by
JOEC
IT WORKS
BOUGHT IT TO MAKE TOAST AND IT DOES. DOES EXACTLY WHAT IT SAYS IT WILL DO
October 8, 2015
Rated

4

out of

5
 by
SophieElle
Great For What I Paid
I bought this toaster when it was on sale, I certainly wouldn't have bought it otherwise. But it is a great basic toaster, I'm surprised to see the dial goes all the way up to 7! The gray part looks cheap but all in all it's a good toaster for what I paid. It's very light weight and I tested the toaster's sides at its hottest point and there wasn't a trace of heat - I would imagine that's great for kids! Would definite recommend.
December 5, 2013
Rated

1

out of

5
 by
SONNYM
TOASTING BOTH SIDES EVENLY???
HOW HARD CAN IT B??? I REMEMBER TOASTERS WHEN U RAISED & LOWERED THE SIDES & U HAD TO WATCH THEM CONSTANTLY. TOAST 1 SIDE, TAKE IT OUT, TURN, BACK IN & TOAST THE OTHER. BUT THAT WAS IN THE 40'S & U'D THINK THAT 74 YR'S LATER THE 2 SLICE POP UP TOASTER WOULD HAVE ADVANCED TO THE POINT WHERE BOTH SIDES OF A PIECE OF BREAD COULD BE EVENLY TOASTED...NO PROBLEM??? NOT WITH THIS HAMILTON-BEACH MODEL. COME ON! ITS JUST SOME ELECTRIC COILS. I'M TAKEN IT BACK AFTER NEW YEARS.
December 29, 2013
Rated

5

out of

5
 by
ToasterBoaster
Simple and easy to use
I am a person who doesn't like to read directions. Just give me the product. The bottons and knobs should be self explanatory. Well this is the one. I was able to take it out of the box. Wipe it down and use it immediately. No rocket scientist needed here. I love it. So easy to use and clean. My toast comes out perfect. It is light and easy to carry from table to counter top. Best toaster I ever had.
January 30, 2013
Rated

1

out of

5
 by
Madridkid
Not very reliable
I've had my Sunbeam toaster just a few months, and can't seem to get it to toast properly. Turn it up high, sometimes it burns, sometimes it just barely toasts. Turn it low, the same thing happens. I toasted a muffin for me on high, then turned it down to low for the next one. I stopped it before it popped up, and the toast was burned! No more Sunbeam products.
September 28, 2011
Product Q&A
Ask your questions. Share your answers.
4 years, 8 months ago
by
WI
How often do you shop at JCPenney? 
Occasionally
0
out of
0
found this question helpful.
Was this helpful?
helpful
0
unhelpful
0
http://answers.jcpenney.com/answers/1573/product/175138/question/392104/undohelpfulness.djs?format=embeddedhtml&sessionparams=__BVSESSIONPARAMS__&return=__RETURN__&innerreturn=http%3A%2F%2Fanswers.jcpenney.com%2Fanswers%2F1573%2Fproduct%2F175138%2Fquestions.djs%3Fformat%3Dembeddedhtml%26scrolltotop%3Dtrue%26expandquestion%3D392104&user=__USERID__&authsourcetype=__AUTHTYPE__&submissionparams=__BVSUBMISSIONPARAMETERS__&submissionurl=__BVSUBMISSIONURL__
Answers
Answer: 
No, this toaster is manufactured in China.
4 years, 8 months ago
How often do you shop at JCPenney? 
Frequently
1
out of
1
found this answer helpful.
Was this helpful?
helpful
1
unhelpful
0
http://answers.jcpenney.com/answers/1573/product/175138/answer/305576/undohelpfulness.djs?format=embeddedhtml&sessionparams=__BVSESSIONPARAMS__&return=__RETURN__&innerreturn=http%3A%2F%2Fanswers.jcpenney.com%2Fanswers%2F1573%2Fproduct%2F175138%2Fquestions.djs%3Fformat%3Dembeddedhtml%26scrolltotop%3Dtrue%26expandquestion%3D392104%26expandanswer%3D305576&user=__USERID__&authsourcetype=__AUTHTYPE__&submissionparams=__BVSUBMISSIONPARAMETERS__&submissionurl=__BVSUBMISSIONURL__