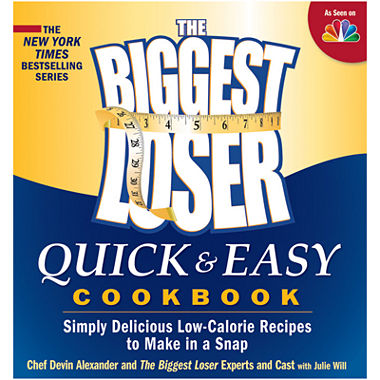 The Biggest Loser Quick and Easy Cookbook
pp5002621138
PRODUCT DESCRIPTION
The first cookbook in the bestselling Biggest Loser series, The Biggest Loser Quick & Easy Cookbook, focuses on fast, simple meals that you can eat on the go. Seventy-five easy recipes, with 20 minutes of prep time or less, plus beautiful four-color photography is also featured.
an overview of The Biggest Loser eating plan; five 20-minute workouts with tips on how to burn the most calories in the least amount of time; healthy cooking and baking tips and techniques; shopping lists; pantry basics
features tips from the trainers and contestants on time-saving techniques for fitting healthy meals into busy schedules
75 quick and easy recipes include: asparagus & chicken apple sausage scramble; sausage feta pepper breakfast bake; blanca arugula pizza; monkey trail mix; caprese burger; cold dumpling salad; garlic & herb mac & cheese; spicy cayenne corn on the cob; coffee crusted chopped steak; philly cheese steak pizza; crispy pesto cod; Meyer lemon seared scallops; chocolate raspberry dreamers; honey nut apple butter rice cakes
Paperbound; 256 pages. Made in America.