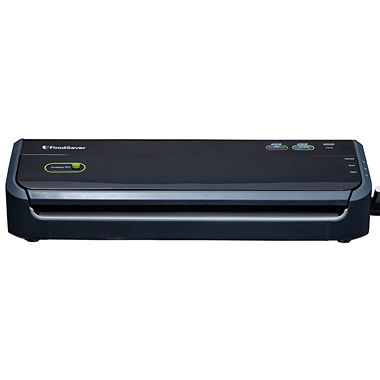 The FoodSaver® FM2000 Vacuum Sealing System
pp5007770658
PRODUCT DESCRIPTION
The FoodSaver vacuum sealing system reduces waste, offers a compact design and an easy clean patented removable drip tray for the ultimate in food-sealing machines.
manual operation
extra-wide sealing strip
easy-lock latch closure
5.7x17.6x7.25"H
durable plastic construction
imported

FM2000 system includes:
3 quart heat-seal bags
2 gallon heat-seal bags
11x10' roll
accessory hose
Rated

4

out of

5
 by
Lucky Lenny
It works very well .
The product I purchased is more than I thought it would be . I would recommend this to my friends
September 19, 2016
Rated

3

out of

5
 by
PKPK
I don't like that I have to put a finger on the hole where the hose goes in order to get the vacuum bags to work.
September 16, 2016
Rated

4

out of

5
 by
ZeeGardener
Replacement
I had an older/used FoodSaver that was given to me by my Father. When it finally stopped working I did my research and decided to purchase the FM2000 model because of the lower price. I like the slimmer body but I didn't realize the narrower width is because there's no room for the roll to fit inside. As a result, there's no gliding cutter so you have to hand cut your own bag length, then seal it and then pack your package and seal your product. An extra step or two but that's why it cost less than the others. I've vacuum sealed several bags and only one didn't seal properly but that could be because the sealing method is a bit different then what I was used to and I may have prematurely stopped the process before it was done without realizing it. I'm not sure but it hasn't happened again. I'm in the beginning stages of freezing my garden bounty so by the end of the season I should know a lot more. All in all, it's a pretty simple machine and I think will do the job for my purposes.
August 14, 2015
Rated

5

out of

5
 by
Foxymom2
Great size!
I needed to replace a unit that was from another manufacturer and chose this model. It fits nicely in my cupboard. I also decided to get the marinating dish.I am very impressed with this model- it vacuum seals very quickly and much better than my old one.I have used the marinating dish and it is so easy to use and meats are really nicely tenderized I am so happy I decided to get this, again easy to use. I would highly recommend this model.
September 1, 2016
Rated

1

out of

5
 by
cynnnn
waste of money
Bought this approx. a month ago. First time used did good. Second time I thought was good until I pulled package out of freezer and discovered seal had broken. Attempted to reseal package with no luck and also tried to seal in a new unused bag. Didn't seal! Going to send it back. Hope I can get my money back.
August 26, 2016
Rated

5

out of

5
 by
Rpga
Works Great
This unit works as described. It worked so well my daughter asked for one for her birthday and she's also very pleased with it.
August 23, 2016
Rated

4

out of

5
 by
20sailor
Good so far..
Happy with this so far. I like that it isn't huge as I have limited storage space. I also like the seal only aspect. I gave it 4 stars due to the fact I've only used it a few times, but like I said, I'm enjoying so far!
August 23, 2016
Rated

4

out of

5
 by
Peg52
Seals great but
I don't think I would buy the containers if buying again but the bag sealer is great. Kind of hard to get the containers to seal.
August 16, 2016