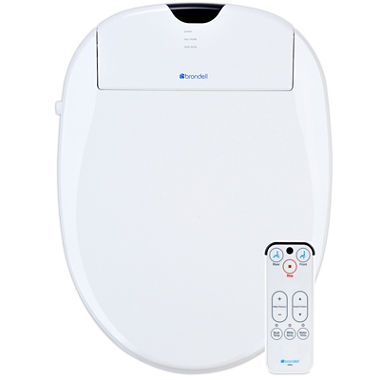 Brondell Swash 900 Advanced Elongated Toilet Seat Bidets
ppr5007119300
PRODUCT DESCRIPTION
Battery Operated: No
Features: Eco Mode
Age Group: All Ages
Product Length: 20 3/4 Inch
Base Material: Plastic
Care: Wipe Clean
Country of Origin: Imported
Rated

5

out of

5
 by
Marcus
Excellent product
This is my third brondell Swash. My family loves it so much, so all 3 of restrooms are now installed with Swash.
July 28, 2016
Rated

5

out of

5
 by
Natatlia
Great for the disabled.
We had a Swash 300 for a few years and loved it and just upgraded to the 900. This is so great for my husband who has had Parkinson's Disease for 25 years and is not very dexterous any more. It is comfortable and reliable for him to use and maintains his health and cleanliness like nothing else I can imagine. It is just a great product and I have found the customer service to be most helpful. It is so easy to install, I did it myself!
January 23, 2016
Rated

5

out of

5
 by
Max of San Jose
Necessity
I bought this last month and it' great. First experienced devices like this in Japan where they are very common, and loved them. The Brondell product is superior in design to those in Japan, and the remote feature worked perfectly for the tight space we had to deal with.
February 2, 2016
Rated

5

out of

5
 by
Iorga1317
I'm in love with it!
I just bought one of your bidet and I'm very happy with it. I come from Italy , where, is at least one bidet in every single house. I'm glad to have it in Canada too. More to come to fill up all the bathrooms!!!
November 25, 2015
Rated

5

out of

5
 by
andrewouss
Love it!
I have had my Swash for a year now. While I can't compare it to other bidet seats as it is the only one I've tried, I would defintely recommend it! The heated seat is nice, the spray is warm and it provides sufficient pressure. Install was easy and straight forward (after getting my building super. to fix the toilet's supply shut off valve, which was broken). It sounds silly, but now that I have the Swash I resent using the toilets at my office. Friends and family remain skeptical about it but I can't imagine going back to toilet paper, the Swash seems so much more civilized.
August 5, 2014
Rated

5

out of

5
 by
Mary13
Great product
I am so glad I recently discovered the Swash 1000 Bidet Seat. My husband had extensive back surgery a year ago which has restricted his ability to move and, therefore, he has difficulty taking care of himself when using the toilet. The Bidet Seat has made it much easier. We're definitely going to tell his surgeon about this product at my husband's next appointment so he can tell his other patients.
September 11, 2014
Rated

4

out of

5
 by
m0rrisk
Works as advertised, we're happy!
Does everything you'd like and does it well. Very flexible and easy to use controls and very easy installation. Only reason I did not give it 5 stars is that the stream of wash water is cool initially and takes a couple of seconds to warm up...can be startling the first time you use it! Otherwise, works great!
June 7, 2015
Rated

5

out of

5
 by
Markdvm70
Love This Seat!!!!
This is a great product!!! Should have gotten one years ago!
October 24, 2015