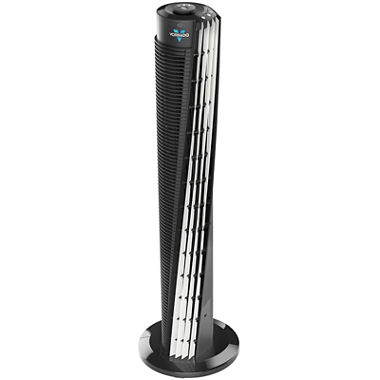 Vornado® 173 Mid-Size V-Flow Whole-Room Tower Circulator - 36½"
pp5005360145
PRODUCT DESCRIPTION
Providing continuously moving air without the need for oscillation, this effective tower circulator helps create a quiet, comfortable environment in any room.
signature V-Flow™ air circulation technology
powerful motor moves air up to 70'
3 speed settings allow you to tailor the airflow to your needs
unique crosscut outlet creates a wide span of constant airflow
constant current, no intermittent airflow
sturdy base engineered for extra stability
stylish matte black finish with high gloss and silver accents
included push-button remote control magnetically cradles to the top of the product
whisper-quiet operation
energy-saving LED timer: 1, 2, 4 and 8 hours
Plastic. Measures 10½" in diameter; 36½"H. Wipe clean with a damp cloth. Imported.
Rated

2

out of

5
 by
Sue
No magnet in remote to store in top of tower fan
Remote stores by magnet in top of tower fan? Not on my fan, nothing magnetic about it. Fan works fine, just wish I could store the remote WITH the fan like it is advertised to do so!!
July 9, 2016
Rated

2

out of

5
 by
Darr
Model 173 - Spindles keep breaking
I bought one of these and when I unpacked it and turned it on, it made the loudest rattling and it couldn't spin. I called the company and they had me mail it back and then replaced it....they were very accomodating.....I put that one up for the winter and took it out. I turned it on and it had a bad vibration that quickly turned into a loud rattle as it was on so I tuned it off and called the company....again, they offered to replace it with the same or different model and I chose a different one. Over all, I think this fan isn't built very sturdy as the spindles keep breaking. With that said, I will commend the company as their customer service is superb! I have had many Vorando fans in the past with no problems and I will continue to buy from Vornado based on their customer service alone. Good customer service is worth it weight in gold!
April 17, 2015
Rated

5

out of

5
 by
Ropes
Great space saver
I had to find space saving fans and fyi I use to own other Vornado fans that took up more space while in use and in storage. Glad Vornado has alternatives. The fan works great I couldn't be more pleased. Thanks Vornado for making quality products and standing behind them.
March 11, 2016
Rated

5

out of

5
 by
TraeP
Great for keeping cool
Unlike that in the other rooms of my apartment which came with ceiling fans, the air in my kitchen and bathroom can become very still and warm. After placing this Vornado tower fan pointing into the kitchen and another pointing at the bathroom, I can do things like housecleaning or cooking in both rooms without becoming too warm and having to dial down the central A/C, making these great for saving money on one's power bill: mine fell appreciably after setting these up and raising my thermostat. Additionally, on medium or low, both fans are very quiet and don't interfere at all with things like listening to the radio or conversing with one's guests.
October 1, 2013
Rated

5

out of

5
 by
MountainLover
Exceeded Expectations
Once again, a Vornado product has exceeded my expectations. As the owner of several circulators and heaters, as well as a couple of your older floor fans, I did not hesitate to order the tower circulator as a replacement for an old floor fan with a bad bearing. And the new tower circulator delivered on its promises, just like all the other Vornado products. Reliable, quiet comfort that lasts.
September 1, 2013
Rated

5

out of

5
 by
Glewle
A better to move air
I am very happy with the technology of this product. It's a bit different than what I'm use to.it really does what it claims whole room air circulation. I could not be happier. Worth every penny. Definitely.
June 5, 2015
Rated

1

out of

5
 by
Kiki Mama
Piece of JUNK
I haven't been able to run long enough to see how it cools. Makes so much noise rattling and shaking that I haven't left on for more than a minute.
May 11, 2015
Rated

5

out of

5
 by
None
I would recommend this product to anyone
This is the third tower I have purchased. I used the large one in the living room and the smaller ones in the bedrooms. The product works as advertised. It circulates the air throughout the entire room.
June 10, 2015