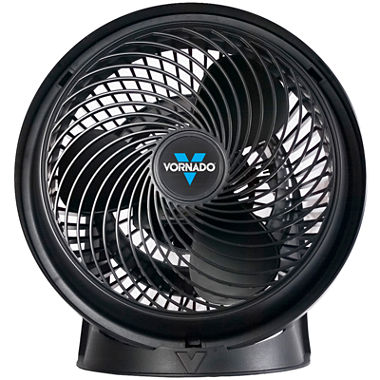 Vornado® 733 Full-Size Whole-Room Air Circulator
pp5005360146
PRODUCT DESCRIPTION
A powerful air circulator in a space-saving size, the Vornado 733 utilizes energy efficient technology to create a swirling, penetrating current of air that rejuvenates the entire room.
signature vortex air circulation technology
deep-pitched blades move air up to 100'
easy-to-use 3-speed controls
whisper-quiet operation
saves energy year-round by working with heating and cooling systems
3-position base provides directable airflow
removable grill for easy cleaning
Plastic. Measures 14.9x14.8x15.3"H. Wipe clean with a damp cloth. Made in America.
Rated

5

out of

5
 by
ed.
733 circulator fan
attic space
July 28, 2016
Rated

5

out of

5
 by
CentralTXan
Quiet and Powerful
I ordered the 733 Vornado Air Circulator because our AC was cooling the house unevenly. The bedrooms (with vents almost completely shut) were freezing, while the living room and kitchen were burning hot. The AC also ran non-stop. I put the Vornado in the hall, pointed it toward the living room and within minutes you could feel a difference. The living room cooled and eventually the AC shut off! Now we alternate between putting it in the hall or sitting it in the living room. We like it in the living room (and another fan in hall) because it circulates the air so well. It is so powerful that when tilted back it makes the ceiling fan spin. The fan is on a vaulted ceiling and the blades spin even tho it is turned off. It's amazing! The Vornado is very quiet in low mode but a little loud (not bad) in the higher settings. I have purchased Vornado heaters as well and the customer service is wonderful. That's another reason I keep coming back.
August 26, 2010
Rated

5

out of

5
 by
JoeL
Best Room-sized Fan on the Market!
I own three model 733 circulators that are four or five years old. I own a century-old farmhouse without air conditioning, and moving air in the summer is necessary for living comfort. The multi-position base and multiple fan speeds allow for total versatility and maximum comfort. The sound from the blades and air on the highest speed does make hearing the TV a bit difficult. I am a sound sleeper, so the sound does not bother me in the bedroom. My only complaint is that with years of use, the little rubber feet on the fan base have fallen off. This was repaired by purchasing the little rubber self stick bumpers from the local hardware store. This model costs more than other fans, but the quality of this fan means that I won't be sending it to the landfill in two years. This circulator does what it is made to do, with dependability - and it is made in the USA! 1,000% satisfaction!
August 4, 2012
Rated

5

out of

5
 by
Flora
Vornado Quality & Performance Surpass All Others
I've never been more grateful for Vornado quality and performance than during this long hot summer in Georgia, where I keep my cooling bills reasonable by using Vornado fans to circulate the air in my old Victorian 2-story house. When I was a kid there was a big Vornado window unit in my bedroom, with an engine like an airplane but it was the best fan ever. Now, I always buy Vornado because I know it's the best quality and value. The Vornado customer service is first-rate, and I've sent in old fans and gotten back my fan with a new engine, for just the cost of shipping. Parts are also reasonable with representatives who have coached me through repairs. I use these units year after year - because they last! - so I do maintenance. And they are made in the USA! I would never buy any other fan than Vornado.
August 26, 2010
Rated

5

out of

5
 by
ChgoBob
Compact, Capable, and Effectively Reliable!
I have 2-733's in my condo on the floor pointing to the ceiling. In the summer the a/c recirculates floor to ceiling. When the heat is on the fan circulates the floor's cooler air with the warm air at the top of the room (feet stay warmer). My family still has 2 large vornado floor fans from 1954 - THEY STILL ARE STILL WORKING. I carry my other vornado (5 speed) to our condo's workout room where it amazes people by projecting a "column" of air across the room 50-65 ft away. Needless to say I am a staunch Vornado "fan" (no pun intended). Today I ordered a Vornado Flippi 8 personal fan and an iControl Whole Room Heater. In the October 2010 Consumers Reports in the "Forced Fan Convection" Category a Vornado came in #1. And there's no fooling arond with CR's testing and results.
September 17, 2010
Rated

5

out of

5
 by
YourTechGuy
Powerful air flow!
I purchased this Vornado fan when my standing fan gave up the ghost. I am impressed by the amount of air moved by this product on even the middle setting. I would have liked the fan to have more variable position settings than just the three set ones thereby giving it the ability to be placed anywhere so the airflow hits just the right spot. Also, it's a bit awkward to bend down and reach around the unit to turn it off or decrease or increase the fan speeds. A foot switch would be an ideal replacement for the back position switch so you wouldn't have to bend down and reach around the unit. Other than those minor points, it is a very well made, handsome looking unit which I would recommend to anyone who needs a reliable, powerful fan backed by a five year warranty.
July 21, 2013
Rated

5

out of

5
 by
toestud
Effective, efficient, quiet and versatile.
I purchased this fan to move air in a large family room and to eliminate the stratification of air near the ceiling. This fan has exceeded my expectations for doing just that....and at low speed even! It efficiently helps the comfort level in the room so much that we've been able to raise the thermostat there during these hot summer days and still feel comfortable...which relieves the air conditioner of some of its burden. The fan is quiet at any of its 3 speeds and on low is near silent. The multi-position feature of the base means that we can effectively alter the amount of air movement we wish to feel while in the room. I love this fan. My folks love the one I got for them as a present also!!!
August 26, 2010
Rated

5

out of

5
 by
Lany
I knew he'd love it!
I've had a Vornado for years. I love mine. Nothing beats it for moving air quickly. A few months ago my son called me and wanted my opinion on what he should buy for a fan. He wanted something quiet but would move a lot of air. Even though we own several other brands of fans and love each one for what they do in their selected purpose, I suggested the Vornado. I convinced him he should try one then told him I would get him one as part of his Christmas present. I contacted Vornado and ordered the 733 and had it shipped to my son. When he received it he called me and could not give it enough praise. He said it's the best fan he's ever owned. I knew he'd love it! Vornado comes through again!
December 13, 2011