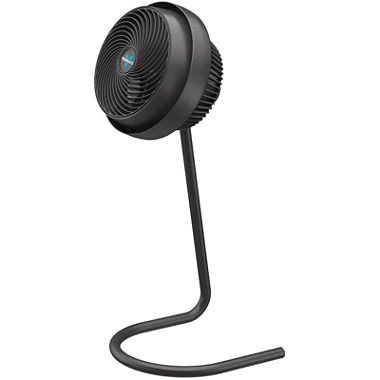 Vornado® 783 Full-Size Adjustable-Height Whole-Room Air Circulator
pp5005360151
PRODUCT DESCRIPTION
Easily adjusting to the best height to fit your needs, this energy-efficient air circulator provides quality air movement and superior comfort in even larger rooms.
signature vortex air circulation technology
deep-pitched blades move air up to 100'
easy-to-use 3-speed controls
whisper-quiet operation
saves energy year-round by working with heating and cooling systems
fully directable airflow
removable grill for easy cleaning
Plastic. Measures 20x17.2x27-42"H. Wipe clean with a damp cloth. Made in America.
Rated

5

out of

5
 by
dvcssr
Powerful
We bought this fan because we have a lot of the cold A/C air seems to linger at the bottom of our stairs on the first floor. We wanted a way to push that cold air up to the 2nd floor where it is a bit warmer. This fan does a great job of moving that colder air upstairs. It is amazingly quiet too. Several times I have caught myself checking the fan to make sure it was on the high speed because it sounded like it was on the medium speed and every time it was in fact on high -its that quiet. It does not take up much space on the stairway landing. It is 5 degree's cooler upstairs when we use this fan. I would highly recommend purchasing this fan.
August 23, 2016
Rated

5

out of

5
 by
Xmaslove319
Love This Fan
I have an older model of Vornado that's still going strong after 7 years of use so I decided to invest in another one for my bedroom and was so happy to see that JCP carried this model because I wanted one that was taller. It's been a godsend because my bedroom gets the evening sun and it gets so warm. Trying to cut down on expenses and this helps to cool my room without using the AC.
August 5, 2015
Rated

5

out of

5
 by
Cheyne j
Super power!
This fan has more power on it's lowest setting than most fans have period! The best (and most expensive) fan I've ever owned by far!! Absolutely love it! Our house has no ac and gets up to 100 degrees inside during summer, in the evening we place this fan outside pointing out And you can literally watch the temp drop!!
July 30, 2016
Rated

4

out of

5
 by
Rishi
Does a good job but the stand could have been better.
The fan is great. Quieter than most fans of that size and power. The stand is minimalistic however, can not be adjusted up or down. My neighbor living below my apartment complained about vibration even though we did not feel or hear any vibration.
July 26, 2016
Rated

5

out of

5
 by
ed.
733 circulator fan
attic space
July 28, 2016
Rated

5

out of

5
 by
CentralTXan
Quiet and Powerful
I ordered the 733 Vornado Air Circulator because our AC was cooling the house unevenly. The bedrooms (with vents almost completely shut) were freezing, while the living room and kitchen were burning hot. The AC also ran non-stop. I put the Vornado in the hall, pointed it toward the living room and within minutes you could feel a difference. The living room cooled and eventually the AC shut off! Now we alternate between putting it in the hall or sitting it in the living room. We like it in the living room (and another fan in hall) because it circulates the air so well. It is so powerful that when tilted back it makes the ceiling fan spin. The fan is on a vaulted ceiling and the blades spin even tho it is turned off. It's amazing! The Vornado is very quiet in low mode but a little loud (not bad) in the higher settings. I have purchased Vornado heaters as well and the customer service is wonderful. That's another reason I keep coming back.
August 26, 2010
Rated

5

out of

5
 by
Mama C.
Excellent buy
I love this product, really circulates air very well in my large bedroom.
June 6, 2016
Rated

5

out of

5
 by
JoeL
Best Room-sized Fan on the Market!
I own three model 733 circulators that are four or five years old. I own a century-old farmhouse without air conditioning, and moving air in the summer is necessary for living comfort. The multi-position base and multiple fan speeds allow for total versatility and maximum comfort. The sound from the blades and air on the highest speed does make hearing the TV a bit difficult. I am a sound sleeper, so the sound does not bother me in the bedroom. My only complaint is that with years of use, the little rubber feet on the fan base have fallen off. This was repaired by purchasing the little rubber self stick bumpers from the local hardware store. This model costs more than other fans, but the quality of this fan means that I won't be sending it to the landfill in two years. This circulator does what it is made to do, with dependability - and it is made in the USA! 1,000% satisfaction!
August 4, 2012
Product Q&A
Ask your questions. Share your answers.
Hello,
Is circulator really made in the USA ?
Please just let me know.
Thanks,
Victor
3 months, 4 weeks ago
by
Carle Place , NY
How often do you shop at JCPenney? 
Occasionally
0
out of
0
found this question helpful.
Was this helpful?
helpful
0
unhelpful
0
http://answers.jcpenney.com/answers/submit/1573/product/pp5005360151/question/2793141/undohelpfulness.djs?authsourcetype=__AUTHTYPE__&format=embeddedhtml&innerreturn=http%3A%2F%2Fanswers.jcpenney.com%2Fanswers%2F1573%2Fproduct%2Fpp5005360151%2Fquestions.djs%3Fexpandquestion%3D2793141%26format%3Dembeddedhtml%26scrolltotop%3Dtrue&return=__RETURN__&sessionparams=__BVSESSIONPARAMS__&submissionparams=__BVSUBMISSIONPARAMETERS__&submissionurl=__BVSUBMISSIONURL__&user=__USERID__
Answers
Answer: 
Yes, the 783 Circulator is assembled in Andover, Kansas. Some of the parts may have been made overseas but most are made in the U.S.
3 months, 4 weeks ago
0
out of
0
found this answer helpful.
Was this helpful?
helpful
0
unhelpful
0
http://answers.jcpenney.com/answers/submit/1573/product/pp5005360151/answer/2782058/undohelpfulness.djs?authsourcetype=__AUTHTYPE__&format=embeddedhtml&innerreturn=http%3A%2F%2Fanswers.jcpenney.com%2Fanswers%2F1573%2Fproduct%2Fpp5005360151%2Fquestions.djs%3Fexpandanswer%3D2782058%26expandquestion%3D2793141%26format%3Dembeddedhtml%26scrolltotop%3Dtrue&return=__RETURN__&sessionparams=__BVSESSIONPARAMS__&submissionparams=__BVSUBMISSIONPARAMETERS__&submissionurl=__BVSUBMISSIONURL__&user=__USERID__