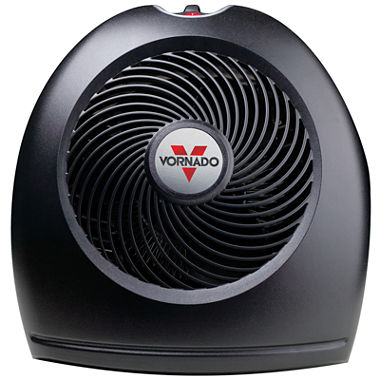 Vornado® AVH2 Whole-Room Heater
pp5004890468
PRODUCT DESCRIPTION
Featuring automatic climate control that adjusts the heat output and fan speed higher or lower at all times to maintain the set temperature, the AVH2 isn't your average space heater.
vortex technology disburses heat evenly throughout any space
whisper-quiet operation
easy-to-use temperature and fan speed controls
designed to help reduce energy bills
heat overload protection system with other safety features
Plastic. Measures 11.8x9.5x11.9"H. Wipe clean with a damp cloth. Imported.
Rated

4

out of

5
 by
CharlieMack
nice heater
We purchased a AVH2 Vornado in 2013 and was using it to supplement the heating in our master bath. Ocassionally we used it for heating our kitchen/family room and it did a nice job. This year we decided to purchase 1 more so that these areas each had their own heater. These heaters are used for rooms that are approx 200 sq ft plus or minus and do an excellent job especially when temps get into the teens or lower and the heat pump seems to run non-stop. I would say that as with all products purchased today here in America that are made of plastic and are electronic there is room for failure. It is just the the way it is and no matter how much quality control is built in some units will be sold and fail. So, one is 1 year old and the other is now 1 month old and both are working just fine.
December 4, 2014
Rated

5

out of

5
 by
The Chief Engineer
Great Room Heater.
This is a great heater for the times in winter it gets down to the 50-60 range. That may not be cold to some but when you are used to 80-90 it is cold. It is on its second year with no problems. I would get another and if it ever slows down of gives problems I would recommend a sealed ball bearing fan to solve the problem. We use lots of fans and the cheep ones with sleeve bearings are the first to fail. Keep them oiled and clean.
February 8, 2016
Rated

5

out of

5
 by
WestChesterResident
This heater totally warms up a whole room 14x14
We bought this after reading the Consumer Reports Best Buy for heaters. While this heater will not heat a room of 14x14 to a really high temperature, we found that it heats up a whole room of 14x14 comfortably in all areas of the room to no less than 68 degrees which is the temperature we like in the winter. We also have a Honeywell that includes a fan, and while it works for direct heating of the location of my home office, it does not heat up a whole room. We also own the VTH model, which has a digital temperature control. My only complain is that we have had to return two of them because they were very noisy (we have a total of 3 Vornado heaters) but the replacements were quiet as expected for a heater with a fan. Definitely would recommend!
January 28, 2011
Rated

5

out of

5
 by
Phil
Exactly what I needed.
This the 2nd AVH2 heater in use in my home. I just bought the 2nd one because of the below zero temperatures this winter and my laundry room water pipes are freezing. I set this heater up in the room, close the door and the room stays toasty all night keeping the pipes warm. My first unit in is in the Master Bath that is always cold in the mornings. I have it on a timer so the bathroom is nice and warm when I wake up. The manual controls on this heater are perfect for plugging it into an electrical timer. This way the controls are all set to go when you apply power at the cord plug. A digital unit would probably come on "OFF" when used this way. A perfect excuse to stay simply analog and not go digital. I hope Vornado leaves this one this way.
February 9, 2011
Rated

5

out of

5
 by
JoAnne
Don't waste your money on any other heater
I have owned a Vornado whole room heater since 2004 and have upgraded along the way and passed my older ones on to people who want to try them. They are the best value and efficiency, so much so, that I have not used my propane heat in 2 years. I heat my 1,300sf house with 2 Vornados and saved myself thousands of dollars. My electric bill is no more than running the AC in the summer time and most times less and I use them as fans in the summer time. Why waste your money on a heater that only heats the space directly in front of it when you can heat a whole room The casing is also cool if you have animals or children. I love everything about this little heater.
November 23, 2010
Rated

5

out of

5
 by
zrock8
BEST HEATER EVER
I used it for the first time last night as the only heat sorce in my 952 SQ. apartment. The outside temp was 28 with wind chill at 24. My living room is were I placed the AVH2 and it was 70 degrees when I woke up and the 2 back bedrooms were at 66. I had the fan on auto and the heat set on low ( 750 Watt ). I am very impressed and highly satisfied. This is one great heater.
October 17, 2015
Rated

4

out of

5
 by
traveller37
Some of these models last longer than others
In about 10 years, we have purchased 5 of several similar models. The first one, after using 4 years, we gave to a friend, who is still using it. The second one lasted a couple years. The third one quit in 3 months, but we had thrown the receipt away, never dreaming one would quit in such a short time, based on the other 2. The next one lasted a little over a year, then started making noises, and the fan quit. The one we have now is about a year old, and seems to be OK. So it's hard to say how long one will last. Love them, just wish they all lasted as long as the first one.
August 26, 2010
Rated

5

out of

5
 by
HappyMom
We love our Vornado fan!!!!
Our Vornado fan is a god-send! We started using our fan as a heater in the winter for my son's room at night. It does a fabulous job of keeping the temperature in the room constant without getting too warm. The added benefit that we didn't realize is the very subtle sound of moving air was extremely relaxing and helped our son go to and stay asleep at night. In fact, we use it year round and just turn the heat element off so that the sound is constant. Even in the summer months, it does wonders keeping the air in the room circulating and fresh. We love our Vornado fan!
August 26, 2010