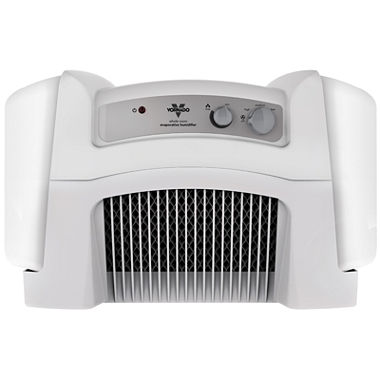 Vornado® Evap40 Extra Large Whole-Room Evaporative Humidifier
pp5006292092
PRODUCT DESCRIPTION
This humidifier works quickly and quietly, using deep pitch blades to pull large volumes of harsh, dry air through two humidifying filters, and then, using Vornado's signature Vortex Action, circulates the humidified air throughout the room, providing complete and uniform humidification in spaces up to 1,000 sq. ft. Its extra-large 4-gallon capacity provides up to a 4-gallon water output when operated continuously on high, allowing for long, uninterrupted operation and fewer refills.
cool mist evaporative humidification – 2 filters included
extra-large 4 gallon capacity for long, uninterrupted operation
adjustable humidistat for automatic humidity control
coverage up to 1000 sq. ft.
3 speed settings: low, medium and high
airlock water tanks are easy-to-fill, spill-proof and leak-free
easy to use and simple to clean
whisper-quiet operation
plastic
19.5x10.5x13.5"H
imported
Rated

5

out of

5
 by
garyorgan
Excellent!
This product is used to humidify my 1200-sq ft apartment. It more than adequately handles this chore. Highly recommend to anyone looking for a carefree humidifier.
July 26, 2016
Rated

4

out of

5
 by
mrdchw
Mixed Feelings On This Product
I am impressed with how quiet this humidifier is, even on High speed ( on which mine is always set ). After having a Sunbeam brand humidifier, this baby is whisper quiet in comparison. However, I do not feel that it does as large an area as it claims. The humidifier runs continually (unless it is raining outside, only then it will shut off). It takes a while to get used to the fill jugs. They have a very narrow hole for in which to fill the tank and it feels strange placing them into the machine. However, the positive here is that there are no parts to wear out on the fill tanks. I would consider this to be more a room humidifier rather than a whole house humidifier. The machine will usually put two gallons of moisture in the air overnight and about as much during the day so filling the tanks is usually twice a day (for in which I do not have a problem, after all that is what we want this machine to do--put moisture in the air). I do not have a large area and it struggles to keep the air moist (always under 45%and rarely reaches that high unless it is raining). I guess I can say I have mixed feelings on this product, but it does a nice job for what it does.
December 10, 2014
Rated

5

out of

5
 by
Liness
Wonderful Purchase
I use this humidifier to cut down on the dryness in my nasal passages and sinuses in the winter. THis is my first humidifier and I LOVE IT. It is easy to fill and manage from faucet to bedroom. The low setting is perfect for nighttime sleep and provides even a nice white noise effect which is soothing. I love the sound of the water being gently released into the unit bit by bit. I haven't formally cleaned it yet, but I anticipate no problem. It took me a long time to agree to purchase a humidifier. this name and model was suggested to me by a friend and it's one of the best suggestions anyone has ever made to me. Really a good buy!!!
December 31, 2015
Rated

3

out of

5
 by
Nancy
Replacement filters not available.
My Evap 40 Vortex Humidifer seems to run fine & adds humidity to my rooms. BUT I can't find where or how to buy the replacement filters. Very annoying. I'm not interested in sharing my email address with your company to send me advertisements. But I don't know how else to order this filter. I purchased this machine at a local retail store.
January 24, 2016
Rated

5

out of

5
 by
Uncle Sam
Problem Solver
My wife started having some breathing issues as the season changed and we started using much more heat. I put one in the living room and one in the bedroom. The problems disappeared. The product is extremely quiet and very easy to load. The large tank capacity make refilling a once (at most) a day task.
January 9, 2016
Rated

4

out of

5
 by
DustCloud
Gulp Gulp
I replaced my ultrasonic humidifier with this one. The ultrasonics require constant cleaning of hard water deposits and everything around them gets covered in a white dust. not sure what that's all about. I've been using the evap40 vortex for several weeks and I'm very happy with it. It holds a ton of water and all the hard water deposits are centralized in the 2 filters. The filters can be cleaned in a vinegar water soak, just don't wring them out or they'll tear up. It runs very quiet in the bedroom with the only objectionable sound is the gulping noise when water leaves the tanks to fill the bottom of the unit, hence my 4 star rating instead of 5.
December 3, 2014
Rated

5

out of

5
 by
voiceless
all in all this is a good humidifier
I have to use a humidifier for health reasons and have used these for years. I am so glad that you went back to this design. This is easier to fill and the tanks don't leak. I've had the smaller version of this and this size and them have lasted for years. I didn't like the change you made to the humidifier a few years ago. Those tanks would leak and make a mess. I actually went to another type of humidifier, I was really happy to see that you went back to this design! Being unable to clean the propellers of the fan is a problem. They tend to get very dusty. I also recommend using an additive to the water so it doesn't grow algae or bacteria.
November 16, 2014
Rated

5

out of

5
 by
ocaptain
Large Tank my best seller
After owning three different ultrasonic humidifiers the last few years my greatest lament has been "Why don't they make larger capacity tanks?!?!" Having to fill them twice or three times a day in my climate has been a pain. Thank you for such a large capacity tank, and one that is so easy to fill. Given the size of my main living area I may find myself buying a second unit rather soon. My only wish is that there was an alternative to buying replacement wicking filters. If someone can invent a permanent filter they can make great products like these even better!
December 11, 2014
$2.95

An oversized item surcharge may apply to some heavy or bulky items due to size, weight or special handling required. This item surcharge is in addition to standard shipping rates.

?
oversized item surcharge
true