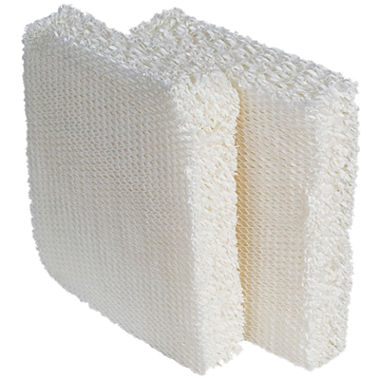 Vornado® Evaporative Humidifier Wick Filter Replacement Pack
pp5005040516
PRODUCT DESCRIPTION
Designed to fit all models of Vornado evaporative humidifiers, this wick replacement pack ensures maximum moisture absorbance and filtering.
made from high-quality, Vornado-approved materials
simple-to-use, disposable design
each pack includes 2 replacement wick filters
Plastic. Imported.
Rated

2

out of

5
 by
Qualitymatters
Does not fit Evap1
These MD1-0002 replacement filters are supposedly compatible with ALL Vornado humidifiers, but this is not the case for Evap1 model. These new filters are noticeably thinner and do not fit well into the Evap1 housing vs. the original filters that came with the unit and earlier generation replacement filters. These filters have noticeably worse moisture output per day than the earlier design. I do not understand why Vornado would discontinue the earlier filter model that perfectly fit the Evap1 and replace it with this inferior one that does not perform as well. As it stands with no alternative to these lousy filters, my Vornado Evap 1 humidifier is unusable. I am very disappointed in Vornado! I am now forced to switch to another humidifier manufacturer.
February 22, 2014
Rated

5

out of

5
 by
Peggy
GREAT VALUE IN TODAYS ECONOMY!
I have been using the wicks in my Vornado Dehumidifier for over 7 years and I always know they will be dependable and long lasting. They do the job every year. We live in Buffalo, NY and have long, cold, dry winters. Since finding Vornado my family no longer suffers nose bleeds and cracked bleeding hands, especially between the fingers and finger tips. My legs no longer feel like sandpaper! This product actually does what is is meant to do....humidify the air so that winter is not so unbearaby and unhealthy. Most importantly...WE NO LONGER HAVE DRY, SCRATCHY SORE THROATS IN THE MORNING!!!!!! Thank you, thank you, thank you Vornado for keeping these quality wicks affordable,
October 17, 2010
Rated

5

out of

5
 by
Griz
Simple design, sturdy construction, does the job
We have used two Vornado humidifers for many years and they work just fine. The design is simple and straight-forward, which is probably why the machine works so well. We have tried other designs over the decades and this Vornado is by far the best. The continued availability of the replacement filters is most appreciated. Keep up the good work.
November 26, 2010
Rated

5

out of

5
 by
kcmomjo
the best small humidifier
well made, American product that lasts for years and does it's job can't ask for more than that I've used the humidifiers and fans for decades--and other brands too. Vornados are simply better. In my mountain condo where the air was so dry, the humidifier worked so much better than the other brands I tried.
November 28, 2011
Rated

5

out of

5
 by
KitKat
We are very pleased with this product.
We have been using this product for 3 years now and we are very pleased with the product. We even bought one for our newborn's room. Recently we discovered that the store we purchased the product from no longer carriers this product, which has forced us to purchase the product on-line.
October 3, 2010
Rated

4

out of

5
 by
KitKat123
Hard to find Wicks in stores
We love the Humidifier, we own two of them. However, it is very hard to find the replacement wicks in the store and the stores that came up on the "Find the Store" search do not sell the product/filters. We find it very expensive to order the filters on-line because of the shipping cost.
December 29, 2010
Rated

4

out of

5
 by
Cecily
Humidifier good, replacement wicks an issue
We have been using two Vornado humidifiers during the winter for years and are pleased with the value and simple design. The replacement wicks used to be easy to find in stores but this year are something of a hunt. Don't count on this site's FIND A STORE feature for accuracy.
October 29, 2010
Rated

5

out of

5
 by
Cindi
love this humidifier
i have been through many humidifiers and found this one to fit my needs the best. It holds lots of water, is quiet, works really well. I love it.
July 23, 2014