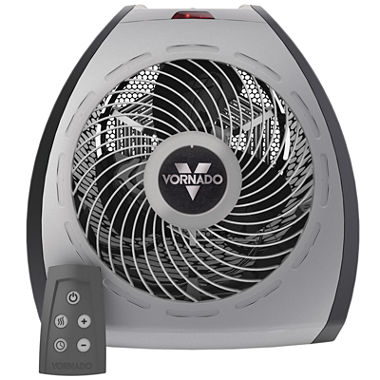 Vornado TVH500 Whole-Room Vortex Heater + Remote Control
pp5006291705
PRODUCT DESCRIPTION
The TVH500 heater's casing is constructed completely of steel, yet remains cool to the touch, and uses Vornado's signature energy-efficient vortex circulation to quietly and evenly warm a room, with no cold spots, in less time than traditional heaters. The TVH500 includes a remote control and on-board digital LCD screen to display current and set temp.
Vornado Vortex Whole-Room Heat Circulation—not only generates heat but circulates it throughout the entire room
cool-to-the-touch all-metal construction
push-button controls with LCD screen
remote control
easy-to-set timer
automatic tip-over protection
automatic climate control
non-glowing heating element
overheat protection
automatic safety shutoff
whisper-quiet operation
energy efficient
metal
11.4x9.4x11.6"H
imported
Rated

5

out of

5
 by
Marsha
Excellent Heater
I am very pleased with the purchase of the Whole-Room heater with remote control. It is so quiet. The remote control feature is an added bonus! I set the temperature, choose the fan speed, and my great room loses the chill very quickly. It is a gentle blowing fan, not too hot, and I do not hear it running. Super heater for a great price! I highly recommend it.
December 16, 2015
Rated

1

out of

5
 by
LouisB
Only worked 2 weeks
Well I will make this short and sweet. Unless I just bought a lemon. This heater is a piece of junk. I like the metal housing. But the fact that this heater only lasted 2 weeks was disappointing. Hopefully the exchange process is not the same.
January 1, 2016
Rated

1

out of

5
 by
Rains
Don't purchase! Not worth the money!
I bought two of these heaters based on the reviews believing they would heat up my small living room. They do not! I had to purchase an additional heater that was half the cost and works twice as well. I would not recommend this product.
December 16, 2015
Rated

5

out of

5
 by
Lauradots
Lots of Heat for a small unit
We used the heater in a small bedroom (15' x 14') for addition heat at night. The unit is very compact and doesn't require much space. However, it must be placed on the floor, not on an elevated surface, that has the correct angle to heat the room properly. I found finding the correct spot to place the unit was a bit tricky in a small space but with some rearranging was able to do so properly. Being able to set the desired temperature as well as seeing the current temperature in the room was a great feature. The unit did take a few minutes to heat up, but one it did the room got to the desired temperature fairly quickly. I was able to place my hand directly on the vents while it was running and while warm it did not present to be a burn risk. It also has an automatic turn off if the unit is tipped over, this I find to be a great safety feature for homes with children and pets. This unit is definitely a great purchace for reliable safe heating of a small area.
November 13, 2015
Rated

4

out of

5
 by
curmudgeon
Define what you're looking for 1st
I purchased this product to quickly heat an exercise room in by basement. And I wanted the remote so I could turn the unit ON from the top of the stairs. Results? Well..... I would turn the unit on about 10 minutes before exercising. Because the heated air coming out is not HOT, I was initially disappointed. Comparing it to a ceramic heater (cheaper, mind you) I had been using, well the ceramic heater made the area around the unit feel much warmer than the Vornado. But the Vornado, while throwing out air that was less warm, distributed the warmth much better. It would be excellent as a long term use room heater rather than a quick chill killer and I was more looking for a quick chill killer. Should note: As a room heater it is very quiet, and pretty draft-less Only real disappointment is the remote. It's useless. You have to be within 6 feet of the heater for it to work, so I can't use it from the top-of-the-stairs, the ONLY reason why I didn't buy a cheaper unit.
March 13, 2013
Rated

5

out of

5
 by
f1gp
Not your typical space heater
This is a really well made space heater. it is not your typical flimsy plastic space heater. It feels very solid and well built when i first took it out. The whole thing looks very sturdy. I really like that I can adjust the temperature and not just a meaningless 1-10 scale on most other heater. it's also great to be able to see the room temp on the same LCD display. It unique way of air circulation also means the room heats up really quickly. No more hot and cold spots from using my old space heater. The off timer is also a great feature when i don't want it run for too long. It claims it also helps circulating cold air in the summer but I have to wait until summer to test out that claim. I am not sure how durable this product as i've only been using it a short while. A good effective product so far.
November 17, 2015
Rated

4

out of

5
 by
Jules
Good product
This is a good product, it is small and lightweight and the remote is a nice feature and it is very quiet. You can set it to high, low, and fan only and you choose the desired temperature. The product does read the room temperature and have an automatic shut off when it reaches your desired temp but i don't feel my room temp reading was accurate and I had to increase the desired temperature to compensate. The directions state that it should only be used when flat on the floor, I wish I was able to use it on top of a counter since I have a 1.5 year old who is very curious. The front grates are small but could fit a baby finger, the good news is that the fan blades are far enough back that fingers wouldn't reach them. If you have the heat on the grates don't get hot (neither does the back or surrounding edges) but the middle circle where the logo is does get a bit warm to the touch. The product does heat up a room fairly quickly without being too overpowering. I do wish there was an oscillate option on the fan which would help spread across a larger room. I am not sure what the energy efficiency is on this product but would be curious to find out how it would affect my utility bill.
November 9, 2015
Rated

4

out of

5
 by
MomKnows
Should have bought one 8 years ago!
I have used this heater for the last two weeks, in my bedroom. I wanted to give it a fair trial, before leaving a review. My room has always been the worst room in my home, being directly under the attic. Cold in the winter, and hot in the summer. The Vornado TVH500 has made it much more comfortable at night. I used to have to sleep with the covers up to my neck, and wake up with a cold nose or shoulder that escaped during the night. Now a gentle warm air passes over my room, at regular intervals. Now, I wish I could say the Vornado was perfect. Sometimes it won't come on, and I have to manually raise the temperature. It seems the thermostat doesn't always regulate correctly, even saying my room is 68 degrees, but I have the heater set at 72. Another small pet peeve about the Vornado is the little red power light that stays on. For my bedroom I prefer total black, but that's not any problem a little tape can't fix. Now, I feel better about keeping my main thermostat set at a comfy temp for downstairs, and still have warmth at night, in my upstairs bedroom. I do have an air drying problem, so a humidifier would be worthwhile, while using this heater. Overall, I still recommend it for a cold spot you may have.
November 30, 2015
$2.95

An oversized item surcharge may apply to some heavy or bulky items due to size, weight or special handling required. This item surcharge is in addition to standard shipping rates.

?
oversized item surcharge
true