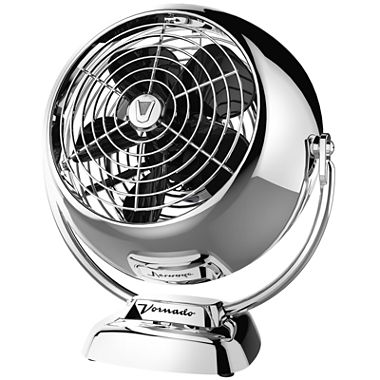 Vornado® VFAN Jr. Vintage Whole-Room Air Circulator
pp5005360139
PRODUCT DESCRIPTION
Featuring a classic design inspired by the original Vornado fan from 1945, this compact air circulator delivers unparalleled whole-room air circulation.
signature vortex air circulation technology
twin air cones and deep-pitched propeller compress and move more air
easy-to-use controls with 2 speed settings
full-action pivot head for multi-directional airflow
safe, quiet design
Metal. Measures 10.1x6.1x11.4"H. Wipe clean with a damp cloth. Imported.
Rated

4

out of

5
 by
Jepstr67
Smaller Vornado, a Chip Off the Old Block.
This is another high quality offering from Vornado in their line of retro metal air circulators. I really appreciate the availability of new, reproduction products from Vornado. On this smaller unit I miss having 3 speeds as the larger circulators do. I also miss the absolute silent operation of the vintage fans achieved with the helical tri-blade design vs the plastic 5 blade reproduction units. THe greatest think about the Vornado is that it really works? Unlike a big box fan that makes a lot of noise and moves very little air, ALL the Vornado products shoot a beam of wind any direction you aim them! Vornado really makes a superior air circulating machine.
July 26, 2016
Rated

5

out of

5
 by
McHillberry
Awesome
We elected to have chandeliers installed vs. ceiling fans in our current home and while attractive there is something to be said for a fan! We purchased two and than I purchased another two for bedrooms without ceiling fans and an extra for when a room just needs to have air moving. I think they move air better than any fan I have owned and just as important they are attractive enough to add a bit of style to whatever room you use it in. My husband thought I was crazy for spending so much on a little fan, but than he felt the air output and said we needed more! We could not be happier with air flow or design.
June 25, 2016
Rated

5

out of

5
 by
Eishu
Absolutely Incredible Product
Let me start by saying that do not judge it by its size. It looks small, but it delivers what it promises. **Looks** It has a nice green color with smooth enamel finish. The entire body is made up of metal and has pretty neat design. The head can be adjusted up or down, and this movement is very smooth. Base stand seems very sturdy, and has a nice golden tag. Front fan net is of golden color and gives an antique look to whole unit. **Usage** It is silent at low speed, and makes a little buzzing sound at high speed. But it is very feeble buzz and goes unnoticed. Entire body is very light, so it can be moved around effortlessly. Cable is long enough to fit into far away sockets. Small size but gives good amount of air. **Maintenance** Since it has enamel finish it is very easy to clean. I use a table cleaning spray and a cloth to wipe off any dust, and it works amazingly good. **Recommendation*** Would strongly recommend this for some one who is looking for a personal fan with high quality features. It can fit anywhere from study/computer table, kitchen, laundry, basement or office desk. Absolutely love it.
August 28, 2015
Rated

5

out of

5
 by
Phoenixsun
I would definitely buy this product again.
I use this fan in my study since there is no ceiling fan in there. I put it on top of my small book shelf and turn it on whenever I am in my study. The wind gust from this fan is powerful even for its compact size. It has very good air flow and keeps the room cool and the air circulating. That's definitely something I wouldn't have expected from a fan of this size. The vintage style is also very appealing. They come in a variety of colors to match your decor. I love how retro the fan looks, but would still blow away (pun intended) the fans of that age in terms of power. We have a small tower fan (still larger than the Vornado VFAN) which barely has any air flow and another fan with a stand, which is okay, but the VFAN Jr. Vintage is the best fan that I have used for its size. I had not heard about this product until I received it for review purposes but I am glad to have been able to try it. Vornado is definitely going to be on my watchlist for fans and other air circulators. I would definitely buy this product again if I need another fan and would recommend it to anyone who is looking for a small, but powerful fan. Disclosure: I was sent this product for the purpose of a review; however all opinions are my own.
August 17, 2015
Rated

5

out of

5
 by
Austen
Excellent fan. Small, well built and moves a TON of air!
I'm really impressed with just how powerful this little fan is. Despite it's size, the VFAN Jr. moves a considerable amount of air all while remaining relatively quiet. I have this fan perched on my DVD dresser and I can feel it from more than 8 feet away on my bed! I would chalk this up to it's sturdy construction and it's powerful but quiet motor. As opposed to those small, plastic desk fans this little guy has a solid metal frame and a cool (almost retro) design that reminds you of a little jet engine. It's a very well built product and you don't feel like Vornado cut any corners when designing or build it. I would definitely purchase one of these fans and would recommend it for anyone looking for a portable but powerful/well built desk fan.
August 15, 2015
Rated

5

out of

5
 by
@MrsFlowerBell
Quiet , Powerful Beautiful piece of Electronics
I have been lucky enough to receive this fan in order to review. This fan, although small in size, packs a powerful punch!! It is quiet considering how much force you feel coming out of the fan itself. I read the manual and aside from just being a fan, it is an air room circulator. Meaning if you angle it in any of the ways the pamphlet shows you, it is able to bring coolness to the ENTIRE room!! It can work WITH your air conditioner and /or open window to help you get fresh air. I love this fan very much!! It has a very cool vintage feel to it and is made of all metal, like back in the days when things were made to last. I would recommend this to anyone looking for a small room to help keep your rooms cool.
August 7, 2015
Rated

5

out of

5
 by
Sybilsue
This fan is so Cool!
I really don't know why I did not already have a Vornado fan but I'm extremely please to have one now. This is without a doubt the best fan I have ever used in my home, and that's a lot of fans over many decades. Upon seeing the Vornado in person I remembered seeing magazine ads for the company and its products years ago. Vornado has been in business since the 1940s and it is easy to see why they still are. Along with a great vintage, but original, design the VFAN Jr offers incredibly solid construction, the type of quality not easily found today. Best of all is how well it performs! The Vornado fits neatly on a table, counter or on a dresser for night time cooling. It is quiet but mighty, cooling a room quickly and providing a very cool and comfortable breeze. While it blew me away mentally, it will not blow things at me physically as too many other fans do. The way the air circulates with the Vornado is perfect. I use it along with my central air (thermostat turned up a bit to save energy) and find it just right for dreamy sleep and as a hot flash defense. Without mentioning my age, I love this fan and will tell all of my girlfriends (whose ages I also won't mention) to buy a Vornado. It works that well! It's goodbye box fan, fan on floor stand, tower fan, personal mini fan, window fan and Hello Vornado Jr. This fan has two speed settings and the only thing I would even think of changing is to add a third or medium speed. Though it performs beyond my expectations as it is. Try a Vornado JR!
August 7, 2015
Rated

5

out of

5
 by
Ron Rolaine
Vornado is Ageless
I needed a small Fan for my office, because my computer is getting on in age and tends to overheat. The Baby Vornado was exactly what I needed. I owned a larger one which I have used many years so I know good fans when I see them. The Vornado Name has been around forever it seems. My folks had several of them back in the 1950s. This Baby Vornado is quiet and fits perfectly in a niche beside my shredder. It will probably outlast me, since I am already a senior. Ron Rolaine
June 13, 2015