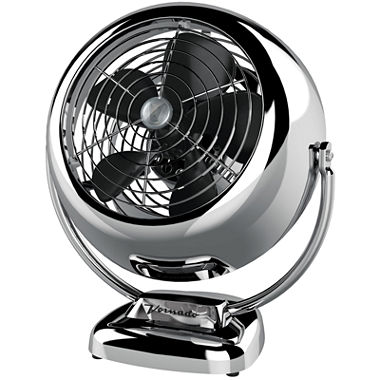 Vornado® VFAN Vintage Whole-Room Air Circulator
pp5005360148
PRODUCT DESCRIPTION
With its unique combination of power, aerodynamics and style, this vintage-inspired circulator delivers unparalleled whole-room air movement.
signature vortex air circulation technology
twin air cones and deep-pitched propeller compress and move more air
classic, durable all-metal construction
3 speed settings
full-action pivot head for multi-directional airflow
safe, quiet design
Plastic. Measures 11.8x8.1x13.8"H. Wipe clean with a damp cloth. Imported.
Rated

5

out of

5
 by
Deborah
Fan letter for a fan
When I saw this fan, it blew me away. The color isn't accurately captured on this website; in reality it's a deeper mossy color, a color that takes retro a step further. Sitting in the store where I found it, no object could look more out of place. This fan belongs in an Iowa farmhouse, or in a Vermont country store. I'd have bought it even if it didn't work, because of its iconic looks and workmanship. It truly belongs in the Museum of Modern Art for its flawless industrial design. But enough about appearances. It's a powerful fan that pivots to any position. It's a perfect size to fit into my small cottage and yet deliver airflow I'd expect from something 3 times its size. It sounds like an old school fan, a great white noise. And although I haven't cleaned it yet, it appears to have been thoughtfully designed to maximize cleaning the blades and inner body. This fan is a home run and a true breath of fresh air. Or, more accurately, a most welcome blast from the past.
June 15, 2015
Rated

5

out of

5
 by
Bonnie Gerhart
Quality worth the price !!
I purchased two air circulators and LOVE their design, color choices offered, and sturdier construction. This is the fourth air circulator that I purchased through the years so I know the product is reliable and efficient. I became 100% brand faithful after the first purchase.
July 26, 2016
Rated

5

out of

5
 by
Patrick
Too..."cool"
Own four of them....works and looks "COOL"
June 3, 2016
Rated

5

out of

5
 by
afanboy
Chrome beauty
I am very pleased with the Chrome version of the retro "VFan". It is a beautifully made fan. The chrome finish, is almost mirror quality on the shrowd. The 3 speed switch on the back of the motor feels solid and the motor itself runs quietly, without any hum. It is quite powerful for the size, due to the deep pitch 5 blade fan. The fan blade is black plastic, which would have been nice if it was metal, but not a deal breaker by any means. Noise level is average on High and Medium speeds, compared to other fans of this type, but is exceptionally quiet on the Low speed setting. This would work great in a bedroom or office, where you wanted some gentle air flow, but low noise. Overall, I am very pleased with this fan and glad to see Vornado continue to produce high quality fans, for the buyer who wants more than the average plastic bargain store throw away.
March 13, 2014
Rated

5

out of

5
 by
Flgirl
I just received the VFAN, ...
I just received the VFAN, in chrome....my son turned me on to Vornado...he has purchased used Vornado fan's and has raved about the quality/performance of them...OMG...I should have purchased a Vornado years ago! What a great fan! I live in Fl and it is still 90 degrees here, last night I didn't have to use my (useless overhead ceiling fan] only the VFAN in my bedroom. I need another fan in my home office...a turquoise or a light blue color will go with my shabby chic /coastal/Beach theme...so please add those two colors and you will have another hit on your hands. By the way, my husband was drooling over my chrome VFAN [I think it's guy thing, you know, with stainless steel). I am going to purchase the industrial VFAN for his garage for Christmas and sell his two floor fans [that are taking up valuable floor space and are a waste of energy] on Craigslist! I plan to purchase 3 more VFAN's for my children for Christmas. Talk about the gift that keeps on giving! Thanks for a great product and I love the box, with the retro advertisement, so cool! PS..I plan to add Swarovski Crystals to my Chrome VFAN...[just a little bling)...I will send pics! Satisfied customer for life.
September 11, 2014
Rated

5

out of

5
 by
Alanna
perfection!
This fan is powerful, quiet, and cute; everything I was looking for! It helps cool down the house during the day and on particularly warm nights I'll put it on low in the bedroom where the white noise is also appreciated. I like that it's small enough to put on a table or kitchen counter and to move it easily from room to room. The chrome finish works well with our minimalist decor, and it always draws appreciative comments from guests. My husband finds it a little loud for his taste when on the highest setting but the sound doesn't bother me. Thanks, Vornado, for making the fan of my dreams!
August 3, 2015
Rated

2

out of

5
 by
Disappointed
Fan circulates less air than fans a fraction of it's price
The fan barely moves any air. To call this a whole room circulator is completely dishonest. An ordinary 20 dollar fan can easily out perform this product. The breeze generated from this fan extends 4 or 5 feet at best and completely diminishes after that. The fan at the two lowest settings generates just enough wind to blow out a match. While it has a nice retro look and appears solidly constructed, it is totally impractical if you want to use it other than as a low powered desk fan.
September 3, 2015
Rated

5

out of

5
 by
Fanfan
Next best thing to the original
I have several vintage Vornados. At least one has a plastic blade, but most are metal. To me, the sound they make (especially the metal-bladed ones) is absolutely their best feature. It is the most relaxing white noise I've ever known. I'm very happy that Vornado is now making them in this style again, and I encourage reproduction of some of the other old models. I'm quite satisfied with the quality of the one I have, but it doesn't have the same sound as those old ones. Still, I don't regret the purchase -- it is a well made fan and I like how it looks. I'd definitely buy another if it came out with a metal blade.
April 14, 2014