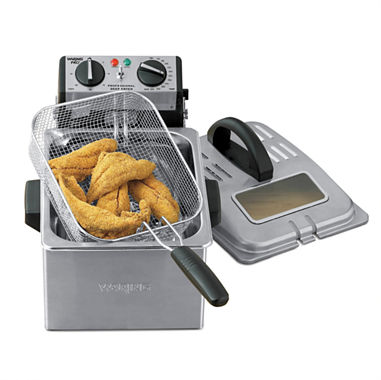 Waring Pro® Professional Deep Fryer
web ID: 7801056
This deep fryer makes everything from home-made chicken nuggets, French fries and onion rings to buffalo wings, donuts and calamari.
1800W immersion-style heating element for fast heating
heavy mesh basket with Cool-Touch handle and tilt-and-drain feature
30-minute timer
overload auto-shutoff protection
1-gallon removable enamel-coated oil container with pouring spout
2.2lb food capacity
contemporary brushed stainless steel exterior
Lid, basket and bowl are dishwasher-safe for easy clean-up. 16½x8x15"H. Imported.
Rated

5

out of

5
 by
butmom
Nice Product
After much research we decided on the Waring Pro. This is our first deep fryer, so I wasn't sure exactly what to expect. I found the instruction booklet easy to follow (I highly recommend reading it prior to first time use). It also provided cooking tips such as proper temperatures, cooking times, and even recipes. The temperature dial is great. I can set it to an exact temp, not a range. The timer is also a great feature and has a loud 'ding'. There is clearly a 'fried food' smell and it will permeate your house! I recommend using the fryer outdoors if possible. After cooking let the oil cool. Bring the fryer inside and clean immediately. Cleaning is time consuming, but easy. I would not recommend saving the oil after use due do the smell. Just buy new, it's inexpensive. Overall we are thrilled w/our purchase and look forward to finding reasons to use it more often.
July 9, 2010
Rated

5

out of

5
 by
jone7378
This product has exeeded my expectations
After reviewing many deep fryers for weeks I decided on this one the Waring Pro Deep Fryer. This fryer replaces one I had for over 10 years. It heats up faster than my old one and holds the temperature better especially when you are frying more than one basket. The vapors don't seem to be as much a problem with this fryer than my old one. Clean up is easy and the price is great. Shipping was less than a week. I am very happy.
September 4, 2013
Rated

5

out of

5
 by
Jean00
Would purchase again
I purchased this fryer because it looked very durable, but the outside metal is thin. The outside metal needs to be alittle thicker to hold the fryer insert. Love the timer and this is the only fryer I have found with a timer. The size is great for a small family. I am thinking about buying one for my son and his new wife.
July 14, 2010
Rated

5

out of

5
 by
ericevaneli
Happy son
My son requested a deep fryer. It immediately went into action Christmas night and he was thrilled with the results. It's hard to rate quality, even though I trust that Waring is a good product, I think quality is determined after much use, but for now he's very pleased.
December 27, 2013
Rated

5

out of

5
absolutely great
I purchased this deep fryer to replace a smaller one. I have not been disappointed by how much it will hold. This product has been a pleasure to own. The fact that it is stainless inside and out and has a removable oil reservoir makes cleanup and oil changes easy. Recommending this is also easy to do.
January 18, 2009
Rated

5

out of

5
 by
AmyPD
The Perfect Gift for my husband, The Cook!
This large fryer was the perfect gift for my husband. We have a large family and we have used it for onion rings, fish, mozzarella sticks and homemade fries. This product far exceeded our expectations as it easy to clean as well :)
October 16, 2013
Rated

5

out of

5
 by
Grammiemae
It's the greatest
I have had several different kinds of deep friers .But this is by far the best.It doesn't take up a lot of space on the counter do to the shape of it. And when you clean it all you do is put washable parts in dish washer.
February 10, 2009
Rated

5

out of

5
 by
suka
Surprised at the value
I don't like to purchase items unseen, but this product was worth it. It preforms well, and looks great. Made onion rings and was greatly impressed by the results. I highly recommend this product.
December 26, 2013