Let your spirits ride with this spooky Halloween decor. This collection focuses on the magic of Halloween with skulls, candles, and decor all in black.
A fun take on the traditional white, orange, and black colors of Halloween. Featuring pumpkins, gnomes, and more.
Share the harvest with autumn wreaths, pumpkins and more. This collection focuses on the brighter colors and whimsical animals of fall.
Fall in love with seasonal leaves, berries and grasses. This collection focuses on the beautiful nature of fall, with natural materials and colors.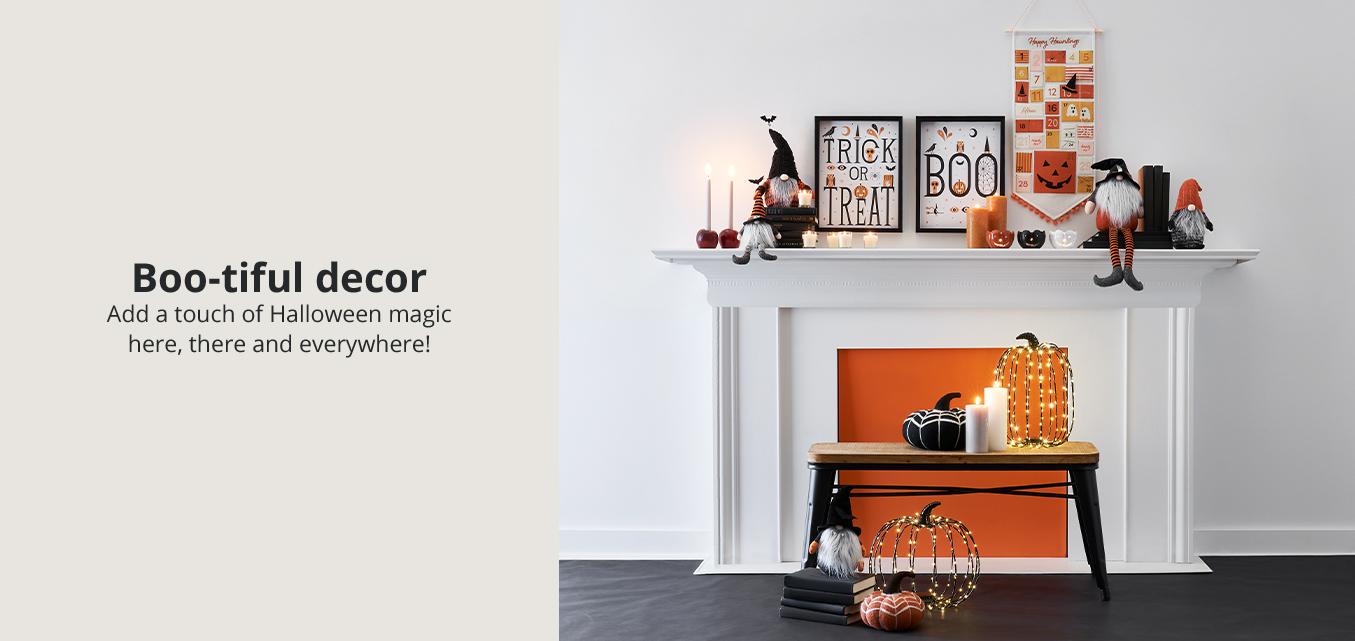 Revamp Your House with JCPenney's Fall Décor Collection
Changing seasons is one of the best reasons to refresh your home décor. Bring in the season, indoors with JCPenney's wide selection of Fall decor. We have everything from Spring, Summer, Fall, and Winter to guide you through and embrace the spirit of each season. Infuse a few elements that help your home get ready for family dinners and potluck. Indulge in the Halloween spirit to kick start the holidays on a merry note. Pick home accents in classic Fall colors: red, orange, and yellow. Dwell in Fall décor by placing a lantern to liven up your patio. You could also use seasonal pillows to give your furniture a fresh look. In addition to this, unroll a rug or doormat, which is season-appropriate. Check out our collection of Fall décor, including dinnerware, linens, and accessories that are pumpkin-themed to dress up your table.
Beautiful Home Décor Accents
Fall is finally here! it's time to create a cozy corner. Select simple additions like a vase, wreaths, candle holders, and so much more. Placing a jack-o-lantern on the front porch will definitely take things up a notch. You could also place Halloween skulls for an extra dose of spookiness. Stick to Fall and pumpkin theme by picking wall décor in maple-inspired canvas. While you're at it, look at our harvest décor as well. Or, bring in the sweet smell of Fall with a scented candle jar. Whatever you need, JCPenney's seasonal décor has got everything!
Shop Men's Halloween Costumes >>>
Shop Girls' Halloween Costumes >>>
Shop Boys' Halloween Costumes >>>