tarte Tarteist™ PRO Remix Amazonian Clay Eyeshadow Palette
Select all your options above to check availability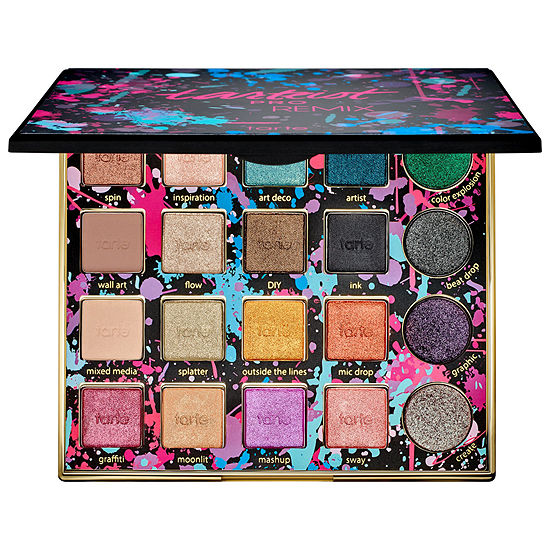 tarte Tarteist™ PRO Remix Amazonian Clay Eyeshadow Palette
Product Description
What it is:
A vibrant, 20-shade superstar palette formulated to celebrate all forms of art and expression—ready to rock your world.
Highlighted Ingredients:
- Amazonian Clay: Provides better, longer, truer wear.
- Mineral Pigments: Soothe and soften skin.
- Vanilla Fragrance: Provides natural fragrance and antioxidant benefits, and diminishes visible signs of aging.
Ingredient Callouts:
Free of parabens, phthalates, mineral oil, and triclosan. This product is also vegan, cruelty-free, and gluten-free.
What Else You Need to Know:
This palette features 20 all-new shades, inspired by all forms of art and self-expression, in six unique finishes—matte, luster, metallic, duo-chrome, shimmer, and floating glitter.
This Palette Contains:
- 20 x 0.035 oz/ 1 g Eyeshadows in Spin (copper with metallic finish), Inspiration (light pink with metallic finish), Art Deco (light blue with golden duo-chrome shift), Artist (navy blue with luster finish), Color Explosion (jade with luster finish), Wall Art (taupe with matte finish), Flow (pewter with shimmer finish), DIY (graphite with shimmer finish), Ink (black with matte finish), Beat Drop (gunmetal with iridescent floating glitter), Mixed Media (cream with matte finish), Splatter (pistachio with shimmer finish), Outside the Lines (gold with metallic finish), Mic Drop (copper with metallic finish), Graphic (black with purple floating glitter), Graffiti (burgundy with metallic finish), Moonlit (champagne with shimmer finish), Sway (rose with shimmer finish), Create (mauve with aqua duo-chrome), Mashup (magenta with luster finish)
Suggested Usage:
-Using your finger, pop your preferred shade all over the lid, and head out the door.
-For a more advanced look, use multiple shades to create your own masterpiece.-

Ingredients:
-Amazonian Clay: Provides better, longer, truer wear.
-Mineral Pigments: Soothe and soften skin.
-Vanilla Fragrance: Provides natural fragrance and antioxidant benefits, and diminishes visible signs of aging.

Spin:
Mica, Ethylhexyl Palmitate, Talc, Boron Nitride, Zinc Stearate, Sodium Dehydroacetate, Caprylyl Glycol, Phenoxyethanol, Vanillin, Caprylic/Capric Triglyceride, Hexylene Glycol, Vanilla Planifolia Fruit Extract, Kaolin, Silica. May Contain (+/-): Iron Oxides (Ci 77491), Titanium Dioxide (Ci 77891).

Inspiration:
Mica, Ethylhexyl Palmitate, Talc, Zinc Stearate, Boron Nitride, Dimethicone, Sodium Dehydroacetate, Caprylyl Glycol, Phenoxyethanol, Vanillin, Caprylic/Capric Triglyceride, Hexylene Glycol, Vanilla Planifolia Fruit Extract, Kaolin, Silica, Aluminum Dimyristate, Triethoxycaprylylsilane, Disodium Stearoyl Glutamate. May Contain (+/-): Titanium Dioxide (Ci 77891), Iron Oxides (Ci 77491, Ci 77492).

Art Deco:
Mica, Talc, Ethylhexyl Palmitate, Dimethicone, Boron Nitride, Zinc Stearate, Sodium Dehydroacetate, Caprylyl Glycol, Phenoxyethanol, Vanillin, Caprylic/Capric Triglyceride, Hexylene Glycol, Tin Oxide, Vanilla Planifolia Fruit Extract, Kaolin, Silica. May Contain (+/-): Titanium Dioxide (Ci 77891), Ultramarines (Ci 77007), Ferric Ferrocyanide (Ci 77510).

Artist:
Mica, Ethylhexyl Palmitate, Talc, Dimethicone, Boron Nitride, Zinc Stearate, Sodium Dehydroacetate, Caprylyl Glycol, Phenoxyethanol, Vanillin, Caprylic/Capric Triglyceride, Hexylene Glycol, Tin Oxide, Vanilla Planifolia Fruit Extract, Kaolin, Silica. May Contain (+/-): Iron Oxides (Ci 77491, Ci 77499), Titanium Dioxide (Ci 77891), Ferric Ammonium Ferrocyanide (Ci 77510), Ferric Ferrocyanide (Ci 77510).

Color Explosion:
Mica, Ethylhexyl Palmitate, Talc, Boron Nitride, Dimethicone, Zinc Stearate, Sodium Dehydroacetate, Caprylyl Glycol, Phenoxyethanol, Vanillin, Caprylic/Capric Triglyceride, Hexylene Glycol, Vanilla Planifolia Fruit Extract, Kaolin, Silica. May Contain (+/-): Titanium Dioxide (Ci 77891), Blue 1 Lake (Ci 42090), Chromium Oxide Greens (Ci 77288), Yellow 5 Lake (Ci 19140), Ferric Ferrocyanide (Ci 77510).

Wall Art:
Talc, Mica, Silica, Boron Nitride, Ethylhexyl Palmitate, Zinc Stearate, Sodium Dehydroacetate, Caprylyl Glycol, Phenoxyethanol, Vanillin, Caprylic/Capric Triglyceride, Aluminum Dimyristate, Triethoxycaprylylsilane, Hexylene Glycol, Disodium Stearoyl Glutamate, Vanilla Planifolia Fruit Extract, Kaolin. May Contain (+/-): Iron Oxides (Ci 77491, Ci 77492, Ci 77499), Titanium Dioxide (Ci 77891), Manganese Violet (Ci 77742), Ultramarines (Ci 77007).

Flow:
Mica, Ethylhexyl Palmitate, Talc, Boron Nitride, Zinc Stearate, Sodium Dehydroacetate, Silica, Caprylyl Glycol, Phenoxyethanol, Vanillin, Caprylic/Capric Triglyceride, Hexylene Glycol, Tin Oxide, Vanilla Planifolia Fruit Extract, Kaolin. May Contain (+/-): Titanium Dioxide (Ci 77891), Aluminum Powder (Ci 77000), Iron Oxides (Ci 77491, Ci 77499).

DIY:
Mica, Ethylhexyl Palmitate, Talc, Synthetic Fluorphlogopite, Boron Nitride, Zinc Stearate, Dimethicone, Sodium Dehydroacetate, Caprylyl Glycol, Phenoxyethanol, Vanillin, Caprylic/Capric Triglyceride, Hexylene Glycol, Vanilla Planifolia Fruit Extract, Kaolin, Silica. May Contain (+/-): Titanium Dioxide (Ci 77891), Iron Oxides (Ci 77491, Ci 77499).

Ink:
Talc, Silica, Boron Nitride, Ethylhexyl Palmitate, Zinc Stearate, Mica, Sodium Dehydroacetate, Caprylyl Glycol, Phenoxyethanol, Vanillin, Caprylic/Capric Triglyceride, Hexylene Glycol, Vanilla Planifolia Fruit Extract, Kaolin. May Contain (+/-): Iron Oxides (Ci 77499), Titanium Dioxide (Ci 77891).

Beat Drop:
Mica, Ethylhexyl Palmitate, Talc, Synthetic Fluorphlogopite, Boron Nitride, Zinc Stearate, Sodium Dehydroacetate, Caprylyl Glycol, Phenoxyethanol, Vanillin, Caprylic/Capric Triglyceride, Hexylene Glycol, Vanilla Planifolia Fruit Extract, Kaolin, Silica. May Contain (+/-): Iron Oxides (Ci 77499), Titanium Dioxide (Ci 77891).

Mixed Media:
Mica, Talc, Silica, Ethylhexyl Palmitate, Boron Nitride, Zinc Stearate, Sodium Dehydroacetate, Caprylyl Glycol, Phenoxyethanol, Vanillin, Caprylic/Capric Triglyceride, Hexylene Glycol, Aluminum Dimyristate, Triethoxycaprylylsilane, Disodium Stearoyl Glutamate, Vanilla Planifolia Fruit Extract, Kaolin, Carmine (Ci 75470). May Contain (+/-): Titanium Dioxide (Ci 77891), Iron Oxides (Ci 77491, Ci 77492, Ci 77499).

Splatter:
Mica, Ethylhexyl Palmitate, Talc, Synthetic Fluorphlogopite, Zinc Stearate, Dimethicone, Sodium Dehydroacetate, Caprylyl Glycol, Phenoxyethanol, Silica, Vanillin, Caprylic/Capric Triglyceride, Tin Oxide, Hexylene Glycol, Vanilla Planifolia Fruit Extract, Boron Nitride, Kaolin. May Contain (+/-): Titanium Dioxide (Ci 77891), Aluminum Powder (Ci 77000), Iron Oxides (Ci 77492, Ci 77499), Ultramarines (Ci 77007).

Outside The Lines:
Mica, Ethylhexyl Palmitate, Talc, Silica, Boron Nitride, Zinc Stearate, Sodium Dehydroacetate, Caprylyl Glycol, Phenoxyethanol, Vanillin, Caprylic/Capric Triglyceride, Hexylene Glycol, Tin Oxide, Vanilla Planifolia Fruit Extract, Kaolin. May Contain (+/-): Titanium Dioxide (Ci 77891), Iron Oxides (Ci 77491).

Mic Drop:
Mica, Ethylhexyl Palmitate, Talc, Dimethicone, Boron Nitride, Zinc Stearate, Synthetic Fluorphlogopite, Sodium Dehydroacetate, Caprylyl Glycol, Phenoxyethanol, Vanillin, Caprylic/Capric Triglyceride, Aluminum Dimyristate, Triethoxycaprylylsilane, Hexylene Glycol, Disodium Stearoyl Glutamate, Vanilla Planifolia Fruit Extract, Kaolin, Silica. May Contain (+/-): Iron Oxides (Ci 77491, Ci 77492, Ci 77499), Titanium Dioxide (Ci 77891), Yellow 5 Lake (Ci 19140).

Graphic:
Ethylhexyl Palmitate, Mica, Talc, Calcium Sodium Borosilicate, Silica, Zinc Stearate, Dimethicone, Sodium Dehydroacetate, Caprylyl Glycol, Phenoxyethanol, Vanillin, Caprylic/Capric Triglyceride, Hexylene Glycol, Tin Oxide, Vanilla Planifolia Fruit Extract, Boron Nitride, Kaolin. May Contain (+/-): Iron Oxides (Ci 77499), Titanium Dioxide (Ci 77891).

Graffiti:
Mica, Ethylhexyl Palmitate, Talc, Silica, Calcium Aluminum Borosilicate, Dimethicone, Zinc Stearate, Sodium Dehydroacetate, Caprylyl Glycol, Phenoxyethanol, Vanillin, Caprylic/Capric Triglyceride, Hexylene Glycol, Tin Oxide, Vanilla Planifolia Fruit Extract, Boron Nitride, Kaolin. May Contain (+/-): Iron Oxides (Ci 77491), Titanium Dioxide (Ci 77891).

Moonlit:
Mica, Talc, Ethylhexyl Palmitate, Boron Nitride, Dimethicone, Zinc Stearate, Sodium Dehydroacetate, Caprylyl Glycol, Phenoxyethanol, Vanillin, Caprylic/Capric Triglyceride, Hexylene Glycol, Tin Oxide, Vanilla Planifolia Fruit Extract, Aluminum Dimyristate, Triethoxycaprylylsilane, Kaolin, Silica, Disodium Stearoyl Glutamate. May Contain (+/-): Titanium Dioxide (Ci 77891), Iron Oxides (Ci 77491, Ci 77492, Ci 77499).

Mashup:
Mica, Ethylhexyl Palmitate, Dimethicone, Talc, Boron Nitride, Zinc Stearate, Sodium Dehydroacetate, Caprylyl Glycol, Phenoxyethanol, Vanillin, Caprylic/Capric Triglyceride, Hexylene Glycol, Vanilla Planifolia Fruit Extract, Kaolin, Silica, Carmine (Ci 75470). May Contain (+/-): Titanium Dioxide (Ci 77891), Bismuth Oxychloride (Ci 77163), Blue 1 Lake (Ci 42090).

Sway:
Mica, Ethylhexyl Palmitate, Talc, Boron Nitride, Dimethicone, Zinc Stearate, Sodium Dehydroacetate, Caprylyl Glycol, Phenoxyethanol, Vanillin, Caprylic/Capric Triglyceride, Hexylene Glycol, Tin Oxide, Vanilla Planifolia Fruit Extract, Kaolin, Silica, Carmine (Ci 75470). May Contain (+/-): Titanium Dioxide (Ci 77891), Iron Oxides (Ci 77491, Ci 77492), Ferric Ferrocyanide (Ci 77510).

Create:
Mica, Ethylhexyl Palmitate, Talc, Calcium Sodium Borosilicate, Calcium Aluminum Borosilicate, Zinc Stearate, Sodium Dehydroacetate, Caprylyl Glycol, Phenoxyethanol, Vanillin, Silica, Caprylic/Capric Triglyceride, Hexylene Glycol, Aluminum Dimyristate, Triethoxycaprylylsilane, Disodium Stearoyl Glutamate, Tin Oxide, Vanilla Planifolia F
Shipping & Returns
Same Day Pick Up

Need it right away? Confirm availability & buy online, pick it up at your store.

Convenient Shipping Options

Not available at your store? We can ship to you directly or to your favorite JCP location.

Easy Returns

Shop with confidence. Read our full, common sense
Product Specifications
Customer Reviews