The bathroom is the most used space daily, but we tend to overlook it when it comes to refreshing the look and get a little hesitant. It's probably because a full renovation can be tedious and a huge inconvenience. But what if we said it was a simple task? Just a few swaps and your bathroom will look as new as ever. JCPenney brings you a wide range of bath accessory sets, dispensers, vanity trays, canisters, and more. Place them to elevate your space to new levels and create a spa-like sanctuary. Let's get started!
The Backdrop
A new shower curtain can take your bathroom from meh to wow instantly. Apart from protecting your bathroom from the deluge of errant water, a shower curtain can inject style and color into your bathroom. For instance, consider white shower curtains that will lighten up the vibe and keep things simple. You could also opt for a blue color for an airy, bright feel. Alternatively, reach for graphic prints, geometric shapes, or patterns to exude unmatched panache. They bring an artistic touch while being stylish. Make the room universally easy to decorate with solid curtains, so you're free to mix and match with whatever tickles your fancy.
Matching Styles
Once you're on top of the theme for your bathroom, it's time to spruce up bathroom sets that match your style. Consider our bathroom accessory set collection to replace your old soap dispensers, toothbrush holders, tumblers, and wastebaskets. Go for a set of three- or five-piece accessories that will give your bathroom a cohesive look. For instance, hit subtle refresh with an all-white soap dispenser and toothbrush holder or add texture with wooden accessories. On the other hand, you can choose individual pieces to mix things up and make a bold statement. Bring in the modern luxe feel with ceramic sets boasting gold accents for a hint of shimmer.
It's Time to Declutter
Start small and declutter your bathroom with organizers to make your bathroom more spacious. Add some extra storage with baskets to make guests feel welcomed and make the mornings run smoother when you have everything in place. Consider organizers like bathroom shower caddies to keep your shampoo, soaps handy, and towel racks to hang over the door or on the wall, keeping everything at arm's reach. Choose trays to keep your cosmetics, perfumes, makeup, jewelry, and lotion lined up and ready for use. A caddy can also be quickly stored underneath the cabinet to clean up instantly. Alternatively, go for hampers that can keep dirty laundry hidden and dry.
Pro Tip: To make your mornings effortless, consider this vanity mirror that will not only help you get ready but also play some tunes to keep things energetic.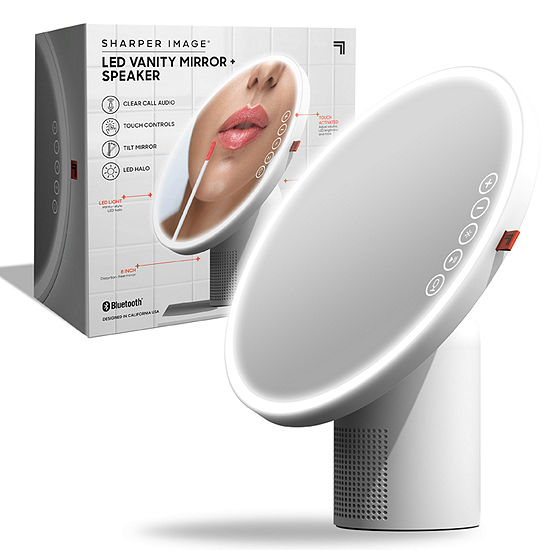 Spruce up your home with bathroom accessories to add new life and a new look to the most popular room in the home. Show the before-after transition pictures with us by tagging #AllAtJCP. Then, follow us on Facebook, Twitter, and Instagram to see if you are featured.