Do you toss and turn every night? Or feeling a little groggy in the morning? It's time to change your old mattress with something comfortable and beneficial. JCPenney brings you memory foam mattresses that will surely turn your bedroom into a quaint hideaway. Keep scrolling to find five reasons why a memory foam mattress makes the best pick for some quality zzzs.
A True Body Fit
Imagine crawling into your bed that hugs your body and evenly distributes your body weight. This is exactly what a memory foam mattress does. For instance, go for this pro-adapt mattress from Tempur. It has an innovative cell structure that immediately conforms to your body. No matter how many times you toss and turn in your sleep, every force and motion is absorbed. Pressure points in your shoulder, hips, and spine are balanced and supported. No more joint pains and neck cramps.
Temperature-Control Support for A Good Night's Sleep
Body temperature plays a crucial role in how well you sleep. Tempur's Luxebreeze memory foam mattress does just that. It's cool when you fall asleep all night long or even when you just laze around by controlling the climate between you and the mattress. Which means you will sleep deeper, cooler, and longer. The cutting-edge cooling material works together from cover to core to keep you cool all night.
Sustainable and Eco-Friendly
Turn your bed into a sanctuary with the Beautyrest Harmony series that offers natural comfort and enhanced sustainability. It comes with a specialized support system that provides optimum support where your body needs it most. In addition to this, it also features eco-friendly Tencel yarn for enhanced breathability and moisture management above an antimicrobial layer. It helps the mattress to maintain freshness and cool for a great night's sleep.
Hypoallergenic and Motion Resistance
Indulge in ultimate comfort with a firm memory foam mattress from Signature Design by Ashley. This memory foam mattress contours to your body by providing enhanced support, pressure relief, and comfort. The thick layer of firm support foam helps reduce motion transfer so you can enjoy uninterrupted sleep. In addition, the mattress is made of hypoallergenic material. It keeps dust mites, pollen, mold, and pet dander at bay.
Acts as Pain-Relief Comfort
Memory foam mattresses can sometimes relieve your pain and body soreness while helping your body to recover more quickly from injuries. Since the mattress takes the shape of your body, the firm foam can displace pressure from points of pain on your body. Injured points have slightly higher temperatures compared to the rest of the body. The memory foam mattress can detect these differences and conforms to your body and, accordingly add, or reduce pressure to the pain area.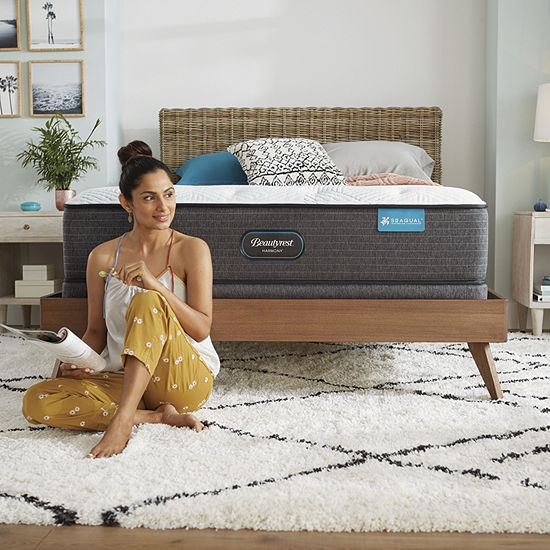 Get a good night's sleep and wake up refreshed with a memory foam mattress from JCPenney. We have a variety of sizes as well – including queen-size mattresses, king mattresses, and twin mattresses. Click a picture of your revamped bedroom and send us the pictures by tagging #AllAtJCP. Then, follow us on Facebook, Twitter, and Instagram to see if you are featured.