Warm summer months call for endless celebrations with friends and family. Whether it's the first barbeque of the season or a sophisticated backyard brunch, JCPenney brings you creative outdoor table choices. Choose any piece, from elegant plates, serving trays, placemats, and so much more to set your table this summer. Pair them with table decor, chilled summer cocktails, a couple of delicious dishes, and you'll have an epic party coming together. We bring fun tablescape ideas that will inspire you to go bold, think out of the box, and will surely impress your guests.
Say Cheers to Summer
Add an umbrella to any table to protect yourself and your food from the elements outside. No matter what type of meal you're cooking this summer, serve it in some fun plates in fresh and bright summer colors. Perfect for any group and food, we recommend these delectable salad bowls that also make a perfect choice for daily use. Tie the table together with round rattan placemats.
Create a European-inspired breakfast with a bistro table. Place it in your favorite part of your outdoor space, like your garden or by the pool for a serene view. Give your outdoor breakfast a classic and relaxing feel with a set of napkins and enjoy refreshing raspberry and mango slushies or your favorite beverage with these glasses. Take it one step further by setting up an appetizer bar for your brunch date. Arrange cubed watermelons, cucumbers, and beefsteak tomatoes drizzled with olive oil, salt, pepper, and a dash of mint.
Chic Dinner Setting Ideas
If you're up for displaying your creativity this summer, outdoor dinners are perfect. You can never go wrong with a beautiful outdoor table setting. Start with a great rustic outdoor dining table set.  If minimalistic is more your style, focus on one or two colors. Start with this great dinnerware set. Pick your serveware in classic white. Take the elegance a notch up with solid napkins completed with napkin rings. To complete your look, place lanterns. Like one of these clean black classics along with your dinner table for a dazzling night.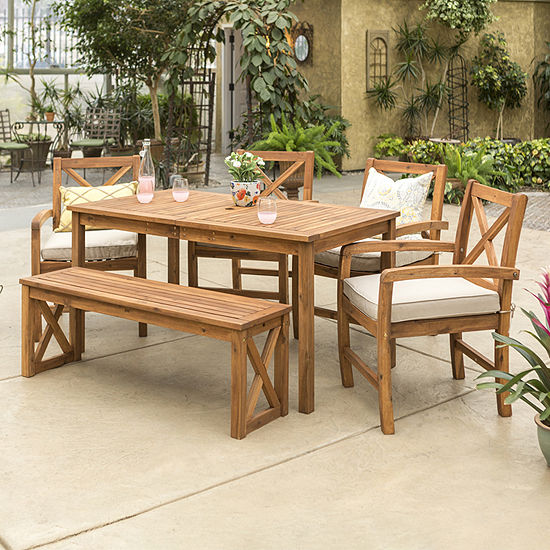 Summer table decorations can be more fun and unique. Let your table come alive by adding some planters, like our metal cutout planter. Fill it will yellow flowers, succulents, or potpourri to create a dreamy alfresco setting. Reach out for this delightful serving tray and elegant wine glass. Freeze your favorite wine in an ice tray and add a few cubes for your drink to last longer. Or, go for a summery treat by dropping a popsicle into your glass of white wine.
Strive for an effortlessly chic table décor with JCPenney. Go for ethereal elements or bring in a pop of color. Click loads of pictures of your quaint dinner scene or fun barbeque session and share it with us by tagging #AllAtJCP. Then, follow us on Facebook, Twitter, and Instagram to see if you are featured.