Have you been thinking about your pillow lately? If your answer yes it's been a long time or never, it's time you change your pillows. Getting a good night's sleep is important, and if you don't have the right kind of pillow, it can create havoc. At JCPenney, we bring you a wide selection of pillows that offers maximum comfort, support, and hygiene. They will keep your spine in line and help you with your sleeping position. So, let's do some pillow-talk to figure out the perfect one that works for you.
When Should You Replace Your Pillow?
In an ideal scenario, a pillow should be replaced after a year or two. It may seem like a shorter life span but think about it. You spend nearly 7 to 8 hours every night, that's approximately more than 2500 hours a year. Hence, your pillow is also an investment for high-quality sleep.
In case you're pondering if your pillow needs to be replaced or not, follow these simple steps.
Step 1: First, take-off the pillow cover and check for sweat stains or worn-out fabric. Does it smell? If your pillow passes this test, it's time to move on to do the fold test.
Step 2: Fold your pillow in half. If your pillow lies there and doesn't spring back to its original form, you need to consider replacing your pillow. For natural fill pillows, test over your arm. If your pillow drapes or hangs over your extended arm, it's exhausted its life. For synthetic fill, fold the pillow in half and add some weight on top to do the fold test.
How To Pick a Pillow That Works for You?
The Fill
There is a variety of fill options for pillows. The most common type is down pillows. They are light, soft, and fluffy at the same time. Down pillows are usually made from either goose or duck fibers. Goose feather is comparatively softer than duck-down pillows. If you're prone to allergies, go for hypoallergenic pillows. They keep away dust mites, pet dander, and mold while increasing the longevity of the pillow. Lastly, we come to memory foam. It conforms to your individual shape accordance to your body weight and body heat. It outlines the shape of your head, neck, and shoulder, so the weight is equally distributed.
Weight of The Pillow
The weight of the pillow depends completely on your choice. Normally, down and synthetic pillows make an ideal lightweight choice, whereas memory foam falls on the heavier side.
Size of The Pillow
Sleeping pillows are 20″ deep. The width varies from 26″ for standard/queen to 30″ for queen and 36″ for a king. Use one standard pillow for a twin mattress or two standard or queen pillows for a full or queen mattress. For a king mattress, use either two king pillows or three standard or queen pillows.
The Right Pillow for Your Sleeping Position
If you're wondering does sleeping position really matter to pick a pillow? The answer is yes, it does. There are a few general guidelines that you can follow.
Side Sleepers: Consider a firm pillow to support the gap between your head and shoulder. A memory foam pillow might be a perfect choice.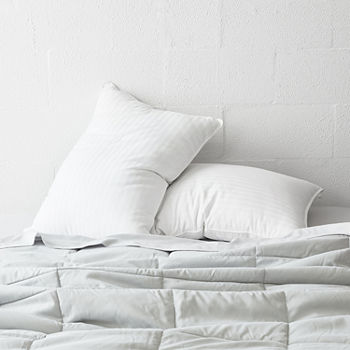 Stomach Sleepers: You may need a softer pillow to avoid back pains.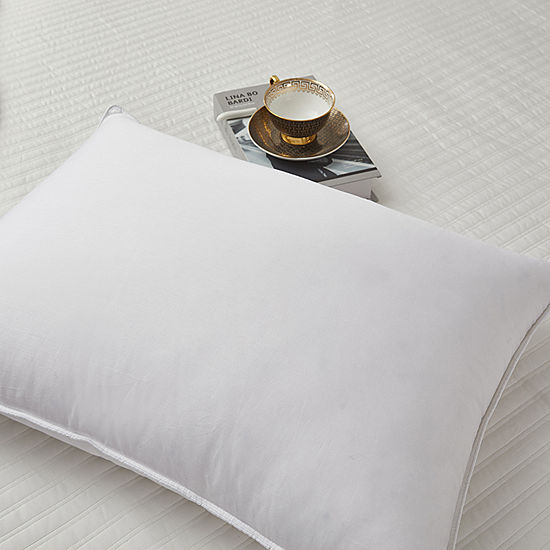 Back sleepers: Go for a flatter pillow to keep your neck and head inline. Pick a slighter firmer pillow with a natural fill like down or feather.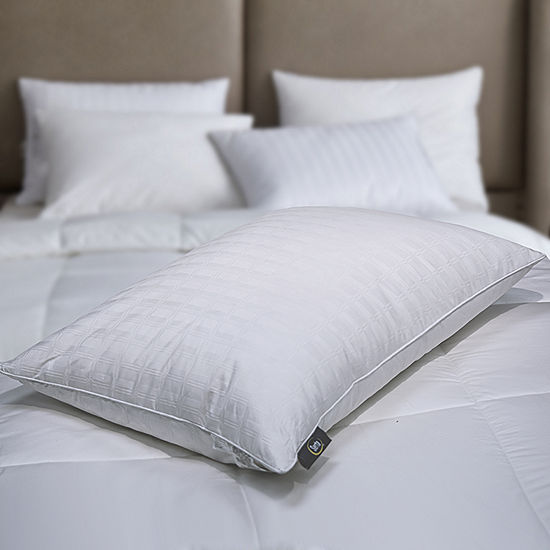 How To Clean Your Pillows
Many pillows are washable. To keep them squeaky clean, wash your pillow at least twice a year. But ensure you rinse and dry them thoroughly. Consider throwing in a couple of tennis balls in the dryer to keep your pillow fluffy and lump-free. For those who are not washable, on your laundry day, wash the pillow cover and the pillowcase.
Now that you have all the information for your quality sleep, check out our entire collection and pick the pillows that suit you the best. Tell what works the best for you by tagging #AllAtJCP. Then, follow us on Facebook, Twitter, and Instagram to see if you are featured.