Curtains add a cozy, warm atmosphere to any home. They also make any room more private, improve your home's energy efficiency by trapping in heat and cool air, and block out light and sound. With so many different colors and styles to choose from, curtains also easily work with any home's décor. At JCPenney, we bring you the best curtains and drapes that have the power to change the entire look and feel of a room. To hang curtains with perfection, we've gathered the following simple steps.
So, let's get started.
Install Your Curtain Rods
Many homes already have curtain rods installed. However, if your windows
don't have any, it's not too difficult to add them.
First, measure your window's width. Then add some extra inches. A curtain rod that's wider than the window looks more aesthetically pleasing and gives enough space for voluminous, full curtains that can easily overlap in the center to block light as well as trap heat and cool air. Rods that extend between 2 and 3 inches are traditional, but it's not uncommon to see curtain rods extending as much as 15 inches beyond the window to add extra width. A long curtain rod will also let you see more of the view from your room when the curtains are pushed open.
Next, trim the curtain rod to your ideal length using a circular saw.
The architrave, a wooden frame on the wall around your window, is a traditional place for mounting curtain rod brackets. If you don't have an architrave, or you want a more modern look, you can mount the curtain rod above the window. Three to 6 inches above the window gives a classic look, but you can hang curtains from the ceiling or close to it if you prefer; the higher above the window you put the rod, the taller your window will appear.
Mark where you want the curtain rod brackets to go with a pencil and check that your marks are even with a spirit level. Use a stud finder to check whether your intended holes line up with the studs. If not, you'll need to install wall anchors rated for the weight of your rod and curtains. Curtains made from heavier fabrics will need tougher wall anchors.
The next step is to pre-drill your holes. Pre-drilling is the practice of drilling holes smaller than your wall anchors, if needed, and screws. It makes space for the screws and prevents splitting. Once you've predrilled, you can affix your curtain brackets.
Take Measurements
Once you have your curtain rod in place, you should determine the right dimensions for your curtains.
Measure the distance from your curtain rod to the floor. You'll typically reduce this length by between 1 to 1.5 inches to prevent your curtain from trailing on the floor. This ideal length is known as the drop. Keeping your curtains slightly above the floor will make opening and closing them easier, improve accessibility when vacuuming, and stop them from getting dirty. However, letting curtains puddle on the floor can be dramatic.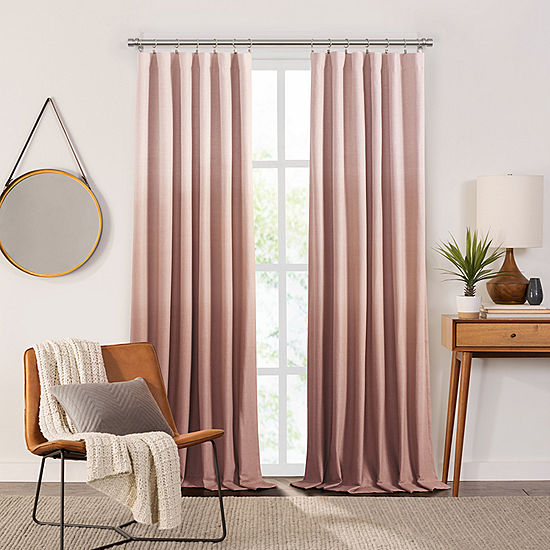 You should vary your drop if there's a power outlet below your window. Keep your curtain at least an inch above the top of your outlets for easy access.
Be generous with the width of your curtains. Decorating experts suggest buying curtains that are between 2 and 2.5 times the width of the window. You could even be more generous with a sheer fabric. Buying ample fabric will make sure that your curtains hang well, there's enough material to block out light, and that you don't lose heat or cool air.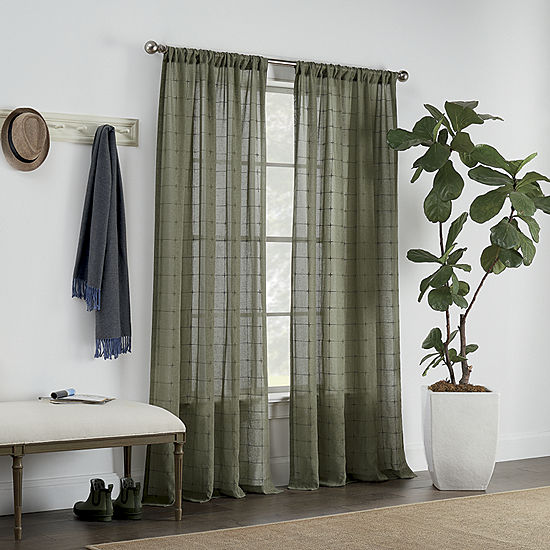 You can view our blog on how to measure curtains for more detailed step-by-step instructions.
Choose the Right Curtains
Size and color shouldn't be your only considerations. You'll find curtains that use rings and grommets as well as tab-tops that thread directly onto curtain rods. Curtains using rings and grommets are the easiest to open and close, while tab-top curtains have a whimsical charm.
Also, consider the light requirements in your room. Are you putting curtains in a living room where it's ideal for light to shine through, or are you hanging them in your bedroom where you want to keep light out to sleep? Heavy fabrics have block-out properties, and you can also buy curtains with blackout linings, which are ideal for spaces that should stay dark when the curtains are drawn.
The right fabric is also important for creating a particular tone. Light fabrics such as linen and cotton have a relaxed feel, while heavier fabrics such as velvet and velour create a statelier, formal atmosphere.
Hang Your Curtains
Now it's time to hang your curtains. Packaged curtains are likely to be creased. However, simply removing them from the package and laying them across a bed may be enough to relax the creases. If this doesn't work, you can smooth them out with a warm iron or steamer before hanging them.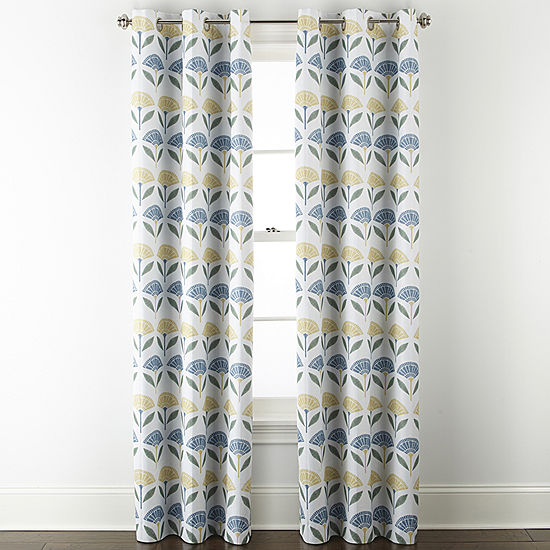 Remove the curtain rod from its bracket and take one of the stop-ends off. Then thread the curtains onto the curtain rod, using rings if needed, before returning the curtain rod to the bracket. You should have a little curtain and rod sitting outside the far brackets, which keeps the curtains sitting at the edge of each window.
You can further improve stability by attaching the curtain rod to the brackets with some small screws. You can remove the screws if you ever want to change your curtains or take them down for laundering. You can also cover the screw holes with timber plugs to neaten them up.
These steps make it simple to start enjoying the benefits of curtains in your home. Hang the curtains and click plenty of pictures to share with us by tagging #AllAtJCP. Then follow us on Facebook, Twitter, and Instagram to see if you are featured.