Love is love, and you define what it means to you. Whether it's an intimate ceremony of two hearts joining together, or a grand celebration to shout your love from the rooftops—nothing compares to love. Every story is unique and beautiful, and so should be your wedding ring. That's why JCPenney is reintroducing Signature Modern Bride wedding and engagement jewelry collections. With Modern Bride jewelry, you can find a style that brings you pure joy and write your own love story.
Signature by Modern Bride Collections – Iconic, Lab-Grown, and Brilliance  
Iconic
Rings of our Iconic collection are traditional, elegant, and romantic, in short, perfect from that first "yes" to the "I do's", and every moment after. They are designed for the traditional bride looking for a classic taste with a hint of elegance. These rings are embellished with mined diamonds and set in 10K to 14K gold. The single-center stone is up to 1 carat.
Lab-Grown
Shimmer and shine brides with nighttime nuptials will instantly fall in love with our lab-grown Signature by Modern Bride collection. After all, these rings are glamorous, opulent, and definitely show-stopping with the single-center stone of 1/2-3 carats in 10K gold or 14K gold setting. In addition to round and square, you can find fancy shapes here like pear, oval, etc.
Brilliance
Brides that value natural beauty for a romantic ceremony will cherish the way the tiny diamonds encircling the ring seem to almost glow in the Brilliance collection rings. These are medium-sized mined diamonds with miracle plating. The smaller diamonds are placed such that they give the illusion of a larger stone. These rings are set in 10K gold and feature diamond-cut plate fastening for added brilliance.
I Said Yes!          
For the Boho, the free-spirited, fun-loving bride, we have a vintage-inspired range that will make you happy and bring you joy. We have set lab-grown diamonds with clusters, some single-center stones of 1/10-1 carat. These rings from the I Said Yes! collection are set in sterling silver or 14K gold over the silver. We also have gorgeous bridal sets in rose gold.
Ever Star
Rustic flair takes center stage for an elegant yet modern wedding, in our Ever Star collection. These are beautiful, lab-grown rings with natural, modern simplicity. More clusters or single-center stones feature in these rings that are set in a 10K white or yellow gold-plated setting.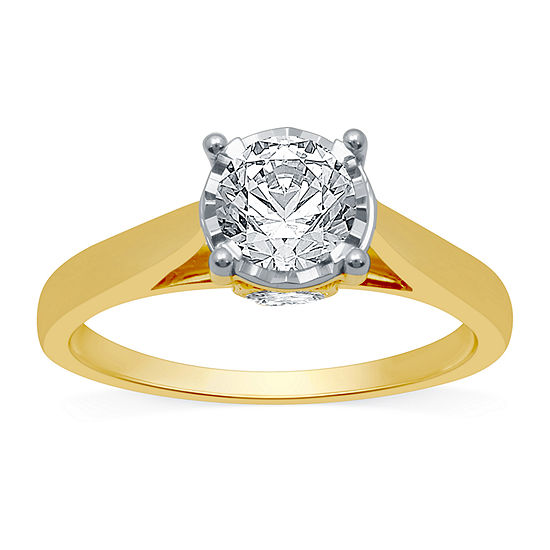 Surrounded by Love
Make your fun and feminine bride go head over heels in love with a ring from the Surrounded by Love collection. The collection features mined diamonds set in while gold, sterling silver, or 14K gold over the silver.
Our Modern Bride collections are for every couple and every budget. So, you can choose any unique ring from our collections that makes your heart sing as your symbol of everlasting love. We would love to know your picks, so share pictures of your Modern Bride ring with us by tagging #AllAtJCP. Then follow us on Facebook, Twitter, and Instagram to see if you get featured.