The holiday season is upon us! Between gift giving and spending time with loved ones, it's our favorite time of the year. It's also the perfect time for proposals, but with all the celebrations, traveling, and holiday excitement, planning the ideal holiday proposal can be tricky. To make things a little easier, JCPenney brings you elegant bridal set and engagement rings from our Modern Bride Signature collection.
These exclusive designs are perfect for a proposal during any time of the year, but there's something truly magical about a romantic holiday engagement. Each Modern Bride Signature ring features its own unique design and is emblazoned certified diamonds that are expertly arranged in unique patterns for that extra dose of sparkle that's sure to surprise and delight your partner. Keep scrolling to learn more and find the ring (or rings) we know she will love.
Signature Styles for the Modern-Day Bride
Whether you're planning to pop the question at the first snowfall, while decorating the tree, or as a surprise stocking stuffer on Christmas Eve, there are plenty of ways to create a magical moment. And if you need some ideas, we have a great guide on how to gift jewelry for the holidays.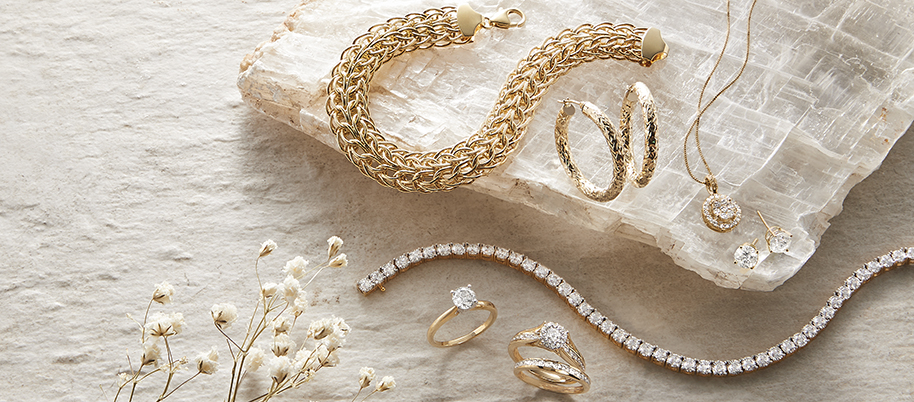 Once you have your plan in place you just need the ring, like this genuine white diamond ring. This multi-stone ring features a modern design that's nothing short of breathtaking, thanks to the rows of dazzling diamonds encircling the center stone set on stunning white gold. Another great choice would be this 14k white gold engagement ring. This timeless piece has a beautiful tear-shaped center stone framed with smaller scintillating diamonds that are sure to leave her in awe. Need something with even more sparkle? This ethereal 1 and ½ CT. T.W. diamond engagement ring will be the perfect surprise for a holiday engagement.
We also have an extensive collection of engagement rings featuring lab-grown diamonds in our Modern Bride Signature Lab-Grown collection, which are chemically, physically, and visually identical to natural diamonds, but for a fraction of the cost. This spectacular collection provides our best stones to those who care about quality and the designer look—with showstopping center stones featuring fancy cuts and twist shanks—but is savvy enough to know the value of opting for a lab-grown diamond.
Brighten Your Wedding Day with Beautiful Bridal Jewelry
Your wedding day is the bride's time shine, and nothing can tie a bridal look together like the right wedding ring. If you're looking for that perfect token of love to symbolize your union, you can't go wrong with this bridal ring set. It takes a modern twist on traditional bridal jewelry, featuring a row of diamonds that perfectly complement the engagement ring. And if you're looking for something truly breathtaking, this pear-shaped bridal set features 2 CT. T.W. of diamonds in halos around the center stone and braided across the bands for a beautifully unique look.
Whichever engagement ring or wedding band style you're looking for this holiday season, the Modern Bride Signature collection at JCPenney is sure to help you find the perfect set of bridal jewelry for your bride-to-be. Discover all the graceful designs online and let us know of your special moment. Tag us at #AllAtJCP and follow us on Facebook, Twitter, and Instagram to see if you are featured.