A new baby is a so much joy, and part of the fun is dressing him up and showing him off. He's arriving with just one look, his birthday suit, so where do you build your baby's wardrobe from there? The same principles of your wardrobe—style, comfort, versatility, and starting with the basics—apply to his. At JCPenney, you can pick all the essentials you'll need to complete this wardrobe. Keep reading to find out what you need to shop for.
The Basics and Beyond
To get your baby's wardrobe started, stock up on about a dozen bodysuits, which are great for year-round wear. Soft and comfy, a one-piece cotton bodysuit is perfect for eating, playing, and more. Overlapped shoulder seams and snaps at the bottom make it easy to dress or change a wriggling baby. When it's time to go out, add a pair of pants to his bodysuit or leggings or a skirt to hers, and they'll be ready to take on the town. If there's a chill in the air, layer on a coordinating cotton jacket or sweater.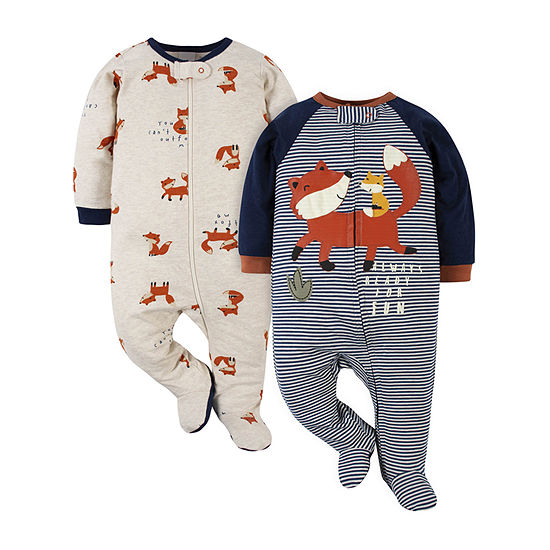 You could also pick a bottom and shirts with side-snap that coordinate for more versatility. Then take it from basic to adorable with additional outfits in cute prints or patterns. Babies go from napping to playing and back to snoozing again, so sleep-and-play attire is a huge part of a baby's stylebook. Go for easy-access pieces with snaps or self-adhesive closures so you can quickly change a diaper without waking your baby. For cooler temps, you'll want coveralls or pajamas. An alternative to traditional blankets, pajamas have a roomy, enclosed bottom so he can kick his legs without kicking off a blanket.
Be Ready for Any Adventure
You want your baby to look cool, but not be cold. Make sure your baby's wardrobe includes plenty of hats, booties, and mittens, along with swaddling. If yours is a winter baby, add a one-piece fleece snowsuit or stroller sack for outings. Choose a snowsuit that's thin but warm. Or warm up the car, take off the snowsuit and cover him with it after he's buckled into his car seat. The straps of the car seat should be tight against the baby's chest, which might not be possible if a snowsuit is too bulky.
To keep mealtimes and nightly baths more pleasant for both you and him, stock up on eight to 10 bibs, a half dozen burp cloths, about a dozen washcloths, and four to six hooded bath towels.
Sizing Up the Situation
Many babies change sizes four times in the first year of life, so choose sizes based on height and weight, not age. A small six-month-old baby might wear a size 3-6 months. But if he's larger or growing quickly, he could easily be in a size 6-12 months.
Fill his wardrobe with a variety of sizes and check periodically to see if he's grown into the larger sizes. Many moms have shed a tear over an adorable outfit in a 9-month size that they've been saving in the closet, only to discover that their baby has outgrown it by the time they try it on him.
So now your little guy is stylish, comfy, and oh-so-handsome, with a well-stocked closet full of cuteness. He's totally ready to rock his look! Take loads of pictures of your adorable little one and tag us at #AllAtJCP. Then, follow us on Facebook, Twitter, and Instagram to see if you are featured.