Putting your best foot forward takes on a whole new meaning depending on how you make your living. If you're a nurse, construction worker, or waiter, having the right kind of quality work shoes is one of the most important decisions you can make. JCPenney brings you a wide range of work boots for both men and women that go the extra mile you require. From clogs and classic Oxford shoes to steel-toe boots, there are plenty of styles that are high on comfort and features to make your job easier.
With so many work shoes looking so similar, how do you pick the best ones for you? Your industry or company might have specific requirements or recommendations, but here are a few additional tips.
What's the difference between work shoes and work boots?

If your priority is ease of movement, work shoes will give your ankle the most flexibility. But if you want to maximize support and protection of your ankle, go with a boot. In general, the higher the boot shaft, the more support it provides to your ankle.
Slip-resistant or Waterproof Shoes? Make the Right Choice.
Slip-resistant shoes have a specially designed outsole that grips the floor surface to prevent falls in a wet or greasy setting. Hospital workers, nurses, and waiters are required to wear slip-resistant shoes. Waterproof shoes have been treated to prevent rain and liquid from penetrating the shoe, so they are a great choice for outdoor workers.
What are the pros and cons of steel-toe versus composite-toe safety shoes and boots?

For construction professionals where it's not uncommon for items to fall on your feet, you want to protect your toes from being crushed. A steel toe will help prevent that.
A composite toe performs much the same as a steel toe, except it weighs significantly less. Because a composite toe is non-metallic, it also can be a better choice for people who work in electronics.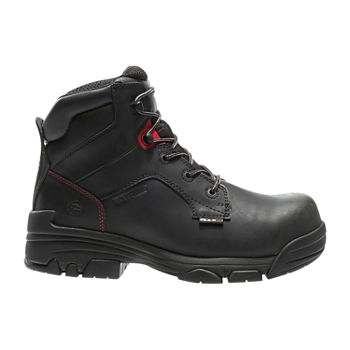 If you work in an environment where you could potentially step on something sharp, look for a puncture-resistant shoe. These typically have a flexible steel midsole that protects your feet from below while still allowing you to bend and flex your foot.
What factors determine the comfort of a work shoe or work boot?

If you're shopping for work shoes, you're probably on your feet most of the day, so comfort is a high priority. For those who work outside in the cold, look for insulated leather boots and indoor workers might prefer a lightweight mix of leather and mesh. Some work shoes even have memory foam insoles for added comfort. Moisture-wicking socks will also help keep your feet dry and blister-free.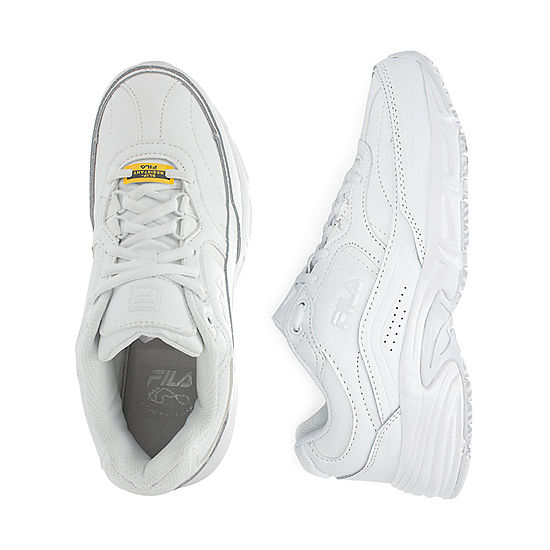 Are work boots just for work?

Not at all. Many people who don't need special footwear for work still enjoy the convenience of having work boots at home. They can be an extra safety measure for all your weekend chores like trimming trees or DIY woodworking projects.
JCPenney has every style of boots and shoes you can imagine in both standard work and hiking boots. Check out for features like breathable material, cushioned insoles and soles, electricity safety, removable sock liner, and more. Tell us about your favorite work boot style by tagging #AllAtJCP. Then, follow us on Facebook, Twitter, and Instagram to see if you are featured.