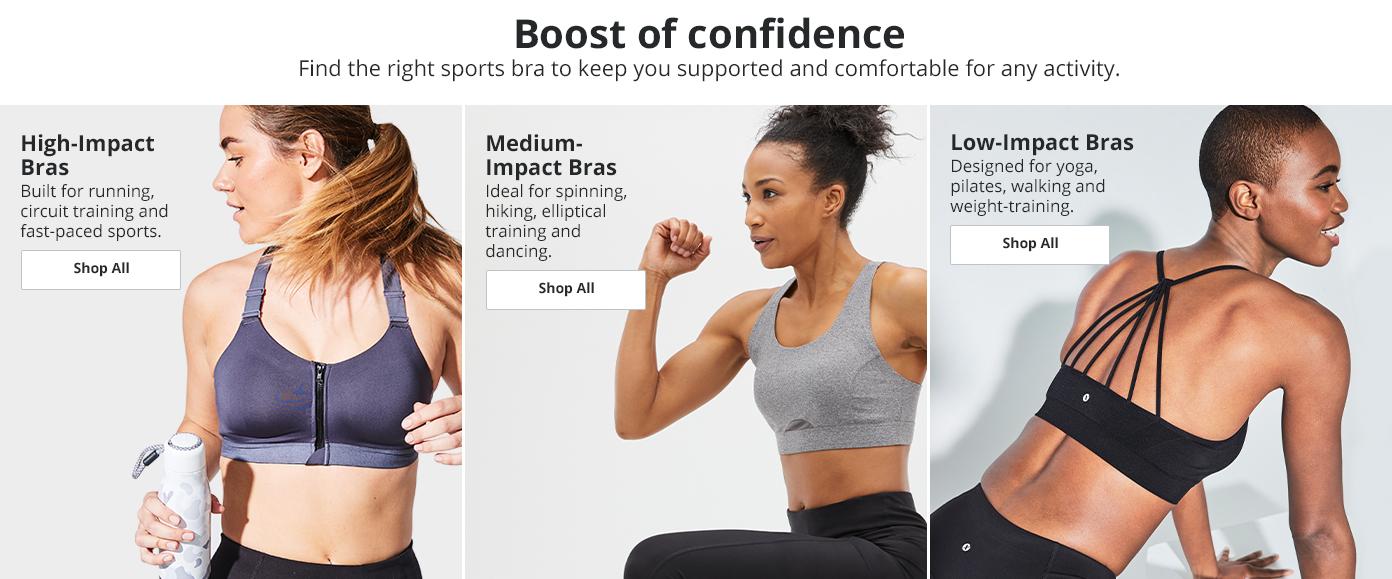 Women's Sports Bras That are Both Comfortable and Supportive
Pay special attention to your breast support during all levels of fitness activity by purchasing a women's sports bra perfect for your exercise needs. From yoga and Pilates to running, elliptical, and spin class, minimizing bounce prevents possible injury and pain, not to mention future sagging. Get the most from your workout without being distracted by your improperly supported chest.
There are a variety of supportive sports bras that range from light support to extra firm support, letting you pair the perfect one to your specific requirements. Small to large-breasted women should all take bust support seriously during continual, impactful workouts. JCPenney gives you an amazing selection to choose from, so you can focus fully on your exercise while keeping your looks sporty and stylish.
Find the Ideal Fit with a Wide Range of Bust Sizes
Small to full-figured bust sizes will revel in the selection of women's sports bras that JCPenney offers, so you can find the one with the perfect fit. Choose from A cup size to D cup size sports bras and beyond. We also carry size 32 up to size 54 in a variety of styles to get the optimal comfort and support you need.
Support at Every Level, for Every Workout
Whether you just need a bit of light support for low-impact activities, high support while running or getting your groove on in Zumba class, or maybe just require medium-level support for general exercise, JCPenney has the right designs to suit your exercise needs.
Extra Features Can Make a Big Impact
When it comes to sports gear, extra features can take a good design and make it great. Fabric is a key component in sports bra comfort and many designs integrate unique technology to keep you cool and dry during the most intense workouts with breathable material that wicks away moisture. Adjustable straps, comfort, and convertible straps offer a softer fit you can customize to make it your own. Some sports bras also include removable pads to help conceal nipples & aid with chaffing discomfort, add support (lift & separate), and to add a bit more shape while you run.
Some feature stretch fabric for a sleek, seamless look under t-shirts, back support for more intense workouts, padded comfort straps, and tagless designs that won't distract you during your workout. There are even maternity styles for nursing moms. Find the sports bra with features specific to your comfort and convenience at JCPenney.
Functional Fitness with a Fashionable Edge
Eye-catching strap designs, unique cutouts, a full spectrum of colorful hues and patterns, and limitless sporty silhouettes bring a new level of fashion to all your fitness endeavors. Pair with the perfect leggings, capris, or yoga pants for a comfortable look with the proper support that doesn't restrict movement and is brimming with cutting-edge style.
JCPenney Gives you the Quality Brands Love
Shop designers like Champion, Nike, Xersion and many more to find the perfect-fitting sports bra that can keep up with your active lifestyle. JCPenney carries these brands, as well as many others, to offer you the highest quality, comfort, and durability in sports bra designs.