Modern Bride Wedding & Engagement Jewelry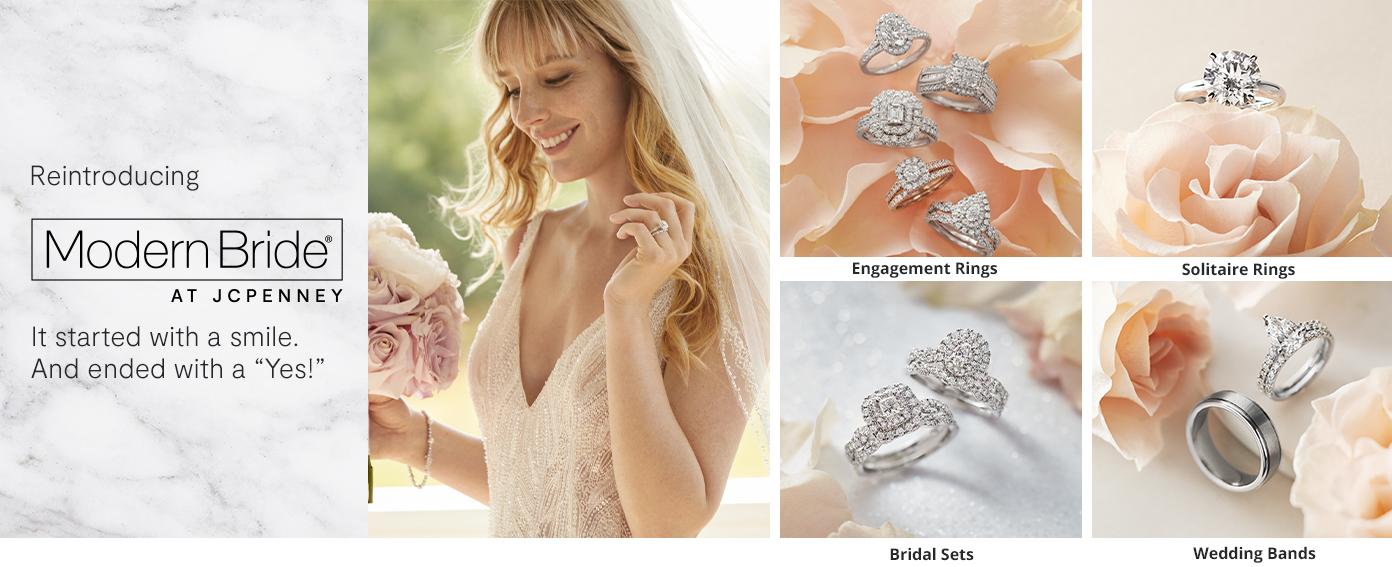 Shop Modern Bride Wedding Jewelry to Elevate Your Special Day
JCPenney's Modern Bride collection has everything you need for an engagement, wedding, or anniversaries down the road. Get the perfect engagement ring to suit her style with Modern Bride at JCPenney. Find simple diamond solitaire rings in white, yellow or rose gold. A three-stone anniversary ring with a featured princess cut stone can represent your past, present and future.
Check out the classic, simple wedding bands for men and women or look for a pair of bands with multi-stone settings. If a matching look isn't your style, get individual wedding bands that are unique but with a matched element or special engraving. Find a bridal set with a wedding band to complement the engagement ring and make the sparkle last a long time.
Alternative Metals and an Assortment of Gemstones
You don't have to limit yourself to the established classics of white, yellow, or rose gold. Modern Bride wedding jewelry is available in other metals you may not have considered. JCPenney has a great collection of tungsten and silver wedding bands for those who want a little something different – or choose the simple durability of a stainless steel men's wedding band.
Our diamonds and gemstones also come in several colors and styles. Princess-cut stones are very popular, and allow an opportunity to show off the face of the gem. Oval cut and round cut stones are very reflective with many facets to show off the shine. Pear cut stones are visually slimming as they are usually worn with the point of the gem towards the fingernail. Don't let price keep you from finding the ring of your dreams; lab-grown diamonds offer more value for your money with brilliant sparkle. No matter your taste or preference, you'll find the best bridal and wedding jewelry at JCPenney. Shop the full Modern Bride collection online and save more with free shipping available!
Shop all Modern Bride Lab Grown Diamond Jewelry >>>>
Shop all Modern Bride Bridal Sets >>>>