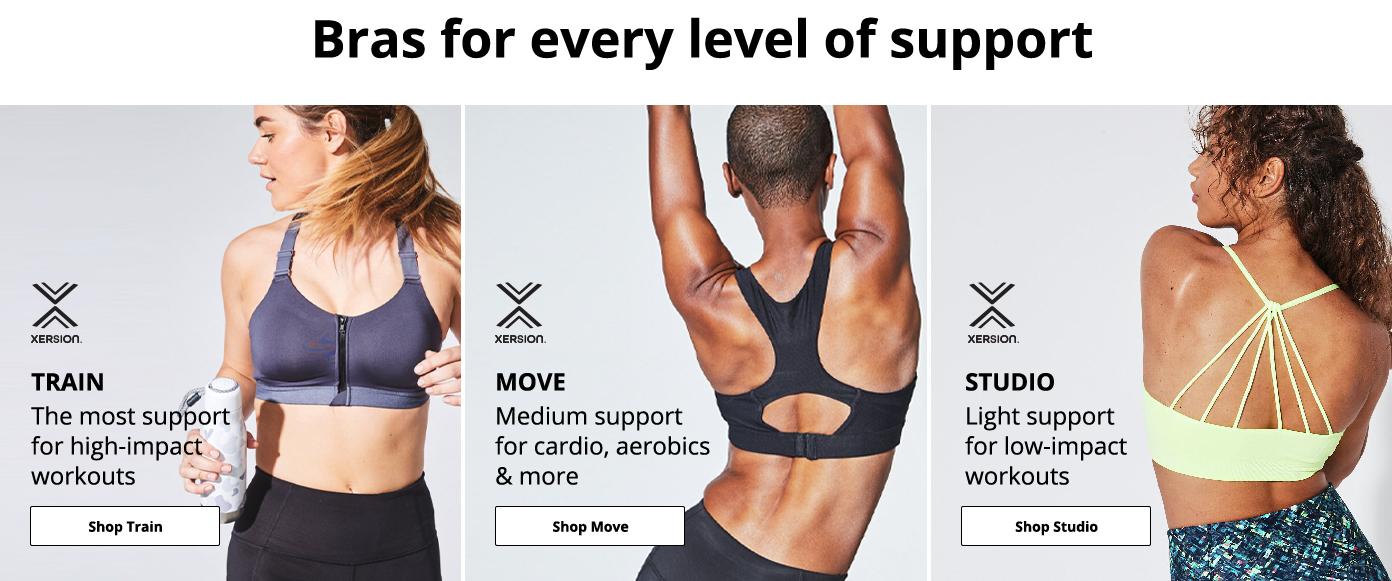 Women's Xersion Sports Bras
Shop Comfortable Women's Xersion Sports Bras Only at JCPenney
If your activewear wardrobe needs a dose of comfort, JCPenney has got you covered. Discover comfortable women's Xersion sports bras that are ideal for any active lifestyle. This collection of women's sports bras offers every level of support you could need, and includes a range of low-impact to high-impact sports bras that work as hard as you. Whether you break a sweat during a high-intensity workout or indulge in a calming yoga session, these bras will offer the perfect amount of support without uncomfortable restrictions. Find them in numerous colors and styles to take your style up a notch.
Pick the Right Support Level in Women's Sports Bras
Wearing the wrong kind of bra can create havoc during your workout. To pick the right level of support depends on the activity or exercise. For instance, a light support bra is perfect for yoga or a brisk morning walk. On the other hand, a medium support bra is ideal for rigorous workouts like running, jogging, or hiking. Lastly, a high-impact bra gives you maximum support for more rigorous high-intensity workouts and aerobics. And thankfully, Xersion has the perfect sports bra for any activity or workout session. Browse through JCPenney's entire collection of women's sports bras to find the perfect fit. Shop now and save more!
Shop Xersion Women's Activewear >>>
Shop Women's Xersion Pants & Bottoms >>>
Shop All Women's Clothing, Shoes, & Accessories >>>