Anniversary Bands Guide: Everything to Know About Anniversary Rings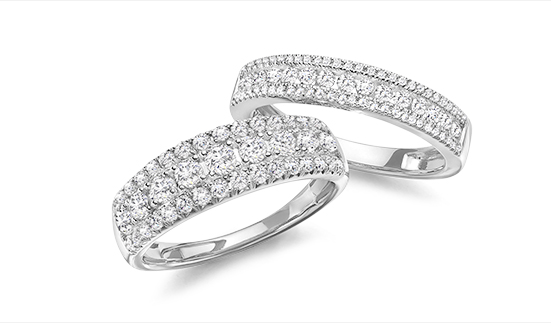 Wedding anniversaries are always a time for celebration. As each year of marriage passes, your relationship grows deeper, and your love grows stronger. And while it can sometimes be tricky to decide what your anniversary gift should be, a beautiful anniversary band is always a great choice. Keep reading to learn everything you'd want to know about anniversary rings.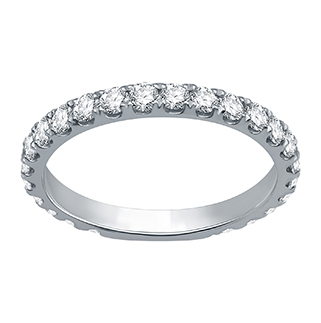 What is an Anniversary Band?
The answer is simple: an anniversary band (or ring) is a type of wedding band that's given on a wedding anniversary. It's a celebration of your marriage and represents the strong, loving bond you share with your spouse. It can be a plain metal band, or a flashier band with gemstones. The diamond eternity band is one of the more popular anniversary bands, with the continuous line of diamonds representing your eternal love.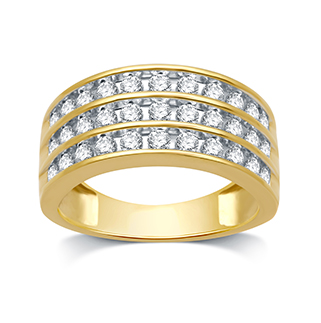 When Do You Give Anniversary Bands?
Most married couples choose to commemorate their milestone anniversaries with anniversary bands – such as the 10-year, 15-year, and 25-year wedding anniversaries – but an anniversary band could be given on any anniversary year. It's really up to you and your spouse. And while it's traditionally women who are the only recipients of anniversary bands, a more modern trend is for both spouses to exchange matching anniversary rings on their special day.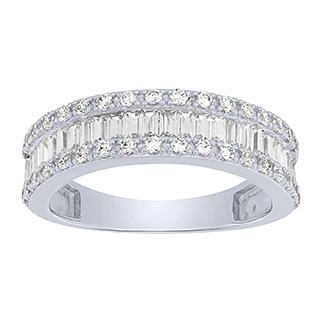 Does an Anniversary Band Replace Your Wedding Ring?
Generally, no, but it depends on your personal preference if your anniversary band should replace your wedding ring. Some couples upgrade their wedding rings with new anniversary rings that are either of better quality, or more closely match their current jewelry tastes, or simply because they don't want to wear a lot of rings on their fingers. But if you don't mind adding another ring to your collection, an anniversary band does not have to replace your wedding ring.
How to Wear an Anniversary Band
If you're not replacing your wedding ring with an upgraded anniversary band, there are several ways you can wear your anniversary band along with your other wedding jewelry. You can wear your anniversary band on the same left finger as your wedding band and wedding ring, creating a signature stacked ring look. If that's too much for one finger, try wearing your anniversary ring on your left index finger to space out the rings, or move it to any of the fingers on your right hand instead of the left. There are no hard-set rules on how to wear your anniversary band – the choice is yours!
Find Your Next Anniversary Band at JCPenney
Now that you know what an anniversary band is, when to buy one, and how to wear it, check out the incredible collection of anniversary bands we carry at JCPenney. We have nearly any style you and your spouse can imagine, making it easy to find ones that match your personality. We also have two great jewelry guides on anniversary gifts for men and anniversary gifts for women to help you know what type of jewelry metals and gemstones are given for milestone anniversaries. rowse our collection of anniversary jewelry today and save more with special financing when using a JCPenney credit card, and free shipping available online!