February Birthstone Jewelry: The Purple Amethyst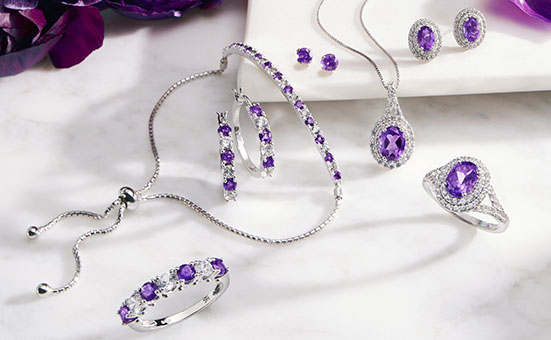 Amethyst is a type of quartz that's considered to be a semiprecious stone, as well as the traditional birthstone for February. The name comes from the ancient Greek word "amethystos" which translates to "not intoxicated" – or "sober" – because the ancient Greeks believed amethyst protected the owner from drunkenness. They would either wear the stone, or carve drinking vessels from it for this reason. Today, amethyst is believed to bring stability, focus, courage, and romance. Keep reading to learn more about February's birthstone!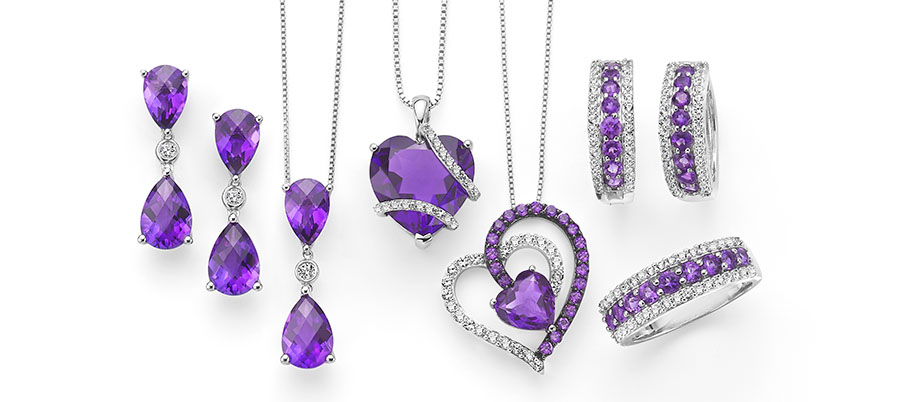 What is an Amethyst and Why is it Purple?
As stated above, amethyst is a purple (or violet) variety of quartz, which is a crystalline mineral composed of silicon and oxygen. There are many varieties of quartz, but you can recognize an amethyst thanks to its signature color. The purple hue is due to irradiation of the crystal, metal impurities (like iron), and additional trace elements in the structure of the stone. These elements result in the overall look of amethyst.
Because of the variability of the crystal makeup, amethyst can be found in a range of violet hues – from deep purple to soft lavender (the latter of which has become recently popular in amethyst jewelry). The purple color also tends to form at the end of raw amethyst crystals, so it is often cut away from the more opaque, white crystal base to form a consistently purple gemstone for February birthstone jewelry.
What is the Meaning and History of Amethyst?
The ancient Greeks believed amethyst would guard against intoxication because the purple, grape-like color was associated with Bacchus, the god of wine. This belief was even found in Ancient Egypt, with Queen Cleopatra having a signet ring of amethyst engraved with the Egyptian goddess of Drunkenness. Ancient Egyptians also considered amethyst to be a precious stone, using it to make amulets as a form of prayer and talismans for magical protection against harm.
In Medieval Europe, soldiers wore amethyst amulets as forms of protection, believing the gemstones would heal them and help them stay level-headed in the heat of battle. Leonardo da Vinci even wrote that amethysts enhanced intelligence and protected wearers from evil thoughts. In modern Europe, purple clothes and robes were considered a color of royalty because the dye was so difficult to produce, so the naturally-purple amethyst was worn by royals as accessories to further show their status – even the current Queen of England has been seen wearing amethyst jewelry.
Buddhists have also use amethyst as prayer beads because they believe the stone enhances meditation, and many other cultures have associated amethyst with balance, peace, and courage. Clearly, the February birthstone has been revered throughout world history!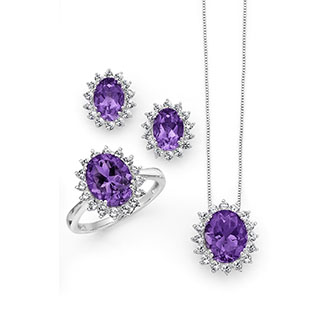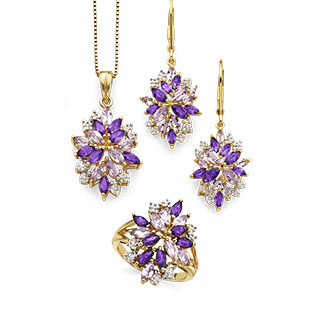 How to Care for Amethyst Jewelry: Storage and Cleaning
Because amethyst is a variation of quartz, it is a 7 out 10 on the Mohs scale of hardness, making it a great gemstone for daily-use jewelry. However, it is still prone to wear and tear – especially if worn or stored against harder gems like diamonds, rubies, or sapphires – so be mindful of how you wear it and where you store it.
Amethyst is also heat-sensitive. Darker stones can be heated up to permanently lighten the color or remove imperfections, but too much heat can result in changing the color from purple to yellow-orange or brown. Heat-treatment can also make the stone weaker, thus making it more prone to damage – and yes, even prolonged exposure to bright sunlight can make the color fade and weaken the stone, so you should leave your amethyst jewelry at home if you spend a lot of time outside.
For cleaning your amethyst jewelry, an ultrasonic cleaner is fine if your stone hasn't been previously treated, but steam cleaning should be avoided because of the heat. Like most jewelry, the safest cleaning option is using a soft brush with mild soap under warm water.
If you're looking for amethyst jewelry, JCPenney has an amazing collection of genuine amethyst jewelry in a variety of purple hues. Whether you're looking for a February birthstone ring or tennis bracelet, or a stunning pair of amethyst earrings, we're sure you'll find the perfect piece of amethyst jewelry. Use your JCPenney credit card for special financing on fine jewelry purchases and save more online today!